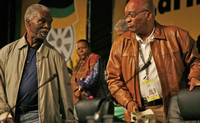 The last week has seen a large volume of analysis on the various decisions made by President Jacob Zuma around his Cabinet.
Certainly the appointment of a Cabinet is a good chance to understand the motivations of a political leader. However, it is now time to consider another question: that this appointment may actually have been the last big expression of power by Zuma himself. These appointments, both in Cabinet and to other big posts, are going to leave an interesting situation for whoever comes next to deal with.
It is common to hear among the middle-class commentariat some gnashing of teeth when President Zuma is mentioned, usualy proportional to the amount of power he has. The tut-tutting started during the Schabir Shaik trial, as those in the suburbs muttered about how people simply didn't lend their friends money and not ask for it back. It got much louder during his rape trial, despite his acquittal. Now the head-shaking has probably reached its peak.
That's probably because right now, at this moment, Zuma is probably at the height of his might. He has been sworn in as President for his second term, he has had five years to consolidate his power in government, he doesn't have to deal with insurgencies and splits like he did with Cope in his first term, and he will still have power for some time. And for those who mutter darkly that Zuma will be with us forever, the idea of the ANC getting the two-thirds needed to change the Constitution for that to happen simply doesn't wash anymore. Let's just the say those in red are not going to vote in his favour, and those in blue will die in a flurry of press statements before they let that happen.
It is often important to examine how quickly political power can vanish. With Thabo Mbeki it didn't happen the night Gwede Mantashe visited him and told him the ANC had decided to recall him. It didn't happened that muddy night in Polokwane, when he lost the vote to Zuma. It happened long before, when the ANC turned against him at the plicy conference. Immediately after that Zuma was the person to follow, and Mbeki was someone who seemed to live on a slightly different planet.
While Zuma may not contest the ANC presidency in the way Mbeki did, the focus before the ANC's 2017 conference is still going to be on whoever is elected as the new leader. Whether it be Cyril Ramaphosa or Nkosazana Dlamini-Zuma (who will have the claim to be the ANC's first female leader as a strong advantage) or even Zweli Mkhize, the fact is political power will devolve to them.
This will not just be because of their status as ANC leader, but because of the one cast-iron rule in our politics. He who has the backing of the ANC's National Executive Committee is king. That's where power lies in this country, and that's where it will still lie after 2017. The reason Zuma is really so powerful at the moment is not just that he occupies the Union Buildings; it's that he controls the NEC so effectively.
And the reason he does that is because this current NEC came out of a contested conference, where Kgalema Motlanthe and all supporting him lost so comprehensively. As a result, the NEC really reflects support for Zuma, plus a few other big beasts of the ANC, often veterans, who were able to get enough support of their own.
The next ANC conference is due in December 2017, which means we are roughly three-and-a-half years away. In that time we do, at this stage, expect some kind of leadership race, the usual politicking we've seen. It seems unlikely that whoever does contest will do in as amateur a style as Motlanthe. Either we will have someone emerge as the front-runner and a second person will decide not to contest, or we will have a good old-fashioned leadership contest.
No matter what happens, the perception of those people's power will start to increase, based on the future power people think they will have.
So if, for example, you're an Acting Chief Operating Officer at, say, a broadcasting corporation, you start to think beyond the current Number One. You will want to keep your job after Number One becomes Retired Number One. And so you will start to curry favour with whomever you think is going to win. You don't have too many strategies, you can either play it neutral so that no matter who wins you'll be okay, or you can back one horse and hope like hell they win. As a consequence, you might win, or you might out of there.
Don't forget, this is what happened at the SABC after Polokwane. Snuki Zikalala and people around him who were seen to have backed Mbeki (and gave him a live interview on thirteen radio stations at once days before the conference: count them, thirteen!) were eventually kicked out, and other people were brought in. The same will happen in this case, and at many other organisations within government.
People in that position will have to manage all of this carefully. People who will be less worried will be those like the Chief Justice, or the Public Protector, or the National Director of Public Prosecutions (should we actually have one at that time.)
They are in constitutionally protected positions, and can't be fired easily. However, one wonders if Ramaphosa, or Dlamini-Zuma or Mkhize feel as strongly about say, issues of law and religion as the Chief Justice. You also wonder how they feel about a National Prosecuting Authority head who came from nowhere, and was immediately sucked into the morass that is our NPA at the moment.
There could be a space created here, in this sort of strange power vacuum created by the disparity between the ANC's election cycle and the country's in which our independent institutions could really get a chance to play their proper role. They would be able to not have to worry too much about the person who appointed them, they may be completely opposed to whoever takes over, and be slightly more activism-prone than they are at the moment. It would mean that they could certainly take more risks as the person in office would not be in power, and the person in power would not be in office.
The real point of our Constitution is that power must revolve. It cannot stay with one person for too long. Whenever the name of Number One changes, so the power groupings and factions and all the rest change with them. It doesn't matter if one party stays in power so much as that the leader both de facto and de jure changes from time to time.
That is what has happened in this country since 1994, and what will continue to happen. For now, it appears that the current Number One is untouchable. But that will eventually change. And perhaps more quickly than we think.
Photo: Jacob Zuma and Thabo Mbeki at 2007 Polokwane Conference. (Greg Marinovich)
By STEPHEN GROOTES
Grootes is the host of the Midday Report on Talk Radio 702 and 567 Cape Talk, and the Senior Political Correspondent for Eyewitness News. He's been part of the political hack pack since before the Polokwane Tsunami, and covers politics in a slightly obsessive manner. Those who love him have recommended help for his politics addiction. He quotes Amy Winehouse.
Article Source: The Daily Maverick