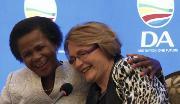 Many South Africans long for something new and refreshing in the South African political landscape as a counter to the decadence and violence of the Zuma-led ANC government. That is why numerous people welcomed Dr Mamphela Ramphele's entry into formal politics. Whether her latest move is a game-changer or not, however, remains to be seen.
I was one who tried to engage positively with her initial comments, although critical of the way she initiated Agang. I believed that forming a political party should have resulted from a process rather than formed prior to consultation.
The short period of Ramphele's stewardship of Agang demonstrated willingness to listen but also a tendency to avoid building a broad coalition of forces through patient organisation. Having decided, without much preparation, to enter conventional electoral politics, it became clear that Agang would not secure many votes. The manner in which Ramphele has simply been absorbed into the DA exemplifies the ambivalence or disrespect she has for organisational structures and internal democracy. Ramphele emphasises merit and criticises 'mediocrity'. Mediocrity is an elitist code word for those without high formal education qualifications. However, we may ask whether the problems we face are more likely to be resolved with leaders holding degrees, where they may still be dishonest.
One needs to be cautious in evaluating the present political fluidity. If the ANC is losing support it is primarily for reasons related to its own practices rather than newfound attraction to another party. It is by no means clear that it will suffer losses or if it does, on what scale, and who the beneficiaries of any such diminished support may be. Most ANC members and former members have a strong antagonism towards the DA, a feeling they do not have towards the UDM, COPE, and other parties. The DA continues to signify for most black people, (as it did for Ramphele herself, according to her own statements) a white party or a party that is not overly concerned with redressing inequality.
Ramphele's entry into the DA will not have a positive impact on her self-depiction as a leader who bridges generations and phases of political activity, because she enters a party with a history that many consider more problematic than any reservations they may have had about Ramphele herself.
If there is to be a pool of voters, disillusioned with the current ANC, it may be more likely that they will drift towards the EFF. It is not clear that the DA has done anything to change its orientation in a way that would increase its attraction amongst black voters. This contrasts markedly with the way the EFF is keyed into what matters to people, responds to aroused emotions in a way that may be opportunistic but may nevertheless reap electoral rewards.
If there is a 'game changer' in the current situation it is the potential breakaway of the National Union of Metalworkers of South Africa (NUMSA) from COSATU and its decision to withdraw electoral support from the ANC. The views of NUMSA may well be shared by minorities in a range of other unions, adding up to a significant section of COSATU's membership. This withdrawal means much more than voting numbers because many of these people have in the past been core members of the ANC electoral organisation, which will now be depleted.
Where these forces will look for a political home is by no means clear. The orientation is towards a working class party, within a wider social movement that is nevertheless based in, or exclusively related to, the working class. The political school, which NUMSA has been holding during this week, was described by Deputy General Secretary Karl Cloete as a revolutionary Marxist-Leninist school, exploring modalities for establishing a united front. If that is the characterisation it severely limits the breadth of the united front that NUMSA may envisage and the range of political orientations it may encompass. The words Marxist-Leninism are an immediate barrier for many people, including paradoxically countless workers, who may not have 'seen the light'.
It is my belief that South Africa would benefit from mass popular politics at this point: united front formations, joining people from a range of political perspectives around areas of common concern. Such issues could include the threat to constitutionalism, violence, corruption and attacks against women, children and other vulnerable people. If one embarks on that approach, one needs to be prepared to reach beyond one's normal allies and build unity with people from a range of classes and political orientations. Within such a front one would be perfectly free to argue over its future direction. Neither socialism nor Marxist-Leninism can be a starting point or a given. If that were considered most desirable, it would have to be won through a struggle of ideas within such a movement, as with other orientations.
By Professor Raymond Suttner
Source: Daily Maverick
Professor Suttner is a researcher and analyst. He served over 11 years in prison and under house arrest for activities against Apartheid. He is the author of works on ANC history and politics, and other contemporary issues. This article first appeared on polity.org.za.
Photo: Anti-apartheid activist Mamphela Ramphele hugs opposition Democratic Alliance (DA) party leader Helen Zille at a news conference in Cape Town, January 28, 2014. REUTERS/Mike Hutchings