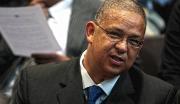 The Parliamentary portfolio committee on police on Tuesday voted in favour of the nomination of former Ekurhuleni Metro police chief Robert McBride as head of police watchdog IPID, the Independent Police Investigative Directorate. The stamp of approval – carried by ANC MPs on the committee – flies in the face of vociferous resistance from opposition parties who insist that McBride, given his own history of brushes with the law, is not a suitable candidate to inspire public trust. But Police Minister Nathi Mthethwa is adamant that McBride's the man for the job. Get ready to welcome him to the post.
IPID has been without a permanent head for almost a year and four months. Former head Francois Beukman, now an ANC MP, stepped down from the role after a three-year stint just weeks after the Marikana massacre in August 2012. It's been bad timing for the vital independent police watchdog to be leaderless, given not only the ongoing Marikana investigations, but the number of high-profile protestor deaths at the hands of the police. We're less than a month into the year, and six protestors have allegedly been shot and killed by cops; most recently a 15-year-old boy.
This being the case, the leadership of IPID would seem like something of a poisoned chalice – or at the least, a distinctly daunting task. Enter one Robert McBride, whom history has revealed to be no stranger to action. A death row prisoner during Apartheid for his role in a 1986 Durban beachfront bombing as an Umkhonto weSizwe operative, McBride has since had a chequered time of it.
In 1998, as a senior Foreign Affairs official, he was arrested at the Mozambican border. To quote the New York Times' account of it at the time: "He had some $11,000 in cash on him and was looking over a pile of AK-47 assault rifles when the police arrived, Mozambican police officials have said. He fled on foot, trying to get back over the border." McBride's story was that he was on a fact-finding mission, investigating gun smuggling. The suggestion endured, however, that it had been McBride doing the gun smuggling, despite his eventual release without charge.
A year later, in 1999, McBride visited the Cachet hostess agency in Cape Town in the company of underworld boss Cyril Beeka (murdered in a 'hit' in 2011), and narrowly escaped prosecution when Beeka and another man were charged with assaulting a female employee. As Ekurhuleni Metro police head, he also found himself in hot water with the law, arrested for drunk driving in 2006 after crashing his official vehicle. McBride had his sentence and conviction for this offence overturned in May last year.
In each case, McBride has dodged serious trouble. But his controversial past means that his nomination to IPID has raised many eyebrows, given that many see the head of the body as being an individual who must, by definition, be beyond personal reproach. Mind you, this is not an official requirement of the job: a point Police Minister Nathi Mthethwa was at pains to make to the Parliamentary police committee on Tuesday.
McBride, Mthethwa said, had demonstrated a deep understanding of the IPID core mandate, and has extensive hand-on experience of policy. His reference checks have testified to the fact that McBride is "highly skilled". McBride boasts a postgraduate degree, as was required for the position. (This certification later became the focus of some advanced hair-splitting by opposition MPs, who demanded to see a copy of McBride's diploma certificate to prove that it was, indeed, equivalent to a postgraduate degree.) In addition, Mthethwa said, McBride had performed well above average in both his interview and competency test.
"Those who are charged with the task of policing the police must really do their job," Mthethwa said. "If you take the recent developments in our country [an apparent reference to the shooting of protestors], and some loose comments about the perceived culture of impunity in the police, we want to dispel that and are confident our candidate will rise to the occasion."
The portfolio police committee meetings often play host to some of the fieriest exchanges in Parliament, thanks to a number of feisty personalities involved: not least committee chair Annelize van Wyk of the ANC, the DA's Shadow Police Minister Dianne Kohler-Barnard and the FF-Plus's Pieter Groenewald. On this occasion, the opposition MPs weren't going down without a fight.
The ACDP's Kenneth Meshoe submitted that although McBride was technically qualified for the job, he was not suitable, as "the police should be policed by someone they respect because of their integrity". Meshoe also suggested that McBride's own history as a police chief constituted a conflict of interests in this position: IPID is supposed to be a strictly autonomous body, and the fact that McBride might still have friends in the police force might "compromise him".
Kohler-Barnard called the appointment an example of "cadre deployment", an assertion later condemned by ANC MP George Lekgetho as a "racial statement". The head of IPID should be a person totally independent of political interference, Kohler-Barnard said, whereas McBride was known to be "deeply embedded in the ANC" and "very loyal to the ANC". Here, ANC MPs pointed out that no such fuss had been made about previous IPID head Francois Beukmann, a loyal ANC member.
Kohler-Barnard also cited the court case which accompanied McBride's unsuccessful attempt to be reinstated as Ekurhuleni police chief. In the course of the case, she said, witnesses referred to McBride as a "tyrant like Idi Amin", and made reference to the assault of witnesses, the covering up of crimes, kidnappings and more, during McBride's stint at the top. Committee chair van Wyk intervened here, calling on opposition MPs to behave "ethically". Van Wyk said Kohler-Barnard was quoting selectively from the court case, since the judge had characterised said witnesses as liars seeking deliberately to damage McBride. Here the FF-Plus's Groenewald jumped in to quote the same judge as calling McBride an "evil man".
Van Wyk also said that despite opposition MPs' continuous assertions that McBride would be unable to win the trust of ordinary South Africans, she saw no evidence of this. "Where is the survey saying that South Africans don't have trust in McBride?" she asked, saying that she had seen a great deal of evidence on social media and elsewhere that people believed him to be the right candidate for the job.
Mthethwa remained calm but unyielding throughout, reiterating his conviction that McBride was the right man for the job, and that McBride should be judged on "his execution of the task at hand" rather than his past. After ANC MPs saw to it that the nomination of McBride was waved through – with seven votes yes to the opposition's three votes no – Mthethwa said it was his hope that McBride's appointment would be endorsed by the National Assembly as soon as possible. "I don't think we want to wait any more," Mthethwa told journalists after the meeting. "A strong leader [of IPID] is needed."
Given that McBride's appointment to the top of IPID is now virtually assured, the only question remaining is: will he be any good at it? Security specialist Andrew Faull, author of 2010's Behind the Badge: the Untold Stories of South Africa's Police Service Members, gave the Daily Maverick a mixed assessment.
"I would think we would want someone with legal and/or investigative experience, and management experience in the South African policing context is helpful. Here, McBride comes out looking good," Faull said. "His various past experiences mean he probably has some helpful and unique insight into police criminality and cover ups, as well as the prosecution thereof. This might serve him well."
However, Faull warned that McBride's past would likely come back to haunt him in terms of public perception. "We would want someone with a squeaky clean record and impeccable integrity, someone without political affiliation or allegiance, particularly in that the Executive Director of the IPID is empowered by law to choose whether or not to pursue complaints of "systemic corruption" in the SAPS and metro services, and is also at liberty not to investigate alleged offences falling outside of the IPID's legislative mandate, which might otherwise warrant investigation," Faull said. "Unfortunately for Mr McBride, the fact that he has so much history hanging over him does not bode well for the legitimacy of the IPID, or for his own legitimacy among those he may manage, whether he deserves it or not."
Faull did suggest that there was one potential silver lining to be found in the fact of McBride's political embeddedness: "The IPID remains woefully under-resourced, so an ability to sway government financiers in the IPID's favour would help."
By Rebecca Davis
Source: Daily Maverick
Photo: Robert McBride is seen at the Constitutional Court in Johannesburg on Thursday, 30 September 2010 during an appeal by the Citizen newspaper against an award of damages and defamation granted to him. Picture: Werner Beukes/SAPA