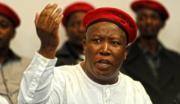 Ahead of an election in South Africa you would expect that the question dominating discussion among the chattering classes would be what kind of a percentage the ANC will get and whether it will be the magical two-thirds. The next question would be how much the DA might grow followed by what on earth will happen to Cope. But instead media darling Julius Malema, and questions about how well his Economic Freedom Fighters will do, have dominated headlines. Will the party change the game? What will happen in Parliament? (Can you imagine Malema's maiden speech?) Yes, the EFF is gaining traction but we may still be asking the wrong questions about the meaning of the party.
In September last year, I made a series of predictions for these elections, as part of my book, SA Politics Unspun. I remarked that the ANC would get 61%, the DA 24% and so on. I also said the EFF would get less than one percent.
I expected huge questions about how the ANC would still get over 60%. That surely, I thought, would be the main issue, considering Nkandla, corruption more generally, and how the police were behaving, even then, at service delivery protests. Instead, I've been assailed, almost everywhere, about how wrong my predictions about Julius Malema will turn out to be.
I've been told that he is surely going to do better than that. People have suggested 10%, some even higher. Many of these are not just people I bump into at braais, but political analysts who've been watching the scene for some time.
So then, have my thoughts changed? Well, of course. Predictions do change from time to time. And I have to say that Malema, and full credit to him, has gained far more traction than I thought he would. If you were at Soweto's Jabulani mall on Saturday, as I was, you would have noticed several things. On the way there, the first billboard that jumps out at you is the blue one featuring Mmusi Maimane. His face is everywhere nowadays.
Then you notice how many streets have ANC posters on billboards. And how the IFP makes just a token effort. And as you leave Soweto you can't help notice the slightly inane, forced grin of Mosuioa Lekota beaming forth with all that is good about Cope.
But in Jabulani Mall, young men are wearing red berets. Not for this party then the due process of billboards and posters and advertising agencies. As always with Malema, politics is personal. And the red berets have been a typical slice of his genius. They are obvious, available, and slightly militaristic in character. They fit in with the persona he's created for himself in so many ways. Even if it is highly unlikely that Che Guevara ever came close to having the belly that Malema and many of the "commissars" have today.
So, Malema has done well. If I had to make a prediction now, it would be higher than one percent but certainly not as high as ten percent. However, if we assume for a moment that it is somewhere between those two figures, we have to ask what, then?
Well, the first point to ponder is whether Malema himself will go to Parliament. He has said many times that he would not. But then, he also promised he would die in ANC colours. So, he'll do whatever suits him at the time. Then of course there's that little sequestration straitjacket to think about. Malema has been desperate to use any legal difficulty he has as a campaigning mechanism. I'm sure he was devastated that his criminal trial was held over until September. He would have loved to use the same card President Jacob Zuma used to such great effect during the run-up to the corruption trial that never happened.
It would have provided the perfect opportunity for mini-rallies at the end of every day. Now he's just left with a complicated action from SARS that is hard to explain in the first place because, of course, he won't tell us where his money comes from.
If he himself can't go to the National Assembly, then he'll have to do it through someone else, through remote control. And that's always tough. Even when two leaders are like-minded, such as Helen Zille and Lindiwe Mazibuko, it's hard. And Malema doesn't have anyone he can really trust to do a good job in the way he would like. Floyd Shivambu simply isn't up to it. He's much happier telling journalists to "f*** off" than appearing in Parliament. Dali Mpofu would do a good job, but if you're a well-paid advocate, would you want to while away your days in the intricacies of parliamentary process?
Let's say, as a best-case scenario (that would be the best case scenario for the EFF - ed), Malema gets 10%, and ends up in Parliament. The ANC would have to have lost millions of votes before that is of any consequence. Because there are really only two numerical points that matter in our politics in these situations. There's whether a party gets the 66.7% needed to be able to command the Constitution by itself. And then there's the 50% mark at which it loses power. Everything else is academic.
So, unless we are hit by a second tsunami and somehow the ANC goes below 50% and the EFF gets enough votes to play kingmaker to some kind of coalition with the DA and everyone else, it's not going to matter, much. And when I say tsunami, I really do mean bigger than anything we've ever seen before ever. Ever, ever, ever.
Presumably, Malema would be an anti-Zuma, anti-ANC voice in Parliament. This would mean that on most issues he would add to the opposition to the ANC. He would make plenty of noise, and would certainly eclipse parties like the IFP and possibly even Lekota, depending on how things turn out. As another voice in our Parliament, that would be no bad thing. It would certainly liven the place up, and I'm a big fan of proper debates in Parliament (whether they would be policy points or insults of course, is something for Max Sisulu or whoever replaces him to consider).
But he certainly wouldn't have a material impact on the legislation that is passed.
However, there is another big reason why the EFF's result in 2014 could matter. It's former DA leader Tony Leon who's really thought this through, perhaps uniquely. He suggests that actually, Malema is going to play the role of a stalking horse, wittingly or unwittingly, for NUMSA, and its new workers formation (which for the moment, I've decided to call "Shosholoza" because we have no idea what it will be called). We know that the metalworkers union and the other unions aligned with it are eventually going to leave Cosatu. Some of the unions that leave will split, some of the unions that stay will split. But in the end, we will have some sort of new workers group, which will fight against the ANC. This will probably be a part of the big shake-up that Helen Zille has always talked about. This party is going to take the votes primarily of black people who oppose the ANC, and certainly Jacob Zuma's ANC. They will have some radical policies, like redistribution of wealth, and banning of private schools. These are the kind of policies that will also attract people who are now considering voting for the EFF. So the final figure that the EFF gets could be an indicator of how well ''Shosholoza' will do.
Don't get me wrong, this doesn't mean that if Malema only gets 5% 'Shosholoza' will only get 5%. Not at all. It will be better run, better funded, and crucially, have structure. And it will have more appeal to older people than the EFF does now. But it will certainly be a signpost to how things could change within our politics, after 2019.
The meaning of Malema is something that will be considered many years from now. He is one of the first voices that can act as a lightening rod for the real poor in our country that isn't within the ANC. But that doesn't mean that it will be he himself who actually brings about change.
By Stephen Grootes
Source: Daily Maverick
Grootes is the author of SA Politics Unspun and the host of the Midday Report. He's also the senior political reporter for Eyewitness News. His predictions are his and his alone. Don't blame us. Blame him.
Photo: Julius Malema. (Thapelo Lekgowa/Daily Maverick
STEPHEN GROOTES studied at rhodes university