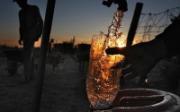 PRESIDENT Jacob Zuma wanted to make a point during his state of the nation address. He wanted to persuade the nation that the service delivery protests that have escalated this year are the actions of an impatient minority.
To accomplish this, he chose the government's best delivery "statistic": "When 95% of households have access to water, the 5% who still need to be provided for feel that they cannot wait a moment longer."
It was a long shot. Blaming the government's success for social unrest was a masterstroke of doublespeak. But it cannot be taken seriously.
What appears to be happening here is the closing of an information loop. Zuma is beginning to listen to what he wants to hear.
This is not unusual in a politician, but it ought at least to be based on a plausible interpretation of the available statistics.
An interrogation of the water-supply statistics was undertaken by the organisation Africa Check, an independent group that seeks to bring to light the exaggerations of public figures.
It is the sort of outfit that is intensely annoying to politicians.
Blog posts with titles such as "Where does the Democratic Alliance get its facts?" are its stock in trade.
In April last year, the organisation published a report under the headline, "Claim that 94% in South Africa have access to safe drinking water … doesn't hold water".
Scratch beneath the official statistics from the Department of Water Affairs and a picture very different to that painted by Zuma emerges.
The first thing is that it is misleading to say that 95% of "households" have access to water. This suggests taps inside houses, which is not the case.
According to the Statistics South Africa (Stats SA) General Household Survey published in 2011, "breaking that number down, 43.3% had piped water in their homes, 28.6% had access to water in their yards, 2.7% had the use of a neighbour's tap, and 14.9% had to make use of communal taps."
There was more. As Africa Check reported, things were getting worse when it came to water quality.
According to the same household survey, "only 62.1% of those surveyed rated the quality of water-related services as 'good' compared to 76.3% in 2005.
"About 7.5% of the respondents believed their water was not safe to drink, 8% said their water was not clear, 8.9% said it tasted bad and 11.1% said their water was not free from bad smells."
If Zuma's speech-writers had been truthful about water delivery, they might have written: "When only 43.3% of households have piped water in their homes, the 56.7% who still need to be provided for feel that they cannot wait a moment longer."
That would, at least, have gone some way towards explaining the extent of the service delivery protests.
Other statistics that Zuma quoted deserve further interrogation, too. He said: "Jobs are now being created again. There are now 15-million people with jobs in the country, the highest ever in our history."
While it is thankfully true that the South African economy is once more creating jobs, the numbers Zuma gives do not paint the full picture.
The reality is that it is creating far fewer jobs than it should. The numbers of employed rose by a shade more than 5% from 14.4-million in the first quarter of 2008 to 15.2-million in the last quarter of last year.
But the number of unemployed rose by more than 10%, from 4.3-million to 4.8-million in the same period.
And a further 1,1-million people entered that most dismal of categories — "discouraged work-seekers", which refers to those who have been unemployed for so long that they are no longer counted as part of the labour force — close to a doubling of the number.
And 2-million more joined the category "not economically active" — "a person who is not working and not seeking work or not available for work", including students, housewives, the retired and "others who cannot work".
A stark revelation is what is called the "labour participation rate", a measure of how many of those who could work are actually working.
Economist Mike Schussler observes in a post on economists.co.za: "South Africa has one of the lowest labour-force participation rates in the world today. We are down among countries such as Iraq, the occupied Palestinian territories, Iran, Egypt and Tunisia.
"As one can see, the countries with very low labour force participation rates are generally either war zones or countries where Muslims believe that women should not work and therefore they would not be part of the labour force."
There is another statistic that is telling in the latest Stats SA labour release.
It is at the very end of a very long list of spreadsheets and it is called "Involvement in nonmarket activities", something that can best be described as producing for our own consumption.
It measures people who undertake subsistence farming, "fetching water or collecting wood/dung", hunting, fishing and repairing one's own home.
About 3.8-million people fell into this category back in early 2008. There are now a staggering 5.3-million people who are involved in at least one such activity.
The highest number, about 4.3-million people, are "fetching water or collecting wood/dung".
They apparently do not have piped water flowing into their houses — or electricity.
Another statistic that Zuma ought to be seriously examining is that which shows starkly declining public confidence in his administration.
The Ipsos Government Performance Barometer — based on 3,564 interviews — published last week shows that when Zuma took office in 2009, about 56% of the public believed the country was "moving in the right direction".
By last year, that number had declined to just 34%.
Zuma's own performance rating in the same survey had declined from 70% to just 46% over the same period.
Zuma has an election to fight, so he is, understandably, scratching around to find the numbers to back up his claim that the country has improved under his administration.
The truth is that it has not by even the statistics that he is selectively quoting.
By Ray Hartley
Source: Business Day website
Hartley is editor at large.