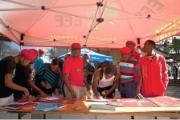 In the run-up to this year's general elections, the Economic Freedom Fighters (EFF) and the Democratic Alliance Students Organisation (Daso) in Johannesburg are working on opposite sides of the same political coin: they both want to change students' perceptions about their parties' racial identities.
For its part, the ANC Youth League says student votes for the ruling party are a given, despite their anger with the ruling party over a shortage of student loans from the National Student Financial Aid Scheme (NSFAS), which sparked angry protests at several universities recently.
Abednego Mathole of the University of Johannesburg's (UJ's) EFF branch told the Mail & Guardian it is important to "fight this perception that we are against Afrikaners and whites".
"When we speak about expropriation of land, it's foreign-owned land we are talking about and a lot of those owners happen to be white," he said.
He was standing amid the noise and bustle around the branch's booth at the Kingsway campus during the week in which societies try to get students to sign up with them.
He said white people also needed economic freedom. "A lot of whites are suffering because of capitalism. We are not against whites. We even recruited white students. We don't believe in colour; we believe in ideologies."
Lyrics Mazibuko, chairperson of Daso on the same campus, said perceptions that the DA is a white party are very strong on campus.
"The organisation has been trying to assist students in their struggles so that the debate moves from 'you're a white party' to 'we have the same struggles'."
The youth league's Johannesburg elections convener, Loyiso Lugayene, said the recent student protests were "not too much of a [political] negative".
"The NSFAS challenge has opened students' eyes to show what the ANC has been trying to do to move towards free education," she said.
Votes for the ANC, "especially from rural students, are a given".
"You've got an 18-year-old who comes to UJ from whichever province and it's their first time they get to say to the liberation movement, 'Thank you for allowing me to come to varsity'."
She said it is important to "remind them that it was our work that allowed them to come to university". But "we must make sure we get [their votes]. We must educate about registration and not waste [these votes]."
Two weeks ago the South African Students Congress (Sasco) called for protests at 11 universities against the underfunding of the NSFAS, which the student body said resulted in many being unable to register for their studies.
The M&G reported last week on student anger with the ANC and its handling of the debacle.
But Sasco has endorsed the youth league's election programme and is campaigning on behalf of it.
Charles Makola, chairperson of Sasco on the UJ's Bunting Road campus, said the opposition parties pose no threat to the ANC at the university.
"There is no real opposition here at UJ," he said. "If there was then we would be more radical to defend the glorious movement."
Lugayene acknowledged that funding for students is "not as much as we would want but, for as long as we remain the party that governs, our interest continues to be on education. It's not about pumping money into something. It's about policies."
The youth league has been doing door-to-door campaigns and will now move to "youth chill areas".
It will host Valentine's Day picnics at parks such as Zoo Lake and target shisa nyama restaurants in Soweto and Midrand on Sundays, "where there are a whole lot of young people".
"We are going where students hang out, like entertainment places. We are luring voters there and reminding them to go out and vote."
But Daso is confident of winning support at UJ, including from black students.
Vusi Zwane, a Daso member, said: "The black students who came to sign up at the table this morning [as part of Societies Week] filled two sheets.
"Even educated youth will tell you: 'Ah, you work for a white lady' and most of our Daso members come from ANC homes. But then they see how the DA delivers in the Western Cape."
Daso will set up a booth near the Student Representatives Council offices every Friday leading up to the elections so that students can hear more about the party's policies.
Mazibuko said the organisation will be "building relationships with nonpolitical student societies so that we can hold events together that highlight our common ground and not our differences".
Changing perceptions among students that the DA is a "white party" is important because "universities can be seen as a microcosm for what is going on in society".
The organisation will be hosting sports tournaments, picnics and continue making YouTube videos about current affairs, problems faced by students and the DA's manifesto.
While the M&G was interviewing Mathole, several students walked past the organisation's booth asking for the EFF's iconic red berets.
But the EFF would not be able to give them away for free, Mathole said. "There are not a lot of funds for campaigning for the EFF. These berets we are wearing, we bought them with our own money."
The party did not have enough money for booths on the other campuses during Societies Week. "No businessman wants to fund [the] EFF because they are all for privatisation," Mathole said.
The organisation will be "conscientising" students about the party's policies in the lead-up to the election, including that the party is "not going to take away land that is producing food for South Africans … and build RDP houses on it" if it came into power.
"We are going to give farmers a target and tell them to sell their produce to government."
Universities are where you find "young people and intellectuals and they are the future of tomorrow", Mathole said.
"Students are ambassadors for their families. We want to sell our ideas to them so they can go home and tell their families and then hopefully [they will] vote for the EFF in the national elections."
Making capital: The EFF campaigns at the University of Johannesburg during Societies Week.
By Victoria John
Photo: Oupa Nkosi
Victoria John studied at Rhodes University