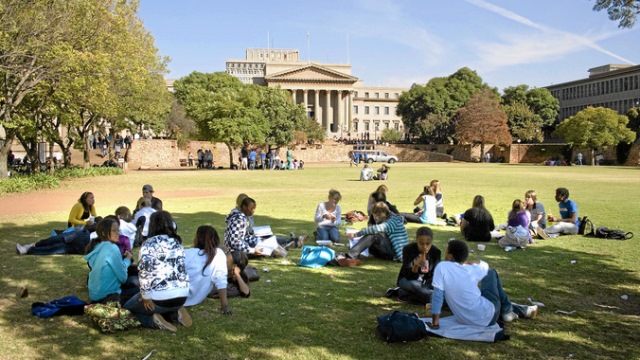 The patriarchal and racist institutional culture at local institutions of higher learning must be challenged, an education conference has heard.
"When a man is being sexist, call him out on it immediately and say: 'No, I won't let you talk to me like that'," Maseeeng Papashane, a lecturer in the education faculty at the University of the Free State, said on Monday.
"But also use the formal platforms at your university like the human resources office to address things like sexual harassment," she said.
These are just two of the ways to challenge the everyday events that contribute to the patriarchal and racist institutional culture that still exist at many of South Africa's universities, Papashane said.
Women's needs
Challenging society's expectations of women, such as being the main family carer, and universities' failure to properly accommodate this is also part of the problem, she said. "We should push for the establishment of lactation rooms, breastfeeding rooms and crèches."
Papashane was one of those attending the annual week-long conference of the Higher Education Resource Services South Africa (Hers-SA) Academy, a nongovernmental organisation, in Cape Town this week. The event focuses on the development and career advancement of women in higher education.
Delegates said the prevailing institutional culture needs to be challenged in more meaningful ways if more women and black people are to occupy executive and professorial positions at universities.
Transcending culture and network
"It's very hard to address patriarchy [as an institutional culture at universities] because it is invisible … It is the norms that benefit men and exclude women," said Amanda Gouws, professor in political science at Stellenbosch University and a commissioner on the Commission for Gender Equality.
Gouws said it shows in the everyday things such as the way some men speak over women in meetings. One of the ways to change this is for more women to "show support where it matters".
"I will raise something in a decision-making forum and there will be no support from other women, but we walk out of the room and women will come to me and say: 'Thank you so much for saying that'," she told those present.
What follows is a process of "labelling and individualisation" by men of the problem that she raised and the way in which she raised it. "The men will say: 'There's always one'," she said, and will not acknowledge that she had actually been speaking on behalf of many other women.
"Where you have critical individuals and visible support for these individuals, the culture in departments will change." It won't change overnight but with constant "pushing, raising consciousness and not accepting [the status quo]", it will come, said Gouws.
'Collectives'
Jean Baxen, head of the school of education at the University of the Witwatersrand, said women need to "create collectives" by looking at "issues that are common to women" and eliciting a "collective response" so that it's not just "perceived as the same voices raising the same issues".
She also questioned how the gender dynamics picture would look if it were overlaid with race: "We have to look at the intersection between race and gender."
Wits vice-chancellor Adam Habib, who spoke at the conference, told the Mail & Guardian on Sunday that you can employ or admit black and female staff and students, "but if you can't keep them, then you're not going to win".
"Despite the fact that women constitute the majority of students … [far fewer] become professors [compared to men]," he said.
Institutions and society "are not appreciative of the challenges that women face". Habib added that black professors, of which there are relatively few, also do not feel comfortable because of the culture of institutions. This includes "little social codes … cultural biases, the way people talk".
People's "racialised backgrounds" also contribute to this, he said.
"I have a debate with my deans. I say we need to attract more black candidates and they say: 'We can't find them.' I make a couple of calls and we find them. And our deans say: 'But we didn't know those people. They're not counter-revolutionary.' … We just come from racialised backgrounds, so we have racialised networks."
To transcend these networks, "you have to be conscious of them. You must first realise that we inherit these networks. Try phoning someone else, asking someone different".
Establishing true transformation
But Mmamokgethi Phakeng, professor in maths education and vice-principal of research innovation at Unisa, told conference delegates that South Africa needs to "look beyond social transformation and focus on intellectual transformation".
"Counting the number of women professors is important, but is not a sufficient measure of our transformation … It tells us nothing about the productivity and influence of their scholarship, but more about the promotion cteria of the universities they are in."
She said other questions need to be asked, such as how many of the country's research outputs and/or patents are produced by women, and how many are rated by the National Research Foundation.
"The headlines in the media don't show this … They only talk about how many women professors there are … No one knows the ratings of women researchers."
Foundation spokesperson Thabiso Nkone told the M&G that of the 2 959 rated researchers in South Africa in 2013, 668 were black and 2 291 were white. He said 2 070 were male and 889 were female.
As of February this year, he said, there was only one A-rated black female researcher and six B-rated black female researchers.
The foundation describes researchers who are A-rated as "leading international researchers" and B-rated as "internationally acclaimed researchers".
Phakeng, who is rated as a B-rated researcher, said if universities are going to look beyond social transformation and productivity they will need to "set institutional, faculty and departmental goals and targets that also focus on intellectual transformation and influence".
"Implement research developmental programmes for researchers at different levels and for black, young and women researchers [and] monitor institutional research performance beyond productivity," she said.
By: VICTORIA JOHN
Victoria John studied at Rhodes University
Article Source: Mail & Guardian
http://mg.co.za/article/2014-09-10-stamping-out-poor-gender-and-race-habits-in-universities