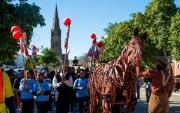 At a recent arts conference in the Eastern Cape, echoing what he has said on various online platforms, policy activist and playwright Mike van Graan hit out at the National Arts Festival, saying that we weren't doing enough to alleviate poverty in our city or province.
His implication is that, despite being an event lasting just two weeks, the economic and social ills of the Eastern Cape should be laid at our door.
We welcome debate and honest criticism that comes from a constructive, informed position, because it can only serve to help us reflect and improve. So here are some perspectives that might be helpful in informing a constructive position. Instinctively and logically we know that the festival in Grahamstown makes a significant contribution to the arts sector as well as has an impact on local economies.
To answer the question, "what impact?", we don't need to dwell in the realms of imaginary or anecdotal evidence, but we can rather make use of empirical studies. The Rhodes University economics department answers that question, employing methodologies similar to comparable studies elsewhere in the world. They found, conservatively, that the festival stimulated the provincial economy by some R340-million and Grahamstown's by R90-million. You can quibble about the numbers, but you don't have to be an economist to know that having more people in a city will contribute to the local economy.
Yes, a significant amount of that benefit flows to the small business-owning middle class. The festival needs guesthouses, restaurants and bars to flourish. The ownership profile of the tourism sector won't shift through an 11-day event, but maybe festivals can help make the tourism sector more attractive to new investors and emerging entrepreneurs.
Going behind the numbers, the festival stimulates the "hyper local" economy directly in a number of ways: through a local procurement policy, and by investing in local businesses, startups and in numerous "good ideas" that come across our desks in the course of the year.
Some examples: A year-round "Creative City" project with the European Union, Makana Municipality, Rhodes University and local arts NGOs aimed at growing the city's potential as a year round cultural destination;
Incubating and partnering with the isiXhosa language Puku Storytelling Festival, and funding and launching the Masicule Choir Festival earlier this year — both aimed at getting more Grahamstown youth engaged through the arts; Investment in local entrepreneurs Blah ze Blah and the Fingo Festival, which drive social cohesion among young adults through a range of arts projects and life skills programmes;
Training 20 Eastern Cape-based sound technicians and 10 heritage assistants to NQF level four with skills they can use to generate an income in the rest of the year; Giving space to and funding 22 crafters, predominantly from rural parts of the Eastern Cape, to trade at the Village Green, where they sold goods worth R230 460 this year;
Diversifying the skills base of local arts groups which are showcased at our closing street parades and at our opening ceremony;
Hiring of venues from communities, churches and schools during the festival, the income from which sustains and maintains those facilities throughout the year;
Providing a performance platform which — apart from the ticket sales which some critics have fixated on — gives theatre makers scope to derive a second income stream as they motivate for and receive grants from provincial arts councils, municipalities, the National Arts Council and others. That's quite apart from the employment the festival creates, and our programmes aimed at taking art to thousands of people who can't - either due to poverty or confinement - otherwise participate.
These are all good stories of the real impact of the arts and of an event of this scale and they are also just the tip of the iceberg of what the festival means, and does, for the city in which we operate. Could we do more? Of course. But the above is, I think, a pretty good starting point and paints a picture far different from the one Van Graan would have you believe.
Apart from the above context, finally, there is also the matter of perspective. In his various critiques of the festival, Van Graan omits one important detail critical to understanding his. He is a board member of Oudtshoorn's Absa Klein Karoo Nasionale Kunstefees, an event that has been known to refer to itself by the decidedly unscientific and untestable phrase "SA's favourite festival".
Perhaps if the KKNK has met the standards he holds us to, he might care to share those successes with us? A University of the North West study in 2004 said the Oudtshoorn event contributed R76-million to that city's GDP. I haven't heard Van Graan, or any of his fellow board members, challenge that number or interrogate who those beneficiaries are, as he is doing with the Grahamstown study.
That alone makes a mockery of his position of assumed superiority and authority. I suspect that the Absa KKNK is GKAAN grappling with many of the same complexities and challenges we are. It might be more helpful, then, to engage constructively rather than posturing at a conference or on Facebook before establishing the facts.
While some are doing that, others are on the ground making a tangible difference. The National Arts Festival is an important part of the economic and social life of this province however and whoever measures it, and regardless of what Van Graan thinks or says. In 40 years it has had an incalculable impact on the province and we look forward to that being the case for the next 40 as we continue improving what we do based on conversations like this one.
Tony Lankester is the chief executive and board member of the National Arts Festival. Fest has huge impact on EC
Article Source: The Herald