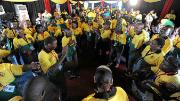 'Comrades, comrades, thank you. We will now hear a presentation about protests called … 'South Africa's rebellion of the poor'." The woman at the mic looks up with a toss of her curls and peers over her glasses at the assembled shop stewards: 171 invited, but a few less in the room at the moment.
It is day five of the National Union of Metalworkers of South Africa (Numsa) weeklong political school at a humble hotel near the OR Tambo International Airport.
As University of Johannesburg academic Dr Carin Runciman takes the mic there are more than a few yawns. It's the deathly pre-lunchtime session on a day that is already running late.
But the man sitting next to me, his baseball cap pulled low and his red Numsa shirt hanging loose on his slender frame, underlines a few lines in a massive ring-bound folder in front of him. Then he finishes writing down a note from a previous session: "The world we are living in is divided into two."
That would have been from "Marxism as the dominant working-class ideology and programme in the 20th century".
Module Two of Numsa's yearlong political school is in full swing and my neighbour isn't the only one concentrating.
His classmates reach into their hefty binders and extract a sheaf of notes from Runciman's presentation so they can follow her talk more closely. A good plan, given her heavy Scottish accent.
"Protest issues differ from province to province," Runciman says as she clicks through 10 years of data analysing protests in the country. We look at how protests reached a turning point in 2010/2011 and how KwaZulu-Natal took over from the Western Cape as the province with the most protests in 2013.
The next slide shows a bar graph of protests in Madibeng, a municipality covering the tortured village of Mothutlung in North West. The place had shot to notoriety in the preceding weeks when four community members were killed in clashes with police. Their issue? Demanding water, after facing crippling shortages that lasted some seven months.
"There is this idea that the recent protests in Madibeng have been 'popcorn protests' with no informed organisation or outcome, but that isn't true," says Runciman.
She shows us a graph illustrating 24 protests recorded in the municipality since 2007. "Eleven of these cited water as a grievance," Runciman says. "In 2013, all the protests in the area were related to water and sanitation."
In other words, the ANC-led government should have seen this coming. Which is why Numsa is here, really. And, seen through the prism of dialectical materialism, recent political and historical events certainly make sense for the left-wing union: there were the fights over their beloved Zwelinzima Vavi's suspension as trade union federation Cosatu's general secretary, they came close to storming out of their decades-long alliance within Cosatu, and by extension the ANC and government.
The unseemly battle that has been tearing the alliance apart in recent months has brought home a basic truth to the country's best organised and strongest union: it's time to break free.
This has always been Numsa's natural instinct. It joined the ANC and its predecessor the United Democratic Front reluctantly at the behest of its members at the height of the struggle.
"As Numsa, we must lead in the establishment of a new United Front that will co-ordinate struggles in the workplace and in communities," read one of their key resolutions from their special national congress in December last year, drawing a line under months of internal turmoil and charting a way forward.
This political school is their way of fleshing out this resolution.
This isn't the first time Numsa has run such training. But with five modules of about a week each scattered across the year, a further Wits University course offered to a select few, and the creation of a new position of ideological officer to oversee training, things have definitely been kicked up a notch since the special national congress.
"It is understandably more intense because the path that we've entered into requires a clarity of purpose," Numsa national education co-ordinator Dinga Sekwebu tells me over pap and meat during the lunch break.
Sekwebu, a thoughtful man with a kind face, has put together a killer syllabus, complemented by reading circles, academic texts, panel discussions with respected academics and worksheets analysing the ideological underpinnings of government policies and implementations. Not to mention the highlight of this module: the resistance expo.
Numsa invited more than 100 small community organisations and grassroots protest movements to engage with their members.
"I was very impressed," said Ayanda Kota, organiser for the Unemployed People's Movement. "They asked good, open questions. It was very democratic — no views were being suppressed."
Nor did Numsa issue a series of brash press statements advertising their sympathies for the struggles of these movements.
"You see EFF [Economic Freedom Fighters] going into these spaces and trying to swallow and assimilate other people's struggle," says Kota.
Julius Malema's political formation has certainly featured, but not always in glowing terms.
Sekwebu says the constituencies of Numsa and the EFF, with the latter's pull among "black working-class kids", are joined at the hip.
But he has his reservations about the new kids on the block talking big on nationalisation. The lack of a democratic culture in the new party, with its pseudo-military structure, is problematic, as is its leaders' poor track record on internal democracy in their previous roles in the ANC Youth League, not to mention the corruption charges against Malema. "It seems to fly against the union tradition of internal democracy," says Sekwebu.
Numsa spokesperson Castro Ngobese laughs off rumours of Numsa joining the EFF. "They try to give the impression they're talking to us. So does Wasp [Workers and Socialist Party]. They're not. It's lies."
He stops and looks me in the eye. "We're playing the long game. We're not in a rush like these guys."
Which doesn't mean an electoral alternative is off the table. Since the announcement of their quest for a united front, rumours have been flying about how Numsa could singlehandedly realign South African politics at the polls if it wanted to, in a way that the Democratic Alliance and Agang could only dream of.
Opinion is divided among the shop stewards in attendance at the course.
"Politically, the delegates there were very uneven," Runciman tells me later. "Some of them still had a lot of sympathy with the ANC while others were clear that the break with the ANC was needed and wanted to form something different — and everything between."
My studious neighbour during classes, Prince Shabane, turns out to be a shop steward for SA Truck Bodies in Bloemfontein, where he repairs trailers. He tells me the point of the school is to bring capitalism down. "I'm hoping for Numsa to have its own labour party by 2018," he says confidently.
I come back on Saturday for the resistance expo and chat to a number of the social movements. Mining communities, freedom of information campaigners, Right2Know, farm workers' representatives: they all have a sense of hope about the potential offered by a newly invigorated Numsa, free from the constraints of a ruling alliance they believe to be increasingly out of touch with its people.
As the academic sketches the breadth and scope of what is fast becoming a crisis in our country on Thursday, she unexpectedly turns the spotlight on the union.
She pulls up a scathing press statement the union issued in 2011 about a community protest, when they were still ensconced within the ruling alliance and less sensitive to the concerns of the landless, the poor and the unemployed whose cause they should have been championing.
The delegates are quiet. Then a Numsa official, Woody Auron, stands up. "In 2003 Cosatu took a resolution that said, no relationships with social movements outside the alliance unless they had a proven organisational track record." He shrugged helplessly — this in effect ruled out the majority of grassroots protest movements.
"We were disciplined Cosatu members then … we listened," he says. "But now that Numsa has made a break with that conservative thinking on Cosatu we can make relationships with those organisations."
The audience responds with cheers, and he smiles: "We're no longer bound by those dusty resolutions."
Dialectic boogaloo: Numsa members attend a week-long political school in Joburg. National education co- ordinator Dinga Sekwebu (left). Photos: Gallo Images/Foto24/Felix Dlangamandla and courtesy of Numsa
By Verashni Pillay
Source: Mail and Guardian
Verashni Pillay studied at Rhodes University