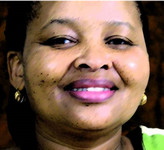 When President Jacob Zuma announced the formation of a Ministry of Women, Children and People with Disabilities in 2009, it was immediately christened the 'Ministry of Everyone but Men'. Ever since then, it's not a ministry that I have felt included me.
That said, I get the point, and as the leader of an organisation that has managed to 50/50 gender representation in almost all its structures, Zuma was probably right to introduce such a ministry. (That he eventually put Lulu Xingwana in charge of it is a diatribe for another day.) However, this ministry is now about to try to seriously damage our society. And not just in the economic business sense, but also in the sense that people's self-esteem is about to be wrecked permanently.
And Xingwana's is about to try to enforce unbelievable intrusion into the way organisations and businesses behave, through implementing the most important decisions they make i.e. about the people they employ and appoint. It's called the Women Empowerment and Gender Equality Bill.
I am a white man. This means that in some ways, I almost lose the right to have a say on certain issues; that if I say certain things, I will get a reaction based on my identity. I do have evidence to back this up. (That said, I fear I have no other choice but to put my frail self once more into harm's way, and oppose this bill.)
But let me first say that I do get it. I do understand that women are under-represented in most of the decision-making bodies in our country. I do notice that most of the heroes in the books I read to my kids every night are boys, and not girls. Where I can, as I read to my daughter, I try to change the gender of their lead character. I do understand also, that as a chap, I'll never understand how patronising it is to my wife to give her driving advice (although I may get points for bravery), or what it takes to "lean in" when society has taught you that is something "assertive boys" do and "bossy girls" don't. I worry also about how adverts for clothes have relaxed men, and sexualised women. Everywhere.
But this is the wrong piece of legislation to fix that. It's not that it's a good try, or a first attempt that something can be saved from. It's that it's just completely and utterly wrong, and shows the totally schizophrenic nature of the ANC's attitude towards women and gender.
Let's start with a few definitions. Law is often all about definitions. In this case, the phrase "designated public bodies and designated private bodies" litters the entire draft. This is not properly defined. Now let's just put public bodies to one side for a moment, but this could be interpreted to mean that every single private organisation in the country, if the minister deems fit, should have a 50/50 gender representation in all of its "decision-making bodies" and in its make-up. Now, if you are running a massive company, and the entire board is pale and male, this makes sense. Of course that needs to change, and not just because government says so, but because that board will make better decisions as a result of its diversity[and our comments section is about to look like News 24's – Ed].
But let's consider a rugby club. Is that a "designated private body"? We don't really know at this stage. But, while I've played rugby with some women (yes, I did go to Rhodes) it just doesn't seem manageable. There are simply not that many women who are keen to play rugby. Let's swing it around. The same obviously holds true for your aerobics club. Must it have a 50/50 gender representation as well? Why not?
That may seem like a set of nonsensical examples. Let's now move to business. I get it. Business is way too male. Even in the Nordic countries that are widely regarded as having the best track record on this issue. I happily accept that the very structure of business was generally designed by men, and that is one of the reasons why men are still in most of the top positions. But we have to accept that people make different choices as they go through life.
Some will get off the career track for a while, to have children, and to spend time with them while they are young.
While it may not matter if it's the fathers or the mothers that do this, it must surely be accepted that for the moment, it is more often women who make this career sacrifice. They don't have to do it, but they still choose to. This means there are fewer women available for the positions that businesses require.
Does this mean, then, that because of the more intense competition for that smaller group of women, their salaries will be bigger than those of men? Would this not be entrenching the entirely opposite form of discrimination than the one you could argue we have now?
Under this draft, political parties would also have to have 50/50 gender representation. So we have now one political party (the ANC) trying to use its parliamentary majority to force other political parties to change their composition. This is the same political party that just this week decried the idea of foreign funders from trying to influence the choice of leaders of Agang and the DA through their planned merger. But now it wants to try to do the same thing? Surely that cannot be correct.
At the same time, what would happen if someone tried to create a political party that was only composed of men? Or one composed only of women? While that party may want to pursue a state that is unconstitutional, that doesn't mean it should be prevented from trying to convince the electorate that the Constitution is wrong.
The Constitution was never meant to be cast in stone, and things can change over time. It is not unconstitutional for a member of Parliament to be a homophobe. Thus Patekile Holomisa is secure in his seat, despite saying he wants to change the Constitution on this issue. It just means that he is not able to change the Constitution in this way. But he must be allowed the freedom to express his views, and even to try and convince other people of them. No matter how absurd, wrong, and hateful they clearly are.
And while we're on the subject of Holomisa, will the Bill's definition of "public bodies" extend to the House of Traditional Leaders? And if not, why not? And I'll bet a lot of money, say this month's Daily Maverick salary [That's not a lot of money – Ed] that the ANC won't have the balls to do that.
This brings me nicely to the ANC's schizophrenia. I get that the party wants to empower women. Its track record on gender really is second to none. But then why on earth would Luthuli House want to do this on the one hand, and keep the Traditional Courts Bill going on the other? That bill appears to remove the rights of many women in this country; in some cases it appears to prevent them from using other courts, and even an attorney in certain situations.
It's a bill that has been opposed by everyone operating in the gender space. So then why all this talk about female empowerment, and this bill? It simply doesn't make sense.
I have always been hugely impressed by the ANC's commitment to female empowerment. As the father of both a boy and a girl, it makes me think both of them will not be denied opportunities because of their gender. The fact we have so many female MP's, so many women in public office generally, is really because of the ANC. It's something the party has got absolutely right. From a gender perspective, it was probably unimaginable before 1994 that we would have so many women in these jobs.
This bill is not going to take this part of the struggle forward.
Photo: Minister Lulu Xingwana (Sapa)
By: STEPHEN GROOTES
Grootes is the host of the Midday Report on Talk Radio 702 and 567 Cape Talk, and the Senior Political Correspondent for Eyewitness News. He's been part of the political hack pack since before the Polokwane Tsunami, and covers politics in a slightly obsessive manner. Those who love him have recommended help for his politics addiction. He quotes Amy Winehouse.
Article Source: The Daily Maverick