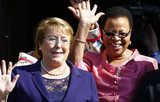 Chilean president Michelle Bachelet has been in town on a whirlwind tour.
As the first female president of Chile and the first director of UN Women, the timing of her visit to coincide with South Africa's Women's Day seemed appropriate. But at a public discussion in Cape Town on Sunday, it was clear that both Chile and South Africa have a long path to walk towards true gender equality.
On Friday, on the eve of Women's Day, President Jacob Zuma said that he believed South Africa was ready for a female president. Cynics might say that perhaps he didn't have much choice, since he was standing next to a female president: Chile's Michelle Bachelet, who was not only the first woman to be elected president of Chile but also the first politician since the 1930s to win the Chilean presidency twice in democratic elections.
"South Africa is ready for a woman president," Zuma was reported to have said. "It's a democratic country because we are equal. It's a matter of time and I think it's not far away."
It's hardly a dramatic endorsement, but it's also not the first time Zuma has made a comment like this recently. As the Daily Maverick's Ranjeni Munusamy pointed out last week, Zuma said something similar ahead of the May elections: that "if there was a suitable female candidate in the ANC for presidency, the ANC will enthusiastically vote for her".
In 2014, such a sentiment should barely warrant a headline, were it not for the fact that the body within the ANC specifically tasked with keeping an eye on the position of women – the ANC Women's League – has twice said in recent years that South Africa is not ready for a female president.
In having twice elected a female president, Chile remains a statistical anomaly. UN Women reports that as of January 2014, there were just nine women serving as head of state internationally, and 15 as head of government. Bachelet herself drew attention to the shortage of women in high political office on Sunday, speaking at a gender dialogue at the University of Cape Town organised by the Nelson Mandela Foundation.
Only 17% of government ministers worldwide are women, Bachelet pointed out. And they often tend to be deployed to the 'social work' portfolios, which are seen more as a woman's domain. In South Africa, for instance, the new Social Development parliamentary committee includes only women among its members. By contrast, there is only one woman on the Defence portfolio committee.
"I was the first female Minister of Health [in Chile] but probably nobody would have seen me as a president if I had not also been the first female Minister of Defence," Bachelet said. She said that photographs of her entering a dangerous area in a tank were thought to have bolstered the perception of her 'presidential-ness' in the run-up to election.
In Chile, Bachelet said, women are now leading the republic, the senate, a major trade union and the SRC of the biggest university in the country.
"You look at that and say: 'That's the perfect world for women!'" Bachelet suggested. "Not yet."
Despite leaving her first term as one of Chile's most popular leaders in recent memory, Bachelet said on Sunday that she is still often appraised differently to her male peers. She said people have a tendency to speak about her as "nice", or "charismatic" – "Nothing about my ideas".
When Bachelet was first elected president in 2006, she won praise for appointing 10 women to her 22-strong Cabinet. Her second Cabinet, announced in January this year, saw that figure fall to 9 out of 23. A dearth of qualified female candidates was blamed. In an attempt to correct this, Bachelet's majority coalition has proposed a bill which would introduce a quota of 40% women to be fielded as candidates by political parties and coalitions.
The bill is thought to have a good chance of passing: many Latin American countries already have political gender quota laws, and Santiago thinktank ComunidadMujer estimates that 70% of Chileans are in favour of gender quotas.
Bachelet is held as a good example of a woman in leadership who introduces tangible measures to improve the lives of other women, which is by no means a given. "Not every woman is gender sensitive," Bachelet said. "I was elected president because I'm good, but once in that position I didn't want to lose any other good women."
Her first administration more than tripled the number of free crèches in Chile, increased the budget of the Women's Ministry, introduced occupational training for 36,000 female heads of households and legalised alimony payments to divorced women.
Despite being a traditionally conservative Catholic country, Chile was also one of four countries which asked the UN's Human Rights Council earlier this year to expand the traditional definition of the "family" to acknowledge that "various forms of the family exist". Among the countries which voted in favour of the old definition – alongside Russia and Uganda – was South Africa.
At Sunday's dialogue, a local activist expressed disappointment at South Africa's choice in this regard. "It's obvious you can never speak about one type of family," Bachelet – who is herself a separated mother of three – said in response. She called on South African civil society to continue to "push government" on this kind of issue.
For the South African representatives who shared the stage with Bachelet, one emphasis was on violence against women, with Graca Machel suggesting that South African society was not sufficiently "outraged".
Zethu Matebeni, of UCT's Institute for Humanities in Africa, respectfully disagreed. "How can we not be outraged when men believe they can take our bodies without our consent?" Matebeni asked. "To be a black woman, lesbian, transgender or an intersex person means to have a political battle waged on our bodies."
Matebeni also suggested that "African presidents erect their elections on our bodies". She was addressing an audience which included women married to three African presidents – Machel and Thabo Mbeki's wife Zanele – but her words won a standing ovation, and praise from Machel.
Feminist researcher and activist Nomboniso Gasa used her platform to hit out at homophobia on the continent. "People who say homosexuality is un-African: no, you know fuck-all about your culture," Gasa asserted. Addressing the current South African administration, she said: "When you speak chauvinism, when you speak heterosexism, you don't speak for me".
With much talk about the empowerment of women and the girl-child, Sonke Gender Justice's Mbuyiselo Botha was on hand to urge those present not to exclude South African men from the discussion.
"Men have to be catalysts for change," Botha said, admitting that it was a difficult task to "go and talk gender empowerment to young men who don't know where their next meal is coming from". It was a point reinforced by Bachelet, who told of her frustration about discussing gender equality with audiences primarily composed of progressive women. "I need to convince people who don't think the same as me," Bachelet said.
Possibly the most hard-hitting contribution of the day, however, came from a 20-year-old survivor of domestic violence in the audience. She said she had been living at the Saartjie Baartman Centre for Women and Children for the last five months, and could not see a way forward for herself.
"Where do we go from here?" she asked. "We don't have housing, we don't have jobs, we don't have money. Where do I go? What do I do?"
To those questions, there were no easy answers forthcoming. "This discomfort is welcome," said Machel in conclusion. "It's needed."
Photo Caption: President of Chile Michelle Bachelet (L) waves with Graca Machel, widow of Nelson Mandela (R), on a balcony of the City Hall prior to giving the 12th Annual Nelson Mandela Lecture at the City Hall in Cape Town, South Africa, 09 August 2014.
President Bachelet is the 12th speaker at the prestigeous Annual Nelson Mandela Lecture series hosted by the City of Cape Town and the Nelson Mandela Foundation. EPA/NIC BOTHMA3
By: Rebecca Davis
Article Source: The Daily Maverick