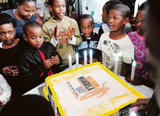 In the wake of Mandela Day, Milisithando Bongela questions what the pervasive image of Madiba and the narrative of 'reconciliation' really means
If you walk into any prominent bookstore in urban South Africa today, as I did last weekend, and if you're observant, you will notice the paperback omnipresence of the great figure of Our Father, which art in heaven, Nelson Mandela.
I visited three Exclusive Books stores and Book Dealers in Rosebank with a few friends in search of new books. At first, his image, the repetitive narrative around this messiah, seemed innocuous.
But when you take a closer look at the titles and authors, the varied approach to discussing Mandelarism (a term used in the title of one of the books), you notice that almost all the writers are white people.
I did not participate in Mandela Day because I find its superficial nature deeply problematic – a feeling that unfortunately does not absolve me from its influence.
A friend sent me an email encouraging me to attend a popular nail salon's "nailathon" where, for Mandela Day, the franchise wanted to paint 46664 nails at a discounted rate of R67.
My friend is one of the many South Africans who, like me, has been hypnotised by the "brand Mandela" narrative. It is at its crescendo in terms of how successful it has been in placating South Africans who believe in it.
One of the most vocal and comprehensive white voices on race relations in South Africa, Gillian Schutte, wrote a brilliant piece about Mandela Day, calling it "a post-colonial exercise in the commodification of the good black".
My concerns in this instance are the conditions that allow us to arrive at a place where a freedom fighter's prison number can today be used as the target number for the pseudo-charitable act of painting fingernails.
I am a product of Mandela's legacy, so I grew up knowing where my bread was buttered.
Speak well of the old man because you are attending these white schools because of him. You have been accepted at the Cecil John Rhodes University because it was his sacrifice that allowed you to learn and be tested on the values of the white world.
In my gratitude, I never bothered to look up the difference between the words 'conciliate' and 'reconciliation'. To conciliate means to stop someone from being angry, to placate and to pacify; while reconciliation means to restore friendly relations.
When I eventually woke up from the lifelong slumber regarding our democracy, a very simple narrative became clear to me. White people love Mandela so much because of the misconception that he absolved the collective group of the sin of apartheid in theory and in action.
Black people were conciliated and the word 'reconciliation' was bandied about enough times as if to suggest that relations between the races had once been excellent.
In this narrative, the cuddly, dazzling and magical image of Mandela shifted our attention from the thorny issues of our reality – that the crime of apartheid and its deeply entrenched effects that continue to play themselves out every single day – were never put on trial.
The only thing that really changed in white South Africans' lives since 1994 is the lifting of the dark veil of guilt about how the government they kept in power for 46 years ensured their security.
Not much has changed psychologically. The invisible and brilliant system of whiteness continues to thrive, distancing white people from questioning themselves while we blacks, without question, strive to emulate the white lives that are advertised on shows like Top Billing.
There is nothing wrong with wanting nice things, but this pursuit sidesteps the new nervous condition that was born out of Mandela's legacy. The benefactors of the legacy, my friends and I, are now old enough to get real with one another about what 1994 really meant for all sides.
Blacks like me navigate whiteness with the same smile that our white friends adopt to hide an inherent guilt. It is not about vilifying individual people, but about accepting that our innocence of the past is not the same.
Some of us are embracing the idea that, in the words of artist Lawrence Lemaoana, we have been facilitating the idea that nothing happened.
Jean-Paul Sartre said we only become who we are by the radical and deep-seated refusal of that which others have made of us.
Caption: A few of Nelson Mandela's family members attend his birthday celebrations on Vilakazi Street in Orlando West, Soweto, on July 18. Picture: Leon Sadiki/City Press
By: Milisuthando Bongela
Article Source: City Press