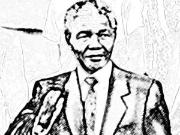 The struggle legend does not equate with the people who spend 67 minutes painting schools, writes Malaika wa Azania.
American spoken word performer and author Gil Scott-Heron argues that no matter how far wrong you have gone, it is never too late to turn back.
I often wonder if this analogy applies to the defeatism of black people. I find myself wondering if we can still turn back from the path of self-destruction that we are on and claim back our dispossessed humanness.
I wonder if we have the will to return the retina to our eyes and see clearer (and further) than we are.
The month of July has made me preoccupied with this thought, for it is the month during which the depths of black people's soporification become tragically visible.
July is Mandela Month, a period during which the Republic of South Africa celebrates the life of the first democratically elected president of the country.
Nelson Mandela is many things to many people. For some, he is a messiah, while for others he is a sell-out.
There are those who see Mandela as a true revolutionary who was guided by great feelings of love – love for peace and love for his people.
They hail him as the greatest man that ever lived, the epitome of human perfection.
And yet, there are those to whom Mandela signifies everything regressive.
They see him as a coward, a pawn in a game of the white world – a man who was the face of a negotiated settlement that left the black majority on the receiving end of a perpetuated apartheid legacy.
Of course, there is a limitation with both these narratives.
The idea that Mandela is a messiah is an absurd one that feeds into the liberalised synthesis of our struggle.
It is an idea that seeks to locate Mandela outside the ANC, which he served both as a leader and as an ordinary member.
There is an attempt on the part of many South Africans, in particular the white community and liberal media, to portray Mandela as this person who had no political allegiance, to divorce him from the congress movement.
In so doing, Mandela becomes elevated above all other great revolutionaries who don't fit into the definition of what whites are comfortable with in a hero.
The idea that Mandela was a sell-out is also one that begs for critical analysis.
Unknown to most champions of this narrative, it actually fits into the former white-created narrative, because it, too, attempts to deify Mandela, to locate him outside the ANC.
It seeks to suggest that he was single-handedly responsible for the negotiated settlement.
This divorces him from the ANC by neglecting to communicate that Mandela's actions were a product of a collective mandate of the organisation.
It is against the backdrop of these two problematic narratives that the twisted logic of Mandela Month is born.
The month-long celebrations are focused on Mandela the individual, the global icon, the philanthropist.
They are divorced from Mandela the activist and leader of the ANC, which is how Mandela the icon came about, to begin with.
Without the struggle against colonialism, there would never have been the ANC.
And without the ANC, there would never have been Mandela the global icon.
Mandela the boxer would have amounted to little because the constructs of the apartheid regime made it impossible for the black community to produce champions.
Black brilliance was crushed in its infancy, and many blacks who excelled in various fields were wiped from the books of history.
This is most likely what would have happened to Mandela had he never been recruited into the ANC.
Therefore, everything we know and have come to celebrate about Mandela transpired when he was a member and leader of the ANC – from his days as a community activist in Sophiatown right until he took his last breath in December.
To understand who Mandela was, we must first understand what the ANC is.
The formation of the ANC in 1912 was not an accident of history. It was a logical conclusion in the struggle against imperial devastation and colonisation.
For many years before the ANC was formed, natives of this country had been waging a battle against a settler minority who had violently dispossessed our people not only of their land and economy, but also of their very humanness.
The Battle of Isandlwana and other battles of resistance, documented and undocumented, are a vivid illustration of the resistance struggle that defined the socio-political milieu of South Africa before the consolidation of those fragmented efforts through the establishment of a movement that was tasked with uniting the different tribal national groups in an attempt to strengthen the fighting force of black people.
Nelson Mandela joined the ANC at the height of apartheid brutality.
In 1944, he became one of the founding members of the ANC Youth League, which was led by the militant Africanist Anton Lembede.
It was these Young Lions who, in 1949, championed the adoption of a radical Programme of Action that was intended to bring the apartheid regime to its knees.
The 1949 Programme of Action changed the posture of the ANC, which, until that point, had been led by middle-class liberals who believed that they could, through persuasion, wring concessions from the white government.
It became a militant liberation movement.
The Programme of Action called on the ANC to embark on mass action, involving civil disobedience, strikes, boycotts and other forms of non-violent resistance.
Nelson Mandela was one of the freedom fighters at the forefront of this struggle.
In 1961, along with the leader of the South African Communist Party, Joe Slovo, Mandela co-founded Umkhonto we Sizwe (MK), which would later become the military wing of the ANC.
Operating through a cell structure, MK agreed to acts of sabotage to exert maximum pressure on the government with minimum casualties, bombing military installations, power plants, transport links and infrastructure that was sustaining the ruthless regime.
For the most part of the early 1960s, Mandela was travelling across the African continent, sourcing funding for the activities of MK.
It was his contributions to MK that would ultimately result in his arrest, leading to his incarceration on Robben Island and later Pollsmoor Prison and then, ultimately, Victor Verster Prison, for nearly three decades.
Mandela was released from prison in 1990 after spending 27 years behind bars.
It was shortly thereafter that the ANC and the white racist nationalist government entered into negotiations for a political transition in our country.
With the ANC delegation led by the current deputy president, Cyril Ramaphosa, the Convention for a Democratic South Africa (Codesa) began in December 1991 at the World Trade Centre in Kempton Park on the East Rand.
In 1994, South Africa held its first democratic elections, where Mandela emerged as the country's president.
I have given this very brief account of Mandela's life so that you realise and understand that Mandela was never an individual above the struggle or outside the ANC.
He was the leader of a national liberation movement whose historic task is to wage a struggle against colonialism in all its manifestations.
All that he did throughout his political life was a mandate of the organisation to which he pledged his political allegiance, an organisation that was historically a home of the oppressed native majority.
Nelson Mandela the activist is a Mandela of black people. The Mandela that is being celebrated in July is the Mandela of white people.
He is a Mandela who white people are comfortable with celebrating, because he does not pose a direct threat to their ill-gotten privilege.
This is the Mandela who visited sick babies in hospitals and held the hands of dying people.
It is the Mandela who donated to charities and gave talks about love and friendship between the oppressor and the oppressed.
It is not the Mandela who was a member of an organisation tasked with fighting against white domination.
And we as black people have fallen for this smokescreen.
We have become comfortable with the narrative that cleverly champions reconciliation above justice – which is the narrative that characterises this Mandela of white people.
This Mandela of white people is superficial, as, too, is his conceptualisation of the struggle of black people post-1994.
Perhaps it is because racism is so universal in this country, so deep-seated, that it is invisible because it is so normal.
White people in this country, in general, are not prepared to meet us halfway in the struggle against monopoly capital, which is keeping our people chained to a cycle of disenfranchisement and poverty.
They are resistant to genuine economic transformation at whose heart lies the just redistribution of land and the economy.
But come July, they are singing praises for Mandela, whom they have conveniently forgotten dedicated most of his life to fighting for this very transformation.
But of course, it is more comfortable to paint schools and feed a hungry black child than it is to contribute to the struggle for economic freedom.
For many white people, donating old clothes to an orphanage is the height of revolutionarism. It absolves them of confronting the real issue: the economic dispossession of black people, which they are benefiting from.
Even companies that are openly reactionary, companies that exploit their workers, line up activities for Mandela Month and dedicate 67 minutes to doing good that is eroded by the mistreatment they subject workers to in 364 days and 22 hours of the year.
There is nothing genuine about this farce that is Mandela Month.
If people want to honour the legacy of an activist, they must wage the same struggle he spent most of his life waging.
Mandela was not a painter or a nanny, so these kind acts of painting schools and spending the day with orphans, commendable though they may be, are not a reflection of the real struggle that faces black people in this country.
The very reason why we have schools that need painting and children who are parentless is that the disenfranchisement of black people has led to the increase in diseases and deaths resulting from black-on-black violence; violence rooted in the economic marginalisation of natives.
The real struggle to wage is the struggle for economic freedom.
This is the struggle that, when won, will result in significant change in how people relate to each other. It will result in better schools and fewer hungry children.
This one act of superficial "do good for 67 minutes" does nothing but absolve white guilt and encourage laziness. If this is what Mandela was about, then his hero status must be revisited.
By Malaika wa Azania
According to the writer, the Nelson Mandela of white people is superficial, as was his conceptualisation of the struggle of black people post-1994. Picture: Karen Sandison
Source: IOL
*Wa Azania is a second-year Rhodes University student, and the African Union Youth Charter Ambassador for SADC.
** The views expressed here are not necessarily those of Independent Newspapers.