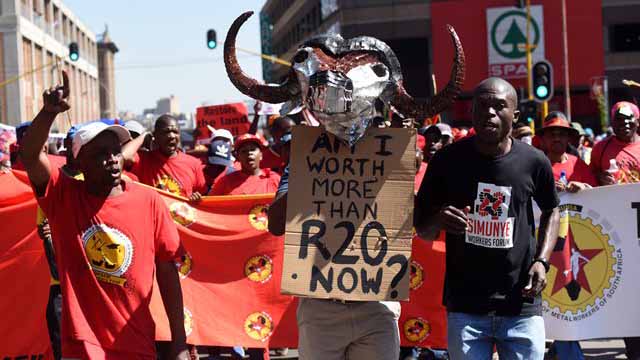 Unions with the ANC see the new laws as a victory but Saftu is resisting those laws and it will lead to further splits, an analyst says.
South African workers will be weaker under the expected changes to labour legislation, according to an analyst.
But the new wave of resistance in the country's labour union environment against the onslaught could further divide unions on workers' rights issues.
Lucien van der Walt, professor of economic and industrial sociology at Rhodes University, said: "The National Minimum Wage Bill has been the biggest issue in this new legislation … that's the one that will split the workers movement because those with the ANC, like the [Congress of South African Trade Unions], will see this as a victory.
"That is what Cyril [Ramaphosa] drove through Cosatu and Saftu [SA Federation of Trade Unions)] is not having any of it, we saw that last week."
Speaking yesterday as workers around the country marked Workers' Day – formerly known as May Day – Van der Walt continued: "The changes that are about to be implemented [in the Labour Relations Act] are modelled on laws that are very close to those that Margaret Thatcher implemented in England to make it harder to strike and harder to bargain."
Last week, Saftu showed its influence, organising millions of workers across the country to take to the streets against a minimum wage of R20 per hour and changes to the LRA that would purportedly make it harder for unions to go on strike.
But spokesperson at the department of labour Teboho Tejane said the minimum wage was merely a starting point, echoing Ramaphosa's iteration last week, when he conceded that this was not in fact a "living wage".
"The national minimum wage seeks to balance the playing field in ensuring that every worker will receive at least a minimum of R20 per hour. The amendment Bill intends strengthening the implementation of the minimum wage."
Under the proposed amendments to the LRA, unions will be required to hold a secret ballot before embarking on a strike. It will allow the Commission for Conciliation, Mediation and Arbitration to intervene in strikes which are deemed as violent or damaging to the economy.
"The main issues of the labour force are rooted in the fact that South Africa's economy was based on a cheap, mostly black labour system. We have seen, over the past five years or so, a wave of resistance.
"So, the mass action we saw last week was a sort of expression of that new wave with the new federation," said Van der Walt.
Only an estimated 25% to 30% of workers were in unions and, according to Van der Walt, 20 years ago, black workers who were not unionised only earned a fifth of the wages of those in unions.
"You often hear the argument that unions are the labour elite, but most workers in unions are not necessarily better off than those outside of unions."
Source: https://citizen.co.za/news/south-africa/1911688/new-labour-legislation-to-hurt-workers-split-unions/