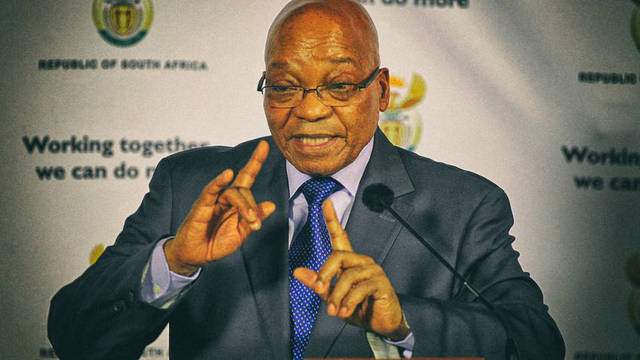 Former president Jacob Zuma must be jailed if convicted of corruption, ANC veteran Andrew Mlangeni has said.
"It doesn't matter if it is the president; it doesn't matter who it is. If Zuma is convicted of corruption, he must be sent to jail. Zuma must go back to Robben Island," he said during an interview on Saturday.
"We are still on friendly terms. But I have told him, 'sboshwa [prisoner], we are sending you back to jail wena'. He just laughs heheheh. We call each other sboshwa and I have told him we are sending him back to jail," the 92-year-old said.
Mlangeni is chairperson of the ANC's integrity committee.
On Friday night, Rhodes University conferred an honorary doctorate on him, the same day Zuma appeared in the Durban High Court on corruption charges.
The struggle stalwart and Rivonia trialist spent 26 years in jail, 10 of those alongside Zuma. In his acceptance speech at Rhodes, Mlangeni said corruption was the country's biggest problem, a scourge crippling service delivery.
"Corruption has destroyed our economy. Some political leaders have become so corrupt they don't care about improving the lives of people. They are busy lining their pockets. What a disgrace!"
In his interview, he said those convicted of corruption should be jailed and that the state should attach the assets they bought with the proceeds of their crimes.
Mlangeni was a member of the ANC's armed wing, Umkhonto weSizwe, one of whose recruits was Zuma.
He blamed Zuma's fall from grace on his association with the Guptas.
"Where have you ever seen something like that, where a Cabinet is appointed by some private people?" Mlangeni said in reference to allegations that Zuma allowed the Guptas to appoint Cabinet members who would be friendly to their business dealings.
He said the integrity committee had summoned Zuma and "spoke to him nicely" about the state capture allegations and asked him to step down. But he refused, saying Western powers were behind efforts to oust him.
"We did not accept that. It was nonsense."
Mlangeni said he supported the ANC national executive committee's decision that those who show their support for Zuma during his court appearances should do so as individuals and not as ANC structures, and that they should not wear the party's colours.
"Zuma was not charged with assisting the ANC or the government," he said.
He paid glowing tribute to the late ANC Women's League president and struggle stalwart Winnie Madikizela-Mandela. She was instrumental in raising money to enable many political prisoners to study during their incarceration.
Mlangeni went to prison without matric, but emerged with two degrees. He said he was grateful to Rhodes University for conferring the degree on him. – Mukurukuru Media
Source: https://www.news24.com/SouthAfrica/News/zuma-must-go-back-to-robben-island-20180407