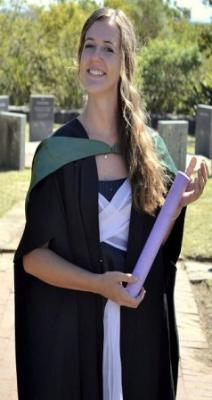 Ambition, determination and hard work have paid off for 24-year-old Ashton Dingle who heads to America in August to study a PhD in geophysics at the University of Kansas on a Fulbright Scholarship.
Ashton, who was schooled at Hudson Park, graduated top of her class at Rhodes University last year with an honours degree in physics and electronics.
She applied for the scholarship in April 2014, not expecting to be accepted as one of 15 principal candidates selected from South Africa.
The Fulbright Scholarship is funded by the US government to boost international relations.
Her interest in geophysics was sparked during a field trip to the Karoo.
She describes geophysics as the study of the earth using measurement methods.
"It merges geology with physics and looks at making 3D images of what is under the earth's surface. It has applications in water and mining research as well as the study of seismic activity.
"It merges the problem-solving physics background with the outside world, and I love being outdoors."
Asked if she would be returning to South Africa after completing the PhD, she responded with an emphatic yes.
"I see myself working in the consulting world, determining where the underground water sources are and working with mining companies to determine where the deposits of various minerals are.
"I believe South Africa is heading towards a water crisis. I hope to learn problem-solving skills to tackle that potential crisis when I get back. If fracking occurs in the Karoo, the whole water system would be irreparable."
How did she get this far?
"I am a driven person. If I have a goal in mind, it is not an option. I am going to work hard to get there.
"I always strive to get the highest grades possible so I can access the best opportunities. I have worked hard to find funding for my own studies so that I am not dependent on my parents.
"My parents have been a strong support for me. I have faith in God and I know He has directed me.
"I would like to motivate young minds in East London. You mustn't think because you started at a school in the Eastern Cape you cannot pursue your goals and dream big.
"And just because subjects like maths and physics seem difficult, it doesn't mean you won't be rewarded for working hard to understand them.
"It's more about discipline and perseverance and logic than the content of the studies."
Source: http://showme.co.za
Article by Sarah Kingon
Photo: SUPPLIED

Please help us to raise funds so that we can give all our students a chance to access online teaching and learning. Covid-19 has disrupted our students' education. Don't let the digital divide put their future at risk. Visit www.ru.ac.za/rucoronavirusgateway to donate