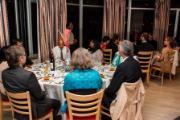 A group of postgraduate students are making waves in their communities after representing Rhodes University on national and international platforms with their cutting-edge research.
The students, including Sonal Patel, Marcellin Atemkeng, Christel Hansen and Solomon Uriri were honoured at a recent postgraduate students' Awards Dinner at Rhodes University and attended by acting Vice-Chancellor, Dr Sizwe Mabizela.
FIP Congress in Bangkok
Patel, a PhD candidate in the Faculty of Pharmacy at Rhodes won a 1000 Euro stipend to facilitate participation in the 2014 FIP Congress in Bangkok. Patel's research focus includes health communication, including health literacy and patient empowerment, with a particular focus on developing and evaluating illustrated health information for limited literacy patients.
Her PhD addresses the development of patient-centred, understandable TB-related information and its role in improving disease and TB treatment knowledge among patients with limited literacy, and investigates the development and validation of a medicines literacy test.
According to Patel, attending and presenting at the FIP Conference in Bangkok was an extremely rewarding and enriching experience. "The conference definitely provided an ideal platform for me to engage with other researchers in the field and gain insight into the work that is being done globally," she said.
She hopes to register as a pharmacist and thereafter continue as a researcher in the field of health communication to ensure that patients receive the necessary information to facilitate the safe and effective use of medicines.
South African Square Kilometre Array
Atemkeng, a PhD student at Rhodes received a certificate of excellence in the Engineering category for his poster at the annual South African Square Kilometre Array (SKA) postgraduate conference, now in its ninth year, which he attended earlier this year.
Atemkeng, of Cameroon, is researching the urgent reduction of data that will be produced by next generation surveys such as MeerKAT. "This big quantity of data can generally cause subsequent data processing stages, such as calibration and imaging to produce inaccurate results or to even fail," he said.
He added that under the guidance of his supervisor Professor Oleg Smirnov, and co-supervisors, Dr Cyril Tasse and Dr Griffin Foster, "we figured out that the processing data can be reduced by applying signals correlation algorithm techniques this by convolving the data with filters".
The conference, which attracts close to 200 delegates from across South Africa and African countries such as Madagascar, Mauritius, Kenya and Botswana, who are part of the African SKA Working Group, as well as a strong international panel of plenary speakers from leading research groups such as Chalmers University of Technology (Sweden), the USA SKA Consortium, the University of Southampton (UK), the Netherlands Institute for Radio Astronomy (ASTRON) and Oxford University (UK), provides a platform for local and international researchers and students working together in fields such as astronomy, electrical engineering, astrophysics, applied mathematics and cosmology. Atemkeng said he was delighted to receive the award for best poster among such a range of researchers.
Society of South African Geographers
Hansen received a Society of South African Geographers Bronze Medal for the best Geography Masters Thesis at the formal Society of South African Geographers Biennial Conference. Hansen explained that she got into her chosen field of physical geography and in particular investigating an openwork block deposit in the Antarctic, through her sheer love of the subject.
"I love trying to understand how the surface of the earth has changed and is changing, how landforms and land features come about, and the processes that shape them. I do periglacial research because I find deserts fascinating and the Antarctic is afterall a desert. And going to the Antarctic is probably one of the best experiences anyone can ever have and I am incredibly privileged to be able to work there," she said.
Hansen is presently working on her PhD, based on similar but broader research to her Masters. "Winning the award was a great honour and it is lovely to know that the work I, and of course also my two supervisors, Prof Ian Meiklejohn from Rhodes and Prof Werner Nel from Fort Hare put into the Masters was of a high standard and quality. I wouldn't have been able to do the Masters without the help of my supervisors. It was such a wonderful surprise and I am very happy to have been awarded the medal," she said.
South African Institute of Physics
Uriri, a final year Masters student in Physics and Electronics at Rhodes won the award for best poster presented at the 59th South African Institute of Physics (SAIP) annual conference held at the University of Johannesburg for his work, "Design of a light-emitting-diode-based pulsing system for the measurement of time-resolved luminescence".
He dedicated his award to his supervisor, Professor Makaiko Chithambo, who helped sculpt his research career.
"I was amazed when my name was called in the midst of my fellow postgraduate students in South Africa and Africa at large and at that instant I felt all the hard work in the laboratory had finally paid off. For one to have won that award out of all the Physicists in South Africa at that level was indeed an honour. My advice to all aspiring research scientist is have that passion in what you do be it in Humanities, Sciences, Engineering and the Social Sciences as it may pay off eventually in the end," added Uriri.
Photographer: Ruan Scheepers.
Please help us to raise funds so that we can give all our students a chance to access online teaching and learning. Covid-19 has disrupted our students' education. Don't let the digital divide put their future at risk. Visit www.ru.ac.za/rucoronavirusgateway to donate