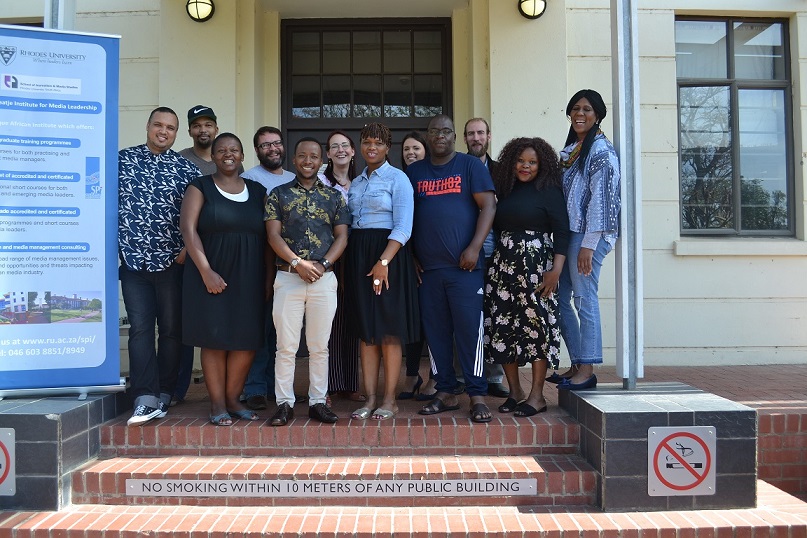 By Mbalenhle Buthelezi
MAKHANDA, South Africa – A group of participants who attended a recent short course at Rhodes University said they will be creating more news content videos in order to keep their audiences interested and engaged, especially on social media platforms.
The participants were attending a five-day "Essentials of Digital Media Management" course that is offered by the Sol Plaatje Institute (SPI) for Media Leadership at Rhodes University.
The module that focused on multimedia content creation using mobile devices was popular among the participants, who learned about the techniques, equipment and applications for creating compelling videos.
Zoleka Godlo, an administrator from Harry Gwala District Municipality, said: "My team will now be doing a lot of videos for our Facebook page, website and YouTube channel."
Other modules focused on the use of social media for campaigns and crisis communication, digital media business models, big data and ethics in the era of digital media.
The aim of the course is to provide a range of digital strategies and insights, as well as practical skills, that equip participants to make direct interventions in their respective jobs.
Valance Wessels, a project administrator at the Neil Aggett Labour Studies Unit at Rhodes University, emphasised that his pre-course expectations were met. "Everything I learnt was really effective. Most were new subjects but all was something I needed to know", he noted.
The course was relevant to the diverse group of participants who engage with different audiences on various digital and social media platforms. The group included journalists, government communicators and administrators.
The course was led jointly by Kayla Roux, a digital media lecturer at Rhodes University's School of Journalism and Media Studies, and Jacqui-Mackway Wilson, founder and Chief Executive Officer of GoSocialSA.
The SPI runs a basket of other accredited professional media management and media business courses (please visit www.ru.ac.za/spi/) and offers the only formal postgraduate qualification in media management in Africa and the developing world.
The postgraduate course, currently offered as a one-year fulltime-basis, although there are plans to start rolling it out as a distance course, has graduated more than 500 of these top-level aspirant media leaders since 2004, when this qualification was established. Most of these postgraduates today occupy senior positions in the media in Africa and internationally.
For more information about the SPI's courses, please contact the Institute's Course Co-ordinator, Mbali Buthelezi, at m.buthelezi@ru.ac.za, or call her on 046 603 8949.
ENDS
Source: SPI
Please help us to raise funds so that we can give all our students a chance to access online teaching and learning. Covid-19 has disrupted our students' education. Don't let the digital divide put their future at risk. Visit www.ru.ac.za/rucoronavirusgateway to donate