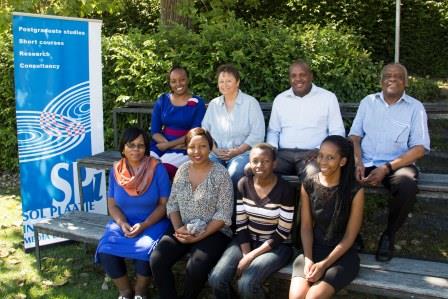 By Tumi Rakuba
GRAHAMSTOWN, South Africa -- Newspaper managers from Botswana, Lesotho, Swaziland, Uganda and South Africa spent a week at Rhodes University recently debating problems confronting the industry in their countries and engaging with expert facilitators about the challenges they face.
The managers were attending a five-day "Essentials of Newspaper Management" course offered by the Sol Plaatje Institute for Media Leadership at Rhodes University in Grahamstown in the Eastern Cape. The group included managing directors and editors of newspapers and a freelance journalist.
Among the subjects dealt with on the course were leadership, advertising and marketing, branding, managing teams, circulation and distribution management and the importance of editorial independence and media ethics.
Participants were adamant that the course had lived up to its billing and that they had found the programme engaging and highly relevant to their different situations.
One participant described how he had come on the course expecting to walk away with "a few tips", but had left with a comprehensive plan for improving his management team.
Agnes Kaleye, the general manager of Uganda's Monitor Publications that are owned by East Africa's largest news group, Nation Media based in Nairobi, said: "I am from the commercial side of the organization and when I return to the Monitor I will be working towards changing the budgeting strategy of our business."
Her colleague, Carol Benyanga, the group's managing editor, shared her sentiment and commented: "My thinking has changed after attending this course. Before I thought I did not have to be involved with any of our advertisers but now I have learnt that it is important that I establish a good relationship with them because it is important to learn about your advertisers in the same way you learn about your readers."
The next "Essentials of Newspaper Management" course will be held at the Sol Plaatje Institute from 17-21 August 2015. Interested candidates should contact Vuyokazi Burwana at V.Burwana@ru.ac.za or 0466038949.
Tumi Rakuba is a postgraduate media management student at the Sol Plaatje Institute for Media Leadership, Rhodes University.
Source: SPI
Please help us to raise funds so that we can give all our students a chance to access online teaching and learning. Covid-19 has disrupted our students' education. Don't let the digital divide put their future at risk. Visit www.ru.ac.za/rucoronavirusgateway to donate