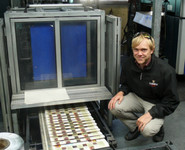 Postgraduate Diploma in Media Management 2012 alumnus Harry Davies has wasted no time putting the skills and knowledge he gained from the Sol Plaatje Institute's year-long course to work.
Harry is the business manager of the Harare News which launched in Zimbabwe on 1 July this year. The free sheet has a print run of 10 000 copies and can be read online at [www.hararenews.co.zw]. SPI Deputy Director Peter du Toit (PDT) asked Harry (HD) about the launch of the new title.
PDT: Can you tell us what motivated you and the others involved to start the publication?
HD: I have always wanted to work in the media and always wanted to live in Zimbabwe. After graduating from Rhodes University in 2007 with an Honours in literature I lived in Ireland and London for a spell, and then in South Korea for two-and-a-half years.
Seeing the way people use technology and interact with the news and each other in these developed nations made me see how far Zimbabwe and indeed Africa still have to go in many areas. I was always seeing new and innovative concepts and services in marketing and communication and the manner in which Africa is leapfrogging technology means that there is a lot of scope for some of the finished products I saw in Asia over here already.
I came to the end of my contract as the curriculum coordinator at a government language institute in Korea and started to scour for training opportunities that would invigorate my thinking about how to start a media business. I looked at options in India and America, but kept returning to the SPI website where the allure of the PDMM curriculum beckoned. I was reluctant to return to Rhodes (diversity is best) but ultimately the offering seemed unparalleled.
There was a massive absence in Harare of community news other than H-Metro which is a tabloid riddled with mythical creatures and gossip. It was also surprising to me how much good stuff is going on in this city every day. This place is blossoming, culturally, socially and economically. Unfortunately this is not reflected in the big dailies and weeklies which are caught up with political mudslinging. We saw the need for something positive, community-focused and representative. A newspaper with issues that the average reader is actually able to influence. We are hoping to cultivate a bit of grassroots activism around issues that affect us as a community.
PDT: Who is your target audience?
HD: We are trying to be hyper-local so anyone in Harare really. Our coverage is mass-market
PDT: Where and how are you distributing the paper?
HD: We are starting with 10 000 copies for the CBD and northern reaches of Harare. As we build capacity and brand awareness we will grow into the southern parts early next year with an additional 20,000 copies. It is being delivered to supermarkets and shopping centres for mass distribution. We have about 150 read-only copies in waiting areas across the northern part of the city -- coffee shops, doctors' rooms, etc. In being a true community paper, the paper is in most schools and the hospitals too. I have a big map of the city in the office divided into zones. Everyone on the team gets a section to deliver to and monitor.
PDT: What has been the response from the advertising community?
HD: Our first issue was very well received, though the improvement in sales from selling a concept to selling based on our first issue has been slim and hard fought for. A lot of businesses are in a cash-flow crisis at the moment, and the biggest companies have reigned in their marketing ahead of elections. We work for the promise of the future.
PDT: How would you describe the editorial vision for the paper?
HD: Community- driven, hyper-local, accurate, responsive, positive, enabling.
PDT: How do you think this vision supports your commercial objectives?
HD: We are unique in the market and hugely interactive. We cover issues not picked up on by other publications and thus have an appeal to an untapped suite of advertisers. Our social mandate is earning us a response from donors too as we negotiate financial support for various aspects of our business (e.g. sponsorship of female journalists, bulk subscriptions to cover distribution costs, etc.)
PDT: To my knowledge the free-sheet model has not worked in Zimbabwe until now. What made you decide to use this model?
HD: This is true: a free paper folded as recently as the end of last year which was running on a very similar model to ours. We are different to our predecessors because:
we have a strong digital strategy (they had none).
we are aiming to cover the whole city (they were focused on small sections).
the economy is on the mend in several sectors (and will hopefully improve across the board).
we have a short term plan to use our core skills and expertise to create alternative revenue streams through partnerships with other companies and people.
Other practical reasons include:
A desire for some media to reach people for whom newspapers are a luxury.
A desire to reach people disenchanted with the news.
a simpler licensing and accreditation process for our business and journalists.
A means of addressing the challenge of competing with free digital media.
The ability to guarantee 10 000 copies are being read.
PDT: The launch of the paper so close to an election could leave people thinking you have political motives. Is this the case? If not, how would you respond to this suggestion?
HD: I would have to say... read the paper. Everything in Zimbabwe is highly politicised, especially at the moment, so ultimately issues around the environment, sport, education, etc. can end up being hauled into the political arena. I would be surprised, however, if anyone found the content we have published so far to have some sort of agenda.
PDT: What have been the biggest challenges you have faced so far and what do you anticipate will be the biggest challenges in the future?
HD: Getting the right people in place and working effectively, managing money, and selling advertising have been the toughest challenges so far. In the future... these will probably endure as our big issues.
PDT: How do you think the PDMM has contributed to preparing you to go into this venture? What particular lessons have you learned from the course that stand out now that you have taken the entrepreneurial leap?
HD: It unpacked my dream into digestible pieces and then brought them all together again into a better-understood whole. It gave me a new vocabulary to conceptualize strategy and planning. I met some awesome people who inspired me and motivated me.
PDT: Do you have any advice for current and future members of the PDMM class?
Start Francis' [SPI Director Francis Mdlongwa] business plan assignment EARLY. Keep all your notes and files; they will be good tools in your library down the line. Start trying to develop your personal time management skills ASAP, they are the cornerstone of everything else that you do. Mine are poor and I sometimes drop the ball on simple but crucial tasks as a result. Working on it though!
Picture Caption: Postgraduate Diploma in Media Management alumnus Harry Davies feels the addictive pull of print as the first issue of his paper, the Harare News, rolls hot off the presses.
Source: SPI
Please help us to raise funds so that we can give all our students a chance to access online teaching and learning. Covid-19 has disrupted our students' education. Don't let the digital divide put their future at risk. Visit www.ru.ac.za/rucoronavirusgateway to donate