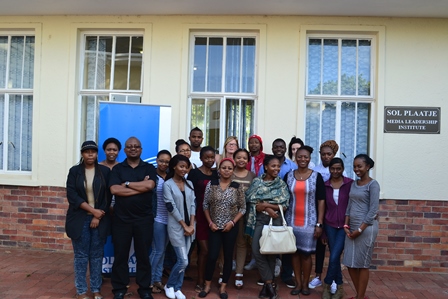 By Philisiwe Mbongwana
Media management students at the Sol Plaatje Institute for Media Leadership (SPI) spent three days exploring how they can contribute to promoting gender transformation in the media industry during a gender empowerment workshop held at the SPI this month.
The workshop, attended by the 19 Postgraduate Diploma in Media Management students, was sponsored by the the Open Society Initiative of Southern Africa (OSISA) and facilitated by Mercy Mupavayenda and Dr Michael Jana.
Together the students and facilitators explored practical policy steps community, commercial and public media can initiate to address gender imbalances and to ensure that policy implementation is sustained through ongoing monitoring and evaluation.
Students also examined how media can both perpetuate and combat stereotypes about gender roles in society and discussed the importance of representing the needs and interests of different genders in the news.
SPI student Phoka Motsilili said he found the found the workshop relevant because it addressed issues happening in the broader Southern Africa.
"Although women constitute more than 50 per cent of the population, they are systematically excluded from the mainstream of our economy and indeed in the area of media. It is therefore important to instill the sense of gender consciousness in both men and women to ensure that this agenda [of transforming media] succeeds," Motsilili said.
Another student, Siphesihle Nkwanyana, who works as an news anchor at Swazi TV, also found the workshop eye opening . Nkwanyana said: "Gender mainstreaming came out as a core need and it is essential for every company to empower women, just like the SPI is doing.
"We women are not fighting with the men but are trying to find the balance and to say, 'power to women' as they are equally important in society."
OSISA has been providing scholarships to women journalists and managers from SADC countries complete SPI's year-long media management qualification since 2006. This support has made it possible for 27 women to join course and many have since risen to senior positions after graduating.
Philisiwe is a PDMM student
Source: SPI
Please help us to raise funds so that we can give all our students a chance to access online teaching and learning. Covid-19 has disrupted our students' education. Don't let the digital divide put their future at risk. Visit www.ru.ac.za/rucoronavirusgateway to donate