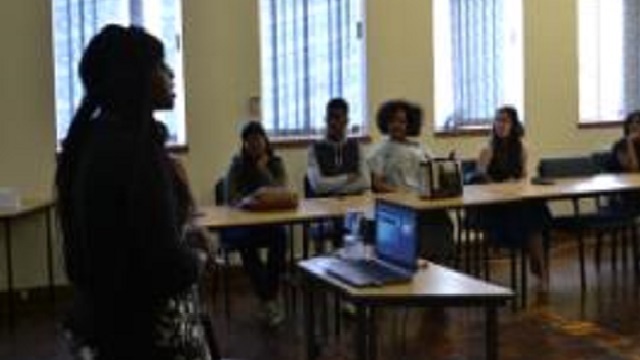 By Zusipe Batyi
Four current students doing the Postgraduate Diploma in Media Management (PGDip in Media Management) at the Sol Plaatje Institute (SPI) for Media Leadership briefly took time off their studies this week to market the course to other students at Rhodes University.
The four students -- Cindy Fumbata, Siyavuya Makubalo, Bridget Penny and Patrick Salomao – joined SPI Director Francis Mdlongwa to speak to nearly 40 students during the SPI's popular annual pizza lunch for Rhodes students.
The PGDip in Media Management is popularly known as the PDMM. It is an intensive, one-year fulltime programme which combines rigorous academic and practical learning and work competencies which prepare students for the real world of work.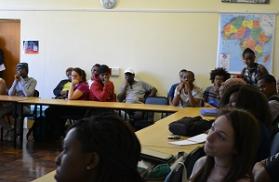 It covers eight core modules, ranging from media management and leadership, managing media convergence and digital media, managing media content, managing marketing and advertising, managing media distribution to media management contexts, policy and institutions, human resources management and media economics and financial management.
PDMM students also complete an extensive academic portfolio and spend a month observing real media management at a media company of their choice. Many of the PDMM graduates today occupy senior management positions in the media in Africa and globally, including one graduate who spent eight years in London working as a senior manager of global social network Facebook.
Fumbata, who holds a Bachelor of Social Sciences in Psychology and Sociology from Rhodes University, spoke highly of the course and how it has assisted her to understand the psychological aspects that inform some aspects of marketing and advertising for business.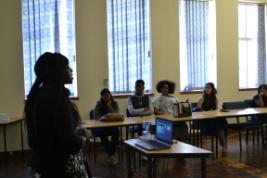 As a person without any media background, Fumbata said she had managed to combine her passion for psychology with media business management. "The course pushes your boundaries and you learn more than you expect," she told the Rhodes University students.
Penny, having completed a Bachelor of Arts in Drama and History, emphasized that a media background was not critical to doing the PDMM and she was a good example of this. Anyone with a first degree in any discipline could enroll on the course, which she praised for equipping students with a holistic knowledge and understanding of the rapidly changing media industry and also building up students' confidence to deliver compelling presentations to peers.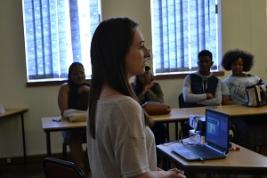 The PDMM modules taught students a variety of media management and leadership aspects that are needed to lead a successful business, Salomao said. "The course teaches you to be a better leader and it covers various aspects of media management, entrepreneurship and even corporate communications," he said.
Salomao holds a Bachelor of Media Studies from the University of Botswana and an honours degree in media studies from Rhodes University.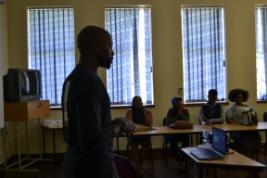 Siyavuya, who holds a Bachelor of Journalism specializing in Television from Rhodes University, said she had joined the 2016 PDMM class after the course was recommended to her by a colleague. She said one of her career goals is to start her own media company, and doing the PDMM was the right choice. The course had opened her eyes to many insights that would help her achieve her dream.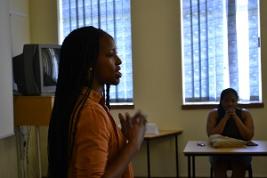 The PDMM is the only formal qualification in media management in Africa and the developing world, graduating nearly 200 students since the programme was launched by the SPI in 2004. Click here to learn more about the PDMM
Source: Rhodes SPI
Please help us to raise funds so that we can give all our students a chance to access online teaching and learning. Covid-19 has disrupted our students' education. Don't let the digital divide put their future at risk. Visit www.ru.ac.za/rucoronavirusgateway to donate