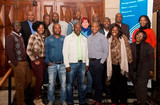 Government communication officers from across South Africa have praised a course they attended at the Sol Plaatje Institute (SPI) for Media Leadership recently, saying it had capacitated them and exposed them to new ways of doing work.
The course, held at the SPI in July, focused on a range of strategies which government communication officers need to use in their work to communicate better and more effectively with their various constituents and on how to manage and lead their organizations in a rapidly changing media landscape.
"I studied for four years but within the few days I have been here (at the SPI), there's a lot that I've seen and I now notice that it is so imperative that one keeps on studying, one keeps on refreshing and refreshing," said one of the participants, Manelisi Ntsodo, who is the media co-ordinator for Parliament of South Africa in Cape Town.
Ntsodo graduated with a BA degree in Journalism and Media Studies from Rhodes University, the home of the SPI, in 2003. Ntsodo handles media accreditation during events at Parliament.
The communications manager of Buffalo City Metropolitan, Keith Ngesi, said: "This course is going to capacitate me; the content I'm getting here I'll be sharing with my team."
He spoke after attending only a few days on the five-day accredited and certificated course known as the Government Media: Essential Tools for Editors and Journalists.
Ngesi also has strong ties with Rhodes University, where he did a journalism course with the East Cape News Agency endorsed by Rhodes in 1994 and 1995 and worked closely with Radio Grahamstown. Ngesi has worked as a communications manager for six years and has also been a producer and presenter of current affairs programmes for the SABC for 12 years.
Ngesi says that it is very different working in government compared to the media industry. "Government media is different (because) there are a lot of legislative systems and processes that we operate under and we are obliged to follow."
Ntsodo adds: "(In government) You don't have as much freedom to write about what you think… you must make it a point at all times to abide by [the code of ethics]. You can't just write something you want to."
The Makana Municipality communications officer, Yoliswa Ramokolo, was also on the course. She has a BA (Hons) from the University of the Western Cape and joined Makana in June 2013. "I've learned so much that I didn't know before… there will be some changes in my office now. Now I will be able to deal with the media in a better way than before," she said.
She regards her position to be of strategic importance to the Grahamstown community. "It is very important to communicate the work of the municipality and to bring the people and the municipality together so they will be able to work together."
By Ettioné Ferreira
Source: SPI
Please help us to raise funds so that we can give all our students a chance to access online teaching and learning. Covid-19 has disrupted our students' education. Don't let the digital divide put their future at risk. Visit www.ru.ac.za/rucoronavirusgateway to donate