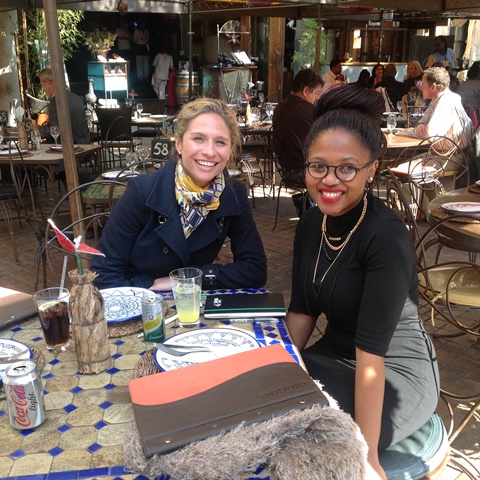 SPI graduate shines at Facebook in British capital
By Olona Tywabi
Meet Carin Lee, a 2006 graduate of Rhodes University's Sol Plaatje Institute (SPI) for Media Leadership.
Carin now works as the London head of Client Solutions for the Global Accounts Team of the international 'people's' network Facebook, handling brand accounts of companies such as Unilever. She has been with Facebook for seven years.
Carin loves what she does because it involves interacting and liaising with partnerships of top global advertising companies on how to use the Facebook platform to build their own brand and also help them overcome business challenges globally.
"You know what I love the most is hearing people's stories on how Facebook helps connect people and helps people start their own businesses," she told me in an exclusive interview while visiting Johannesburg recently.
Particularly polite, warm and strikingly beautiful, Carin has an authoritative yet calming demeanour that lets you know from the onset that she is a highly focused and dedicated career person, and this immediately puts you at ease.
She was born and raised in a small town in Polokwane in the Limpopo Province. She is a daughter, sister, fiancée, and an aunt of two (soon to be three) beautiful children. Her inspiration in life stems from her family and she says that she is so fortunate to have been raised in such a loving home, with strict but very encouraging parents -- and this inspires her to give back.
It is her passion for the digital technology, people, different cultures and tourism that led her to complete her undergraduate studies in Information Sciences and Publishing at the University of Pretoria. The course focused on communication sciences and communication/technological changes.
She particularly loved the marketing aspect of this course. "I studied at the time when not many people had mobile phones or their own computers…it was early times of the internet so you had all these technological changes which came with societal changes," she recalls.
Carin was fascinated by how the internet was literally "information at people's fingertips" and she was curious to find out how it could be organized in a much more interesting and useful way to improve the lives of ordinary people.
Upon completion of her undergraduate studies, Carin still wanted to pursue a qualification in media communications and marketing. This curiosity sparked her interest in media studies, which influenced her decision to enrol on the Postgraduate Diploma in Media Management (PDMM) offered by Rhodes University's SPI in 2006.
At the time, the course was for individuals who had worked in the industry and she hadn't. "I actually stumbled upon the PDMM course while browsing the Rhodes University website and I was like 'you know what, I will just go for it'."
She says she loves how the PDMM course encapsulates everything in the media business landscape and she goes on to mention that the course was one of the best things she ever did. "Not just the content of the course, but the lecturing style has shaped me in that it was very much about challenging what you read and you needed to form an opinion on it and, in most cases, you needed to find a business strategy and solution to the issue under consideration."
The PDMM course encouraged her to challenge herself and it groomed her to work better in a collective because it involved plenty of team work, which she feels helped her to grow as a person.
"The group dynamic was very important because when you are in the work force, you work functionally across different disciplines and they always say that the collective is where you are going tobe most successful."
The course is not just for journalists who want to be in management but also for people who want to pursue a solid career in media business and management and for those who have a knack to launch their own media-focused enterprises.
Upon completion of her PDMM, she relocated to London where she stayed with her sister. Carin's transition in 2007 from South Africa to London came with challenges. She was at a crucial stage in her life in terms of finding herself, job hunting and leaving her support system behind.
"Things are not just going to land in your lap, so if you want to survive you've got to make it happen for yourself…you cannot leave that responsibility on other people," she recalled the challenges on her relocation to the British capital.
This proved to be a crucial step in her driven personality as she knew she wanted more for herself. She started off working in retail, then later developed an interest in media law and spent a bit of her time shadowing a media lawyer.
Her proper working career started when she later went to work for an international magazine company selling classified ads. This gave her a holistic understanding of the economics around print magazines and how they generate revenue which she found to be interesting.
"I liked it but I always thought 'you know what, if this wasme I would be going on the internet right now'." She then moved on to OMD, a global media communications agency where she worked in digital which fitted nicely with what she had studied at the SPI.
A friend then informed her about a vacant position at Facebook and she applied for it and got the job. She highlights the importance of being patient, understanding people, understanding different cultures, and always staying true to who you are and never shying away from asking for help from other people when such a need arises. As she put it: "You need to persevere and keep going."
Her future career plans involve Facebook because of its "progressive nature". She notes that this global media behemoth has taught her a lot about business and technology and she sees herself growing further with the firm.
She says that Facebook has given her and work colleagues the opportunity to speak to people across the world in a very relevant way, and media companies need to be able to give their audiences an "authentic and rewardable digital experience while respecting these audiences and their time".
Apart from her curly hair, what makes Carin so unique is her generosity. She loves giving back, not just in monetary terms but also giving her time or helping others where she can.
"That's something I always want to keep: generosity. You have to ground yourself sometimes and I think it touches people and goes a long way…and my curly hair makes me unique."
Carin's advice to the 2015 PDMM class? Always work for people from whom you will learn and grow.
"I used to look up to Francis (Mdlongwa, the director of the Sol Plaatje Institute). He is amazing, so knowledgeable…Learn as much as you can from him, especially his calmness. Be calm and respectful."
Last words?
"Dream big. There is nothing stopping you achieving your dream."
Source: Own reporter
Please help us to raise funds so that we can give all our students a chance to access online teaching and learning. Covid-19 has disrupted our students' education. Don't let the digital divide put their future at risk. Visit www.ru.ac.za/rucoronavirusgateway to donate