Dozens of Rhodes University students got a glimpse of what is taught and how on the Postgraduate Diploma in Media Management (PGDip in Media Management) when they converged at the Sol Plaatje Institute (SPI) for Media Leadership recently.
The PGDip in Media Management is the only formal qualification in media management in Africa and the developing world, and many of its graduates today occupy influential media positions in Africa and internationally.
For example, one of the graduates is a senior manager in London for the global social media platform Facebook; one graduate is running a successful multi-platform media company in Ghana; one is the director of Lesotho's broadcasting and information department; one is the head of business at Malawi Television in Lilongwe; and one is running a successful 'free newspaper' in Zimbabwe.
SPI Director Francis Mdlongwa spoke to the Rhodes students on the intensive, one-year fulltime PGDip in Media Management during a pizza lunch on 13 August where he explained the course's eight core modules and how these were taught.
After his address, Stephanie Shumba, a Rhodes University third year journalism and industrial psychology student, said: "I think the PGDip in Media Management speaks to me considering the many potential work opportunities it gives to students."
She said she had been thinking of doing a master's degree in journalism, but "I am re-evaluating my life and, right now, I think I should change my mind about my choice of studies".
Under South Africa's National Qualifications Framework (NQF), the PGDip in Media Management is pegged at the NQF Level 8, the same as an honours degree. Some of the SPI's graduates have gone on to pursue master's degrees at several South African and overseas universities, with one of them graduating with a PhD in media and communication two years ago.
The course blends practical and theoretical grounding in media management, with students also required to do a month-long mid-year industrial attachment at a media company of their choice. It is designed to prepare recent graduates and working media professionals to fast-track their careers into management positions in the media industry.
Students from several faculties at Rhodes University attended the pizza lunch where Mdlongwa explained that this multidisciplinary course, with a focus on the rapidly changing media landscape, media innovation and media entrepreneurship, had opened doors for many of its former students in the real world of work.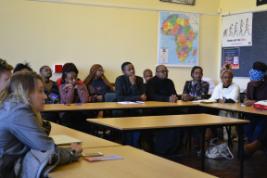 "With the knowledge, understandings, work skills and competencies that you gain from here, you will be able to operate effectively and efficiently in the volatile media landscape," he said, noting the SPI's use of case studies, scenario planning and role plays as the course's dominant teaching methodologies.
PGDip in Media Management students who will complete the programme at the end of the year are already singing its praises. Khutso Tsikane, one of the 19 students in the Class of 2015, said the course gave students a range of real skills and understandings to work in the media sector regardless of their undergraduate disciplines.
She said graduates from the programme were "much more valuable at the workplace" than some graduates from other disciplines because those doing the PGDip in Media Management would already have employable work skills and work competencies.
One of her classmates, Olona Tjwabi, concurred, adding that because of the PGDip in Media Management, she had already been offered a job where she had done her media management internship earlier this year.
In the meantime, there were many more students like Shumba who, after the SPI briefing, felt that the PGDip in Media Management was the best way to get a competitive edge in the job market.
"I find the course to be interesting because it focuses on innovation. We're not taught anything about entrepreneurship in most of our courses," said Sisipho Skweyiya, a third year television and industrial sociology student.
Lwando Mtshizana, a third year B.Com student, said: "It suits me well because I'm about to graduate with a B.Com. The PGDip in Media Management will help me focus on a niche and that's why I'd like to pursue it."
Phoka Mosilili, who is doing the PGDip in Media Management, said: "The course has empowered me to start my own media company."
Mantoe Phakathi, a journalist from Swaziland who is also doing the course, said: "It has given me three options: I can negotiate for a promotion at work, or do a master's degree or start my own social media management consultancy company."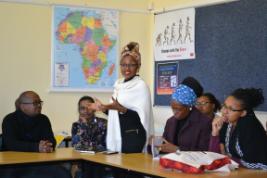 Olona Tywabi commented: "Some of us are ready to become our own chief executive officers when we set up our own media companies."
Source: Own reporter
Please help us to raise funds so that we can give all our students a chance to access online teaching and learning. Covid-19 has disrupted our students' education. Don't let the digital divide put their future at risk. Visit www.ru.ac.za/rucoronavirusgateway to donate