When you're off-campus and not directly connected to the Rhodes network e.g. ADSL Internet from home, you will not be able to connect to certain network applications and services. In this case you will need to establish a VPN connection from your remote connection.
Rhodes' Virtual Private Network (VPN) server allows staff and students using a PC on the Internet (i.e. not on campus or connected to Rhodes' network directly) to virtually connect to the Rhodes network. The effect is that the PC becomes connected to the Rhodes network, and thus has full access to resources on the campus network.
Access to the VPN server is automatically granted to all staff at the University, and available to students via a Support Request based on need with an accompanying letter from the HOD. Below are the configuration instructions for your PC to make use of the VPN on Windows.
Setting up the VPN connection in Windows 10
1. Select the Start

button, then select Settings

.‌
2. Select Network & Internet, then select VPN and then Add a VPN connection.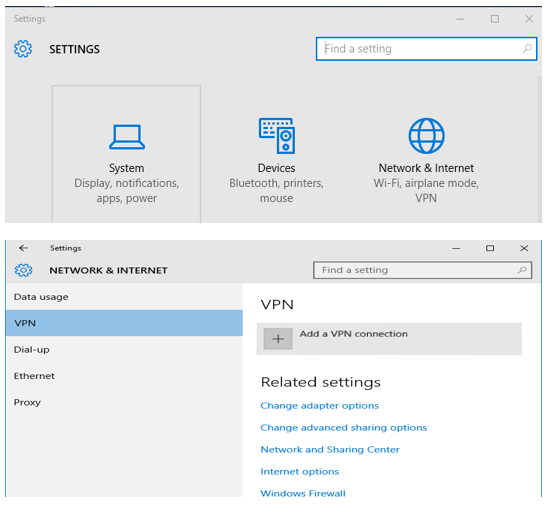 3. In Add a VPN connection, do the following:
For VPN provider, choose Windows (built-in).
In the Connection name box, type Rhodes VPN for the VPN connection profile. This is the VPN connection name you look for when connecting.
In the Server name or address box, type vpn.ru.ac.za.
Leave the VPN type option set to Automatic, and the Type of sign-in info option set to User name and password.
Enter your Rhodes credentials in the User name and Password boxes.
Select Save.
‌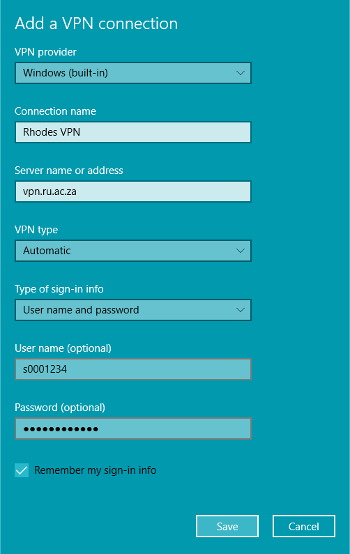 Connecting to the VPN
Select the Start button, then select Settings.
Select Network & Internet, then select VPN.
Select the Rhodes VPN connection then click Connect.
If prompted, enter your username and password (Rhodes username and password).
When you're connected, the VPN connection name will say Connected underneath.
To quickly check and see if you're connected to the VPN while you're doing things on your PC, select the Network icon on the far right of the taskbar, then see if the VPN connection says Connected underneath it.
Disconnecting from the VPN
Please disconnect from the VPN service when you've finished using it.
In order to disconnect from the VPN you follow the exact steps as connecting to the VPN but in step 3, right click and select Disconnect.
Notes about using the VPN
Last Modified: Thu, 26 Mar 2020 21:49:39 SAST