Launch of new gallery and SARChI Arts Lounge
Date Released : 20/06/2018
The new Arts of Africa and Global Souths Arts Lounge and RAW Spot Gallery opened on 13 June 2018 at Rhodes University.
Rhodes visual arts lecturer receives NIHSS award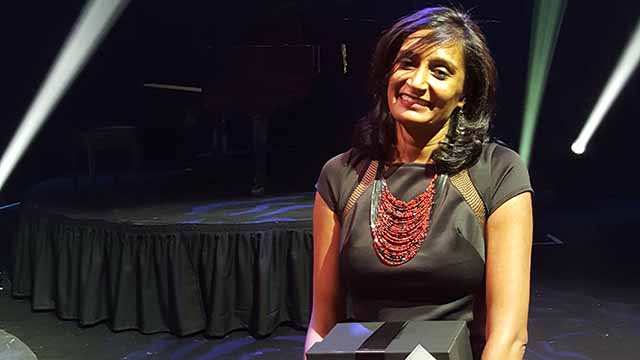 Date Released : 11/06/2018
Rhodes University art history and visual arts senior lecturer Sharlene Khan was adorned with an award from the National Institute for the Humanities and Social Sciences (NIHSS) at the John Kani Market Theatre in Johannesburg on 15 March 2018.
Two UNILAG lecturers win 2018 edition of Rhodes Artist and Writer Residency Fellowship (RAW)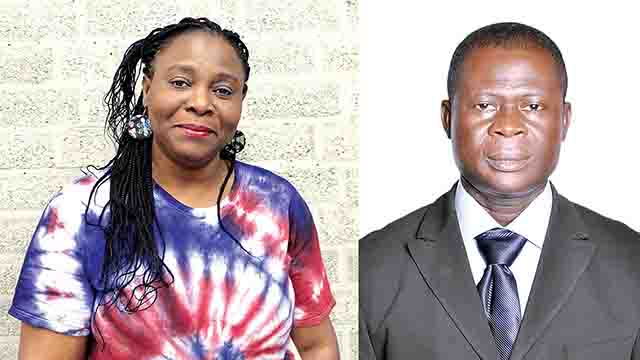 Date Released : 15/05/2018
Professor Peju Layiwola, Head, Department of Creative Arts, and Dr. Patrick Oloko, a senior lecturer in the Department of English, have been awarded the Rhodes Artist and Writer (RAW) Residency Fellowship Programme for 2018.
DECOLONIAL AESTHESIS CREATIVE LAB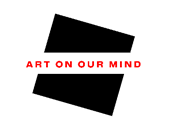 Date Released : 24/04/2018
The Art on our Mind research group, headed by Dr Sharlene Khan, in the Department of Fine Art, will be holding a Decolonial AestheSis Creative Laboratory between the 8th and 14th of July 2018, funded by the Andrew W. Mellon Decolonial Turn Funds. The Creative Lab is a praxis-based lab aimed at introducing students to decolonial aesthesis theory, innovative practitioners and experimental process-based methodologies, in order to stimulate creativities. Our guests include Prof Bhekizizwe Peterson, South African literature scholar and screen writer; Mr Jon Alpert, American award-winning journalist and documentarian; Ms Laura Andel, Argentine composer; Zimbabwean-UK editor Ms Ellah Wakatama Allfrey and Ms Vibha Galhotra, Indian visual artist (please see biographies below).
'The Mute Always Speak': (Re) imagining and re-imaging feminist futures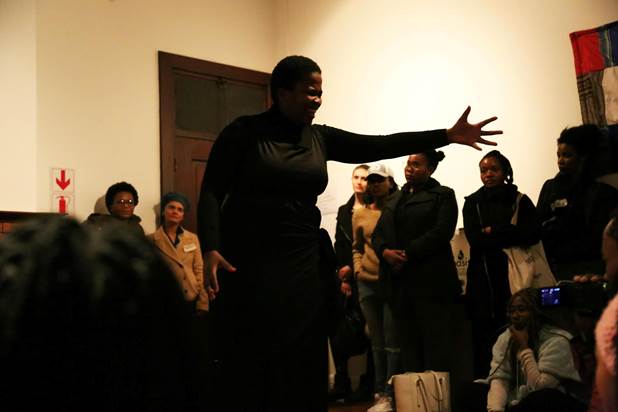 Date Released : 20/03/2018
In her text, 'The Mute Always Speak: On Women's Silences at the Truth and Reconciliation Commission', Nthabiseng Motsemme discusses new understandings of speech acts, not just the orality which dominates discourses, but a range of performances that will make us understand "South African women's subjectivities and forms of agency". In particular, she contemplates how silence has been employed for a range of uses against and under apartheid:
Fine Art student exhibits at prestigious Joburg Gallery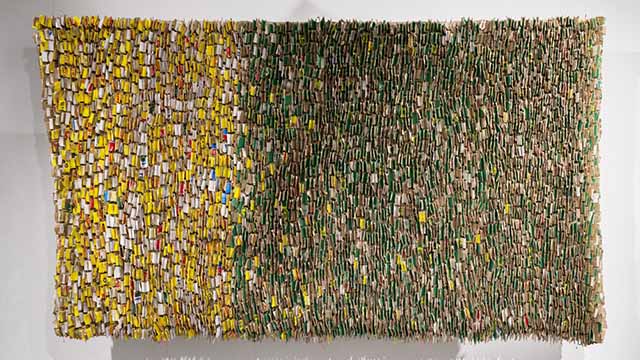 Date Released : 22/02/2018
Fine Art master's student Wallen Mapondera is on track in his meteoric rise to international recognition in the art circles.
Forgetting Ntaba kaNdoda MFA Exhibition
Date Released : 08/02/2018
Ntaba kaNdoda has long been considered by amaXhosa as a place of sanctuary, a revered place that became a symbol of the former Ciskei. The Ntaba kaNdoda Monument, which was officially opened on the 14th of August 1981, sits on this Mountain, an enigma for visitors and locals alike, and a symbol of unity for the pseudo-nationalities of the former Bantustan. Its existence cloaks the graves of long dead warriors buried on its grounds, as their stories wither from our collective memory.
Art on our Mind Public Dialogue: Reshma Chhiba in conversation with Nontobeko Ntombela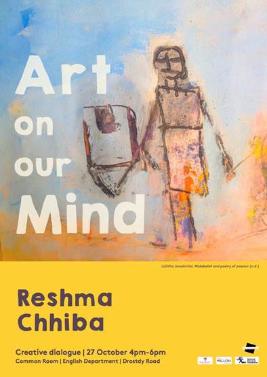 Date Released : 24/10/2017
Visual artist and performer Reshma Chhiba's artwork engages issues of contemporary and historical femininities. She often uses the iconography of the Hindu Goddess Kali and the symbol of the yoni as a means of interrogating notions around sexuality, agency and gender.
"Reconfiguring the OMWESO Board Game: Performing Narratives of Buganda Material Culture"
Date Released : 17/10/2017
The Arts of Africa and Global Souths research group in the Fine Art Department, warmly invites you to a seminar presentation by Dr Rose Namubiru Kirumira (Senior Lecturer, Makerere University, Uganda) who is currently a Mellon Writer in Residence in the Fine Art Department.
POSTDOCTORAL FELLOWSHIP AVAILABLE FOR 2018
Date Released : 03/08/2017
NRF/DST SARCHI CHAIR RESEARCH PROGRAMME IN GEOPOLITICS AND THE ARTS OF AFRICA
POSTGRADUATE BURSARIES AVAILABLE FOR 2018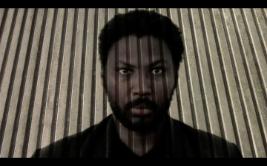 Date Released : 03/08/2017
ARTS OF AFRICA AND GLOBAL SOUTHS Research Programme Fine Art Department, Rhodes University, South Africa
PROSPA Publishing Workshop in Kampala
Date Released : 24/07/2017
From the 4th to the 8th of July 2017, seventeen scholars from Uganda, Nigeria and South Africa met in Kampala to discuss publishing in the field of the visual and performing arts of Africa. Organized by the PROPSA research programme at Rhodes University in South Africa and in collaboration with Makerere University in Uganda, the workshop focused on raising the visibility of Africa-based scholars on local and international platforms.
Six Mountains on her Back: (Re)reading African Feminisms Colloquium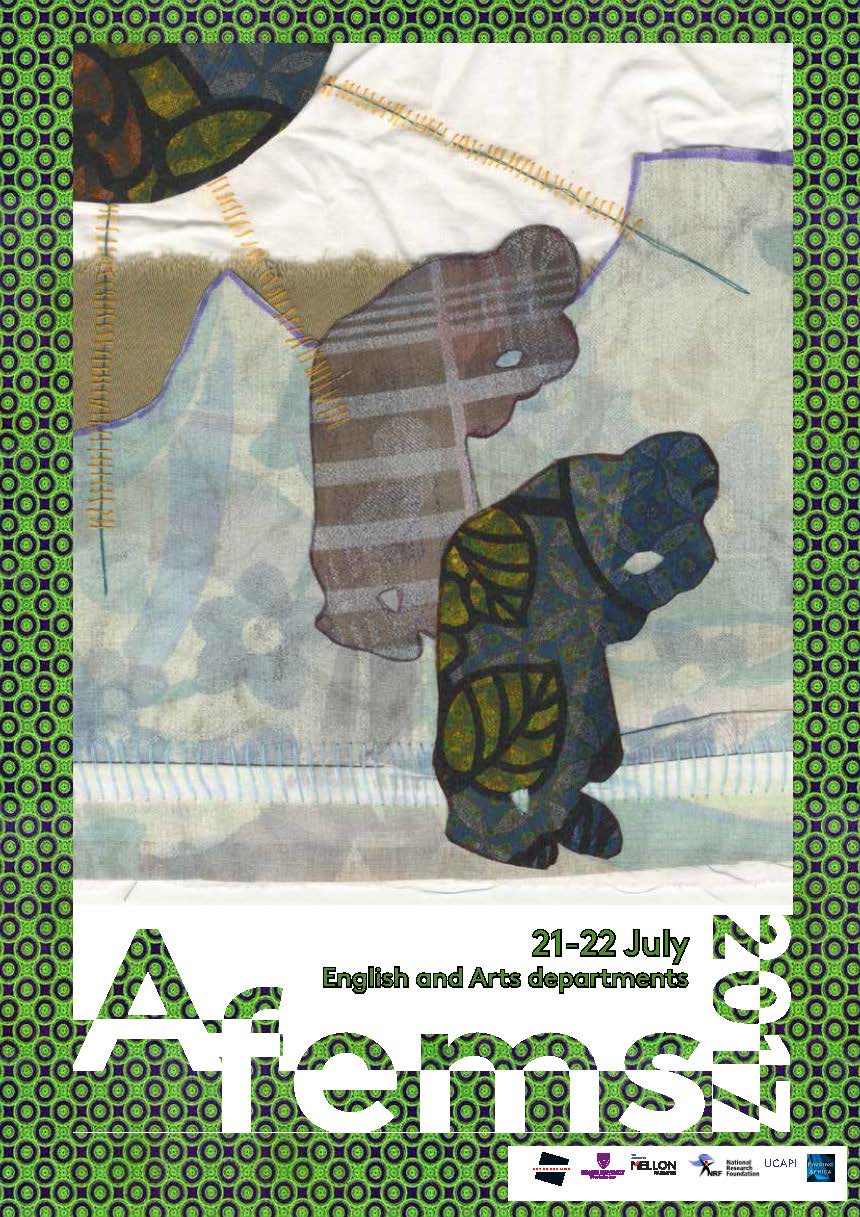 Date Released : 17/07/2017
Six Mountains on her back: (Re)reading African Feminisms Colloquium Hosted by the Departments of English (Dr Lynda Gichanda Spencer) and Fine Arts (Dr Sharlene Khan) and Finding Africa (Thando Njovane) Rhodes University 21-22 July 2017
eRhini, next door to Grahamstown: a unique exhibition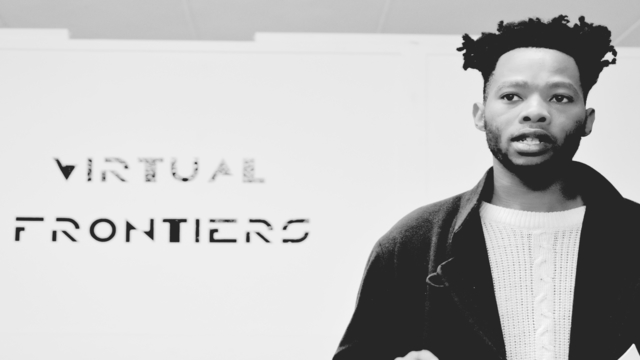 Date Released : 05/07/2017
A few weeks ago, I called a young man who is studying at Rhodes University to ascertain his exact location.
Fine art exhibit thought-provoking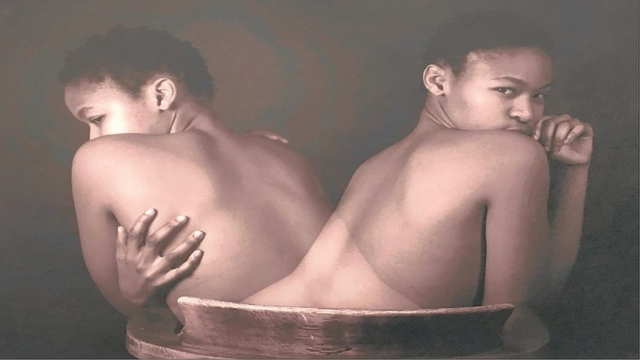 Date Released : 05/07/2017
THE NATIONAL Arts Festival has been home to a number of thoughtprovoking art exhibitions and installations over the years.
Rhodes participates in the Africa–China symposium at the Goethe Institute in Johannesburg
Date Released : 21/06/2017
Members of the Arts of Africa and the Global South research team, Stary Mwaba and Ruth Simbao, participated in the symposium "Referencing China and East Asia in Southern African Visual Culture", which was held at the Goethe Institute in Johannesburg in April. The symposium was organised by Dr. Juliette Leeb-du Toit (SRA: Wits University, UK and the University of KwaZulu-Natal) and Dr. Ross Anthony (Acting Head: Centre for Chinese Studies, Stellenbosch University).
RAW Artist in Residence Rehema Chachage
Date Released : 20/06/2017
The Arts of Africa and Global Souths research team in the Fine Art Department, welcomes Rehema Chachage as a RAW Artist in Residence. Chachage is a mixed media artist based in Dar es Salaam, who works predominantly in video, sculptural installation and performance. Her early work draws from her time spent as a student at the University of Cape Town and she describes experiencing this situation as a "'cultural foreigner' and a non-South African, black female student in a predominantly middle class institution". At the time, she says, her work was produced from "the point of view of a stranger, the outsider, the other, the alien and often the voiceless". Recently she has been exploring rituals as valuable tools for interpreting social norms and tensions, including gender relations and subversion.
Rhodes joins African Arts editorial consortium
Date Released : 20/06/2017
This year Rhodes University joined the editorial consortium of the journal African Arts, which is published quarterly by UCLA and is distributed by MIT Press. The four consortium partners are UCLA, Rhodes University, the University of Florida and the University of North Carolina at Chapel Hill. According to the Rhodes consortium editor, Professor Ruth Simbao, the core goals of the Rhodes University consortium partnership are to significantly increase the participation of scholars in the field who are based on the African continent, and to contribute towards shifting the centre of gravity of the arts of Africa discourse.
Black Feminist Killjoy Reading Group
Date Released : 20/02/2017
Black Feminist Killjoy Reading Group School of Fine Art Seminar Room, Somerset Street,Every second Tuesday, 16.30 – 18.30 (beginning 28 February 2017)
Mandela Rhodes Scholarship
Date Released : 26/01/2017
Siseko H. Kumalo, a former student of the Fine Art Department has been awarded the Mandela Rhodes Scholarship for his studies in 2017. He will read for his Bachelor of Social Science Honours in Politics and Philosophy at Rhodes University with the intention of working towards a Masters in Philosophy of Education.
Bedtime Stories
Date Released : 14/11/2016
The Alumni Gallery will open Bedtime Stories, a unique book arts exhibition by MFA student Kathleen Sawyer, an Absa L'Atelier award winning artist whose ballpoint pen drawings are intricate and realistic.
A Luta Continua: Doing it for Daddy – Ten Years On…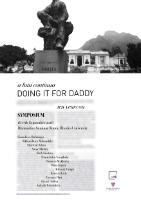 Date Released : 08/09/2016
Humanities Seminar Room, Rhodes University Friday, 16 September – Saturday, 17 September 2016. In 2006, the short essay 'Doing it for Daddy' by visual artist Sharlene Khan caused controversy when it expressed the opinion that since 1994, 'transformation' in the visual arts field in South Africa seemed to have halted at the point of White women replacing White men in positions of power. It questioned this new position of dominance in institutions that remained colonially and racially untransformed.
A River of Blood Flows: Lerato Shadi's 'Noka Ya Bokamoso' Lerato Shadi By Sikhumbuzo Makandula July 13, 2016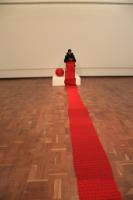 Date Released : 06/09/2016
The title of Lerato Shadi's show, 'Noka Ya Bokamoso,' which opened at National Arts Festival in Grahamstown, translates from Setswana to 'a river of tomorrow.' In the Albany gallery you encounter Shadi performing Mosako Wa Nako. She sits silently crocheting a ball of red wool into a scroll which unfurls with indecipherable writing. Shadi's isolation from the rest of the artworks on the exhibition draws you closer, emphasising the rhythmic movement of her hands. The performance suggests issues of labour, time and erasure of black women's histories. The simple gesture of crocheting can be also read as a form of preserving the culture of her ancestry and articulates both her struggles and hopes. In a conversation with Shadi she states that, 'this exhibition is a way of honouring her grandmother in thinking about her history that is overlooked and erased.'
Black Artists/White Labels – a response to the exhibition 'Black Modernisms'
Date Released : 11/08/2016
The recent three-way public conversation between the staff of the Wits Art Museum, initiated through Lwandile Fikeni's article 'Black Modernisms, White Saviours' published in the City Press on the 'Black Modernisms' exhibition currently running at the same Museum, has prompted a series of debates on social media and other art platforms. Much of these debates focused o,, what now seems to be personal accusations, attacks and public slander, moving away from what was initially about larger issues of institutional power, transformation and knowledge production on the works of black modern South African artists.
Art History and Visual Culture lectureships
Date Released : 21/06/2016
The Department of Fine Art is recruiting applicants for two academic posts in Art History and Visual Culture at the levels of Senior Lecturer/Lecturer/Junior Lecturer.
Rhodes awarded three more SARChI Chairs
Space Station: A mini golf art experience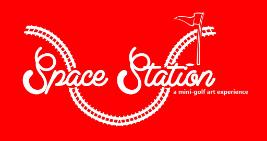 Date Released : 19/11/2015
In fulfilment of her Master of Fine Art degree, Rhodes University student Chiro Nott presents Space Station: A mini-golf art experience. More than an art exhibition, this show presents an interactive, mobile event suitable for young and old alike. The show, which takes the form of a 9 hole miniature golf course, will be laid out along the disused railway tracks starting at the corner of Howick and Constitution street and finishing on Fitzroy Street where members of the public are invited, at no charge, to participate between 10 am and 4 pm on Saturday the 28th November.
FINE ART GRADUATE EXHIBITIONS
Date Released : 04/11/2015
You are warmly invited to the Graduate Exhibitions of our 4th year Bachelor of Fine Art (BFA) students. Date: Friday, 6 November Time: 17h30 Venue: Starts at the Art School Gallery, Somerset Street
Rhodes SARChI Chair challenges notions of African art
Date Released : 02/09/2015
Along with fellow Rhodes University staff members and researchers Professor Heila Lotz- Sitsika and Dr Adrienne Edkins, Professor Ruth Simbao has been awarded a Chair position on the South African Research Chairs Initiative (SARChI).
FINE ART GRADUATE EXHIBITIONS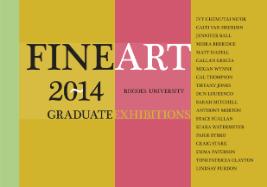 Date Released : 31/10/2014
You are warmly invited to a special viewing of the graduate exhibitions of our Bachelor of Fine Art students. This vibrant art walkabout will start at the Art School Gallery and then proceed to exhibition venues nearby. Friday 7th November 5:30pm Art School Gallery
REFUGIUM - MFA Exhibition opening
Date Released : 07/02/2014
You are cordailly invited to the MFA submission exhibition by Luke Kaplan
2013 Graduate Show
Date Released : 05/11/2013
For One Night Only Rhodes University Fine Art Department invites the public to their annual Fine Art Graduate Show on Friday 8 November 2013, 5pm.
National Arts Festival Exhibition Previews
Date Released : 12/06/2013
You are warmly invited to two National Arts Festival exhibition previews this Fri 14th June 2013.
Christine Dixie at Smithsonian Earth Matters
Date Released : 03/05/2013
Christine Dixie, lecturer in the Fine Art Department at Rhodes University is one of the participating artists in the exhibition Earth Matters: Land as Material and Metaphor in the Arts of Africa which opened at the Smithsonian African Art Museum on April 22. She attended the opening ceremony which was addressed by Richard Kurin, Ph.D. Under Secretary for History, Art, and Culture, Smithsonian Institution and Johnetta Betch Cole, Ph.D. Director, National Museum of African Art.
Silent Protest by Fine Art lecturer
Date Released : 18/04/2013
Silent Protest is a five minute video artwork made by photographer/film-maker and lecturer Brent Meistre for the Rhodes University Silent Protest. In the work Meistre performs two songs, one by the music group Belle and Sebastian and another by The Cranberries, in a discourse and interplay between himself and his double. Meistre is presented as a preacher/politician or mourning figure in a desolate landscape, who is reading a speech to an absent audience.
'VABVAKURE' (People from Far Away) - MFA Exhibition Opening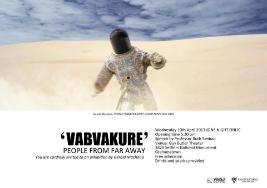 Date Released : 08/04/2013
'VABVAKURE' (PEOPLE FROM FAR AWAY) By GERALD MACHONA, MFA candidate in the Fine Art Department and member of the Visual and Performing Arts of Africa Focus Area research team. Date: Wednesday 10th April Time: 5:30 pm Venue: The Guy Butler Theatre stage, 1820 Settlers National Monument Opening speech by Prof Ruth Simbao Drink and snacks will be available. Admission free.
Fine art previews to tempt before Fest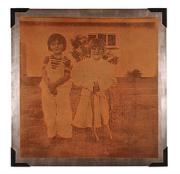 Date Released : 14/06/2012
Tonight Rhodes University's Fine Art Department will host a one-night-only preview of two National Arts Festival exhibitions (Friday, 15 June).
Rhodes Fine Arts Graduate Student Exhibitions 2012
Date Released : 02/11/2012
It's the time of year again for the annual Rhodes Fine Art Graduate Show.
Standard Bank Gallery to host Making Way: Contemporary Art from South Africa and China exhibition
Date Released : 07/12/2012
Making Way: Contemporary Art from South Africa and China, explores the ways in which contemporary artists based in South Africa and China engage with new paths of movement, with economic and cultural shifts, and with the rise of new regimes, new leaders and new social and urban spaces.
Student life down to a fine art
Date Released : 11/01/2013
Lerato Bereng is putting her job at a Jo'burg gallery on hold to pursue a master's degree.
SA and China make a way at Standard Bank Gallery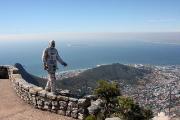 Date Released : 14/01/2013
One of the most critical geopolitical shifts of the 21st century has been the rise of China as an economic power, and its venture into the Global South — particularly the African continent.
MFA student exhibits unusual body of work
Date Released : 26/03/2012
A member of the Visual and Performing Arts of Africa focus area in the Fine Art Department and a Masters student, Rachel Baasch showed an unusual body of work in an even more unusual setting, the tennis court at St Peter's campus recently.
Maria's Story
Date Released : 27/06/2012
Based on her great-grandmother Maria's own account of her flight from, and later capture by, British troops during the Anglo-Boer war, Maureen de Jager, the National Arts Festival Artist-in-Residence has created Maria's Story exhibition.
At home with the Apocalypse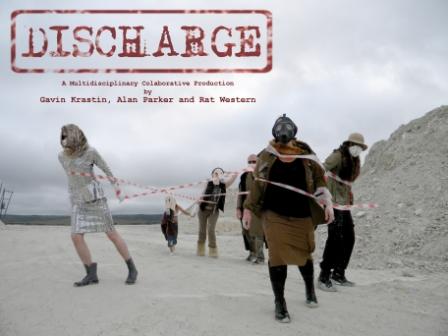 Date Released : 04/07/2012
The National Arts Festival has taken a leap into new territory in 2012. In a welcomed recognition of the value of the trans-disciplinary work being created between artists, actors, musicians and other creative disciplines, performance art now has a place on the Main Programme for the first time.
The Annual Student Exhibition in full swing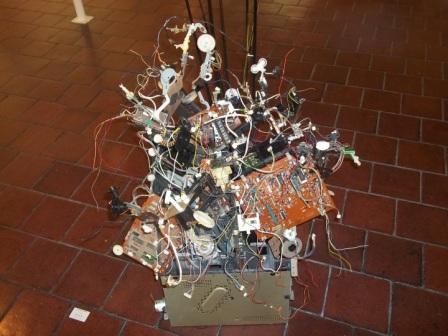 Date Released : 04/07/2012
The Annual Student Exhibition, which showcases works by undergraduate members of the Fine Art Department, is running during winter vacation and festival period to allow Grahamstown locals Festival-goers to admire the striking artworks.
Senior lecturer to visit Smithsonian Museum as research fellow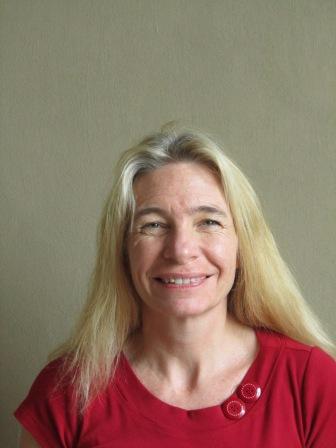 Date Released : 09/05/2012
The complete antithesis of self-aggrandizement, Christine Dixie was hesitant in sharing her exciting news ?that she will be spending two months as a research fellow of the Smithsonian Institute in the USA.
Rhodes lecturer's research article among the 50 most influential
Date Released : 08/06/2012
Rhodes University Fine Art lecturer's research paper has been named as one of the fifty influential articles published in the humanities and sciences journals under the MIT Press label.
Fine Art student shortlisted for Sony Award
Date Released : 09/02/2012
Nina Grindlay of Rhodes University has been shortlisted for the 2012 Sony World Photography Awards Student Focus. Student Focus has established itself as the world's most high-profile student photography award and is open to universities worldwide that run a photography programme.
Faceless but not nameless
Date Released : 10/02/2012
Posing a subtle and refreshing commentary on the confines of society, Masters Fine Art student Mark Farmer's exhibition, In Line, has been described as "compositionally very tight and the rendering detailed and sharp, not unlike an official school photograph."
Artists say it with flowers…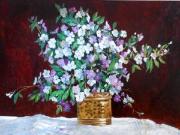 Date Released : 01/11/2012
Showcasing vibrant, colourful and beautiful flower paintings by some of South Africa's finest artists, Flowers is an exhibition running at the Artisan Contemporary Gallery until November 17.