Trollip 'should fill Mazibuko's shoes'
Date Released : 27/05/2014
A RESPECTED political commentator has warned the DA to think long and hard when it comes to replacing opposition parliamentary leader Lindiwe Mazibuko.
"Race is the elephant in the DA caucus"
Date Released : 27/05/2014
The well-known political analyst, broadcaster, lecturer, writer and author Mr Eusebius McKaiser closed the 2014 Annual Teach-In with an insightful
Fakir says declined voter support will have positive results
Date Released : 23/05/2014
A RESPECTED South African political commentator has claimed that the drop in voter support for the ANC during the recent elections may precipitate more responsive government.
"Don't touch me on my #swag: race, elections and (be)longing in South Africa"
Date Released : 23/05/2014
The Director of Advocacy and Accountability at Sonke Gender Justice, Ms Sisonke Msimang gave a talk yesterday
2014 elections brought change and continuity
Date Released : 22/05/2014
The Manager of the Political Parties and Parliamentary Programme at the Electoral Institute for Sustainable Democracy in Africa (EISA), Mr Ebrahim Fakir
Munusamy's reflection on Malema and EFF
Date Released : 21/05/2014
Scores of Rhodes University students and staff braved the cold weather on Monday (19 May 2014) to listen to a political analyst and seasoned journalist
EFF, Numsa party 'ones to watch'
Date Released : 20/05/2014
WITH new kids on the political block, the EFF, and Numsa's proposed workers' party both vying for support, the relationship between the two could be a defining moment in South African politics
The 12th Annual Teach-In debates 2014 Elections
Date Released : 19/05/2014
The 12th Annual Teach-In Public Lecture Series will commence today (19 May 2014) and take place at Barratt Lecture Theatre
Silence on rape at South African universities
Date Released : 29/07/2013
Political analyst, lecturer and writer, Mr Eusebius McKaiser brought the Eleventh Annual Teach-In Public Lecture Series entitled the "Rape Crisis" to a close on Friday, 26 July, with a lecture focused on the need to blow the lid off some of the silences which surround conversations about rape on South African university campuses.
"Why does the history of rape matter?"
Date Released : 27/07/2013
Dr Catherine Burns of the Wits Institute for Social and Economic Research, emphasised that rape has been part of human life for a long time. She was addressing the Rhodes community on the fourth day of the Teach-In Lecture Series on Thursday, 25 July, at the Barratt Lecture Theatre.
Men urged to speak against patriarchy
Date Released : 24/07/2013
Government and Media Relations Manager for the Sonke Gender Justice Network, Mr Mbuyisile Botha, urged men to challenge patriarchy in South Africa in an emotive address delivered on the third day of the "Rape Crisis" teach-in series.
Moral outrage, risk, and vulnerability in "The Rape Crisis"
Date Released : 23/07/2013
The well-known independent researcher Ms Lisa Vetten who has worked in the field of violence against women since 1991, argued yesterday that a reaction of moral outrage is often ineffective when it comes to rape in South Africa.
Varsities protest gender violence
Date Released : 22/05/2013
Lunch-time traffic ground to a halt in Grahamstown yesterday when 200 Rhodes University academics, staff and students took to the streets to protest against gender violence.
Rape protest: survivors speak out
Date Released : 22/04/2013
RHODES University's powerful silent protest campaign is helping rape survivors deal with the trauma of being sexually violated.
Activists give voice to rape survivors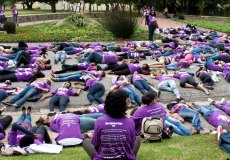 Date Released : 19/04/2013
A powerful form of protest that started in Grahamstown has gone national. Seven years ago 80 people taped their mouths shut publicly to show solidarity with rape survivors who are silenced by sexual violence.
South Africa still divided and unequal
Date Released : 27/07/2012
In his Teach-In Lecture yesterday (26 July), Professor Steven Friedman said, bypassing the focus on a second transition and focusing instead on how to meaningfully and sustainably implement the promises made to South Africans post 1994 should be the focus of government.
Creating new intellectuals
Date Released : 26/07/2012
Dr Catherine Burns of the University of the Witwatersrand Institute for Social and Economic Research (WISER), was candid and heartfelt in her lecture, when addressing an audience of mainly Rhodes students about their civic responsibility and intellectual autonomy.
A social compact for higher growth and development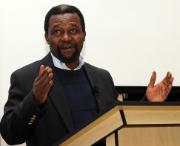 Date Released : 25/07/2012
Delivering the second 2012 Teach-In lecture yesterday (24 July), Mr Joel Netshitenzhe, Director of Mapungubwe Institute for Strategic Reflection and member of the National Planning Commission, asked: "if the assumption is correct, that we seek to attain a better quality of life for all, then the question should be, 'What do we do to achieve that?'.
"ANC politics are not as simple and clear cut"
Date Released : 24/07/2012
"Our president is willing to take big risks for his own political gain. This shows us that our president is someone who will take chances and risk many things that could affect us and lead to a transition to a worse life for all, which is not something any of us would want," said well-known South African journalist Ms Mandy Rossouw during yesterday's (23 July 2012) Rhodes University Teach-In lecture.