Hall Sports Results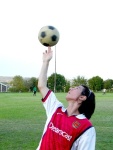 Hall Sports Results
Allan Webb Hall has distinguished themselves in Sport at Rhodes University in the past, with Winchester House winning the Inter-Res Competition twice in the Mens section in 2000 and 2001 and Canterbury House winning twice in the Ladies section in 1998 and 2002. We pride ourselves on our committment to Sport at all levels, formal and informal, professional and amateur. Over the years several members of our Hall have distinguished themselves at the SASSU (South African Students Sports Union) Games in the fields of Rowing, Rugby, Basketball, Hockey and others. Several members of our Hall represent Rhodes University in a variety of team sports. We are especially proud of our successes, both past and present, because we are competing against Halls who are much larger than us and still managing to hold our own.
Sport within the Hall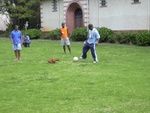 Sport within Hall

There is also the Annual Winchester vs Salisbury Soccer match. Please take a look at our Photo Album for pictures from the event.


Inter-Res Sport
Our Achievements in the Men's Section
In 1998 Salisbury House tied 7th with Graham House, and Winchester House tied 8th with Stanley Kidd and Cory/Matthews. In 1999 Winchester came 6th and Salisbury 8th. In 2000 Winchester moved up the ranks and came 1st with 73 points, (Oppies were 2nd with 59 points and Cory/Matthews came 3rd with 57 points). In 2001 Winchester won again, this time with 117 points, (Cory/Matthews came 2nd with 114 points and the Oppies came 3rd with 47!) In 2002 Winchester came 2nd with 108 points, (Jan Smuts won that year with 175 points, Cory/Matthews and Botha came third with 106 points each.) In 2003 Winchester and Salisbury joined forces and came 5th with 71 points, (Jan Smuts won that year with 144 points, Botha came second with 123, Piet Retief came third with 93 points and the Oppidans came fourth with 76 points). In 2004 Winchester and Salisbury continued their sporting partnership and came 2nd with 86 points. (Goldfields won that year with 118 points). In 2005 the Winchester/Salisbury alliance repeated their performance, coming 2nd overall with 83 points. In 2006 Winchester took 5th place in the overall mens trophy with 82 points and Salisbury took 17th place with 39 points. (First place went to Guy Butler House with 114 points). In 2007 Winchester took 6th place with 77 points and Salisbury took 13th place with 23 points (Goldfields took first place with 125 points followed by Guy Butler with 111 points).
Our Achievements in the Ladies Section
In 1998 Canterbury won the Inter-Res Ladies Section with 40 points, (Allan Gray came 2nd with 18 points and Atherstone came 3rd with 16 points). In 1999 Canterbury was placed 3rd with 28 points, (Stanley Kidd won that year with 34 points and Olive Schriener came 2nd with 32 points). In 2000 Canterbury came 8th but worked hard and came 5th in 2001 and worked even harder to win by 13 points in 2002, finishing with 120 points, (New House was second that year with 107 points.) In 2003 Canterbury came fourth with 56 points (being beaten by Atherstone in third position with 59 points, Walker in second place with 64.5 points and Milner winning the event for that year with 122 points). In both 2004 and 2005 Canterbury came 2nd, after a hard-fought, year-long contest with Ruth First House, which saw consistent participation in the inter-residence competition at an all-time high. In 2006 Canterbury took a well deserved first place with 112 points followed by Victoria Mxenge with 83.5 points. In 2007 Canterbury took second place with 105 points and Truro came 23rd with 4 points. (Victoria Mxenge won with 130 points).
The results for 2007 are as follows:
WOMEN'S SECTION 

MEN'S SECTION

1

130

1

125

2

Canterbury

105

2

Guy Butler

111

3

Thomas Pringle

71

3

Centenary

88

4

New House

61

4

Cory/Matthews

86

5

Oriel

51

5

Piet Retief

78

5

Milner

51

6

Winchester

77

7

Dingemans

50

7

Botha

76

8

Olive Schreiner

46

8

Stanley Kidd

54

9

Jameson

40

9

Cullen Bowles

41

9

Ruth First

40

10

Jan Smuts

38

9

Beit

40

11

College

37

12

Cradock

33

12

Oppies

36

13

John Kotze

30

13

Salisbury House

23

14

Helen Joseph

25

14

Graham

18

14

Walker

25

15

Adamson

17

16

Allan Gray

18

15

De Beers

17

17

Hobson

16

17

Oakdene

6

18

Oppies

15

18

Celeste

2

18

Atherstone

15

20

Phelps

10

21

Prince Alfred

6

21

Livingstone

6

23

Truro

4

24

Lillian Britten

3
The individual results for 2007 are as follows:
Men's Section: Winchester
| | | |
| --- | --- | --- |
| Sport Code | Position | Tied with |
| Rugby - mixed touch | 5th | tie with New House |
| Cross-Country | 5th | |
| Netball | 4th | |
| Track and Field | 7th | tie with Stanley Kidd |
| Triathlon | 2nd | |
| Volleyball | 3rd | |
| Badminton | 8th | |
| Water-Polo | 9th | |
| Basketball | 5th | |
| Chess | 2nd | |
| Tennis | 9th | |
| Rifle | 7th | tie with Cullen Bowles |
| Soccer | 6th | |
| Swimming | 10th | |
| Hockey | 7th | |
| Canoe | 6th | |
| Squash | 8th | |
| Tae kwon-Do | 6th | |
| Pool | 5th | |
| Rowing | 3rd | |
Men's Section: Salisbury
The individual results for 2007 are as follows:
| | | |
| --- | --- | --- |
| Sport Code | Position | Tied with |
| Cross-Country | 3rd | |
| Volleyball | 12th | |
| Archery | 17th | Tied with Guy Butler |
| Chess | 4th | |
| Round-the-Block | 2nd | |
| Rifle | 4th | |
| Soccer | 14th | |
| Hockey | 16th | |
Women's Section: Canterbury
| | | |
| --- | --- | --- |
| Sport Code | Position | Tied with |
| Rifle | 7th | Tied with Helen Joseph & New House |
| Table-Tennis | 1st | |
| Water-Polo | 2nd | |
| Netball | 3rd | |
| Archery | 3rd | |
| Basketball | 4th | |
| Chess | 2nd | |
| Indoor Climbing | 1st | |
| Rowing | 3rd | |
| Swimming | 7th | |
| Tennis | 1st | |
| Track and Field | 5th | Tied with New House & Thomas Pringle |
| Volleyball | 3rd | |
| Badminton | 1st | |
| Canoe | 4th | |
| Cross-Country | 6th | |
| Underwater Hockey | 4th | |
| Round-the-Block | 5th | |
| Squash | 2nd | |
| Fly-Fishing | 3rd | |
| Tae kwon-Do | 7th | |
| Hockey | 5th | |
| Pool | 10th | |
Women's Section: Truro
Sport Code

Position

Tied with

Underwater Hockey
9th
Last Modified: Fri, 15 Jul 2011 15:01:10 SAST