Community Engagement
Dominique worked extensively with Widening Participation at Goldsmiths to facilitate engagement with anthropology amongst young people in South East London between the ages of 10 – 18. She won the Public Engagement award for her collaboration with Ntsiki McKay-Anderson and Daniel Hutchinson of the Hummingbird Play Association to create temporary Adventure Playgrounds in inner city Johannesburg.
https://www.gold.ac.uk/news/public-engagement-awards-2016/
She co-ordinated the Austerity Bites exhibition with Gabriela Nicolescu and Henrike Donner in Lewisham, South East London, exploring how food can map experiences of regeneration and austerity in one of the most culturally diverse but also one of the most deprived areas of London. It has been particularly affected by the politics of austerity and food is materially and symbolically at the heart of the anxieties residents share. The exhibition formed part of a wider project of extensive interviews, workshops and interactions with groups of local residents.
She has collaborated with the Swiss Arts Council and Institute for Reconciliation and Social Justice at the University of the Free State to bring the 21:Memories of Growing Up exhibition by Matts Staub, Maia Marie and Nomunde Mbuse into the foyer of the UFS library,
providing a space of reflection on practices of inclusion in arts and culture.
http://matsstaub.com/en/arbeiten/erinnerungen-ans-erwachsenwerden
https://prohelvetia.org.za/en/2017/09/21/21-memories-growing-travels-university-free-state/
More recently, she contributed to the Atlas of Decivilisation installation by Holen Khan for the Geography of Hope Conference in California.
Selected Publications
"Fox Palaces: The Playful Occupation of a Johannesburg City Park" (2018) in Children's Geographies Vol 16 Issue 4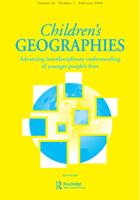 https://www.tandfonline.com/doi/full/10.1080/14733285.2017.1382680
'Rainbow Nation of the Flesh'(2018) in Eating and Being Eaten: Cannibalism as Food for Thought (ed) Francis Nyamnjoh. Bamenda: Langaa RPCIG.
https://muse.jhu.edu/book/60161
Book Review - Jesse Weaver Shipley, Living the hiplife: Celebrity and entrepreneurship in Ghanaian popular music (2015) Critique of Anthropology 35 (1)
http://journals.sagepub.com/doi/abs/10.1177/0308275X14568035