Residencies for Artists and Writers
The PROSPA programme hosts annual residencies for artists and writers. Unique to the RAW residency programme is the possibility for a team, made up of an artist and a writer, to apply for a joint residency that explores the relationship between art production and writing.
The 2018 RAW Fellows were Professor Peju Layiwola (artist in residence) and Dr Patrick Oloko (writer in residence) both from University of Lagos, Nigeria; Moffat Takadiwa (artist based in Zimbabwe) and Dr Nadine Siegert (writer in residence from the University of Bayreuth, Germany).
The 2017 RAW Fellows were Rehema Chachage (artist based in Dar es Salaam, Tanzania), Anderu Immaculate (Immy) Mali (artist based in Kampala, Uganda), Gillian Stacey Abe (artist based in Kampala, Uganda). The 2017 Writing Fellow was Dr Rose Namubiru Kirumira (Makerere University, Uganda).
Previous RAW Fellows are Nomvuyo Horwitz (Johannesburg-based scholar) and Masimba Hwati (artist based in Harare, Zimbabwe), who both visited Rhodes in 2016. In 2014 the artists Igshaan Adams and Mbali Khoza were awarded residencies linked to the RAW - EC programme, and they produced the exhibition SLIP in the Alumni Gallery at the Albany Museum.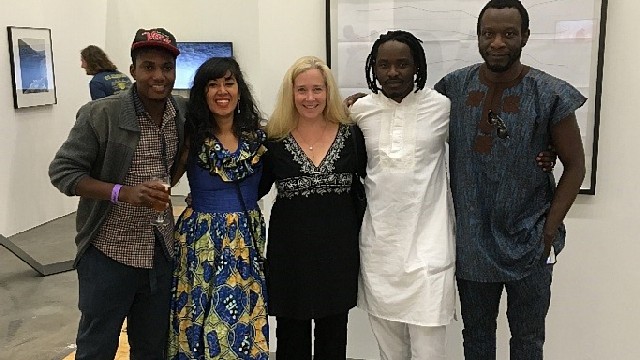 Photo: Gresham Tapiwa Nyaude, Thania Petersen, Ruth Simbao, Masimba Hwati, Azu Nwagbogu, February 2016. Masimba Hwati was a 2016 RAW Fellow. Hwati is currently an Arts of Africa and Global Souths Associate Artist.
Last Modified: Tue, 19 Feb 2019 10:48:26 SAST