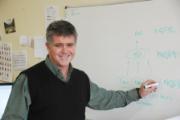 Rhodes Business School is proud to announce the accreditation of its MBA provision by the global Association of MBAs (AMBA). Only 2% of business schools worldwide achieve this.
The formal accreditation letter, signed by AMBA's Director of Operations, Mr Mark Stoddard, was sent to Rhodes Business School's Director, Professor Owen Skae on the 10th March 2015.
AMBA accreditation is the global standard for all MBAs (Master's of Business Administration). AMBA is the only professional membership association, connecting accredited business schools, MBA students, MBA graduates and MBA employers in more than 110 countries.
MBA graduates from AMBA-accredited business schools progress to lead many of the world's largest multinationals and successful entrepreneurial start-ups.
Huge strategic significance
"AMBA accreditation is of huge strategic significance for Rhodes Business School. It formally positions us as a school worthy of taking our place amongst the international family of business schools," says Prof Skae.
"South Africa is at the forefront of management education issues worldwide and this accreditation offers South African and international MBA students the opportunity to pursue an internationally accredited MBA through our school."
Rhodes Business School prides itself on being able to offer its MBA students an enriching, personalised experience in the scholarly environment of Rhodes University and Grahamstown; a recognised seat of learning in the Eastern Cape.
Entirely committed to our students
Prof Skae adds that he is extremely proud of his teaching and support staff team. "Each one of them is entirely committed to our students and they deserve the recognition for this accreditation."
He adds that he is equally appreciative of the support that Rhodes Business School receives from Rhodes University's Vice-Chancellor, Dr Sizwe Mabizela, and the Dean of Commerce, Professor Dave Sewry.
Rhodes Business School is a self-funding unit that functions as an academic department of the Faculty of Commerce at Rhodes University.
The University has a strong reputation as a research-focused institution with the best research output per academic staff member in South Africa, and outstanding undergraduate and postgraduate academic results.
With 7500 students, it is one of the smallest universities in South Africa. This has proved a distinct advantage as smaller teaching classes mean that students receive personalised attention in a collegial atmosphere with world-class facilities.
Leadership for Sustainability
Leadership for Sustainability is the essence of Rhodes Business School.
"Our vision is 'to transform business for a sustainable world' and our purpose is 'to educate and influence responsible business practice, responsibly'," continues Prof Skae.
"In the world we inhabit today, business and economics are no longer about how much money you make; but about how you make your money.
"In response to this, business schools worldwide are increasingly compelled to address fundamental questions about the why, how and what of business, and to take action towards future survival on our planet. This includes a reappraisal of what it means to have an MBA today."
Issues facing South Africa, Africa and the world
"Over the past decade, with assistance from several leaders in the sustainability field, including corporate governance pioneer, Professor Mervyn King, and business and thought leader, Professor Reuel Khoza, we have looked at the range of issues facing South Africa, Africa and the world - from socio-political upheaval to greenhouse gas overload.
"We have set ourselves the challenge of equipping people in the business, public sector and civil society to find solutions to some of the 'Big How's'. We see so much opportunity in this, thereby unlocking the imperatives outlined in South Africa's National Development Plan," explains Prof Skae.
Some of the 'Big How's include:
How does climate change impact on business and marketing dynamics?
How do we deal with skewed income distribution?
How do we deal with the economic and social divide between developed and developing parts of the world?
How do we address poverty and hunger?
How do we address educational inequality?
How do we develop business opportunities in ways that benefit all stakeholders?
How do we avoid another global financial crisis?
How do we shift from short-term financial expediency to long-term wealth gain?
Responding to these and other questions Rhodes Business School has come up with the Four E Model – Economy, Equity, Ethics and Ecology – all of which are integral to business dynamics and decisions.
The 4E Model - Economics, Equity, Ethics and Ecology
The logic behind this model is that while strong economies and financial sustainability are imperative for organisations to survive, if they are pursued in a manner that is inequitable, unethical or that compromises the environment and the wellbeing of employees and associated communities, success will not follow.
"Our MBA focus is on providing an integrated approach to management education, through the engagement of our unique 4E philosophy, which goes to the heart of how our students view the world of business and the sustainable purpose of business," says Prof Skae.
"At Rhodes Business School we believe we have an important role to play in the sustainability of our country and the greater world we share."
Source: Communications and Marketing