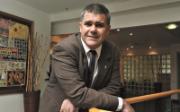 RHODES Business School has become the sixth South African school to have its Master of Business Administration (MBA) degree accredited by the UK-based Association of MBAs (Amba). Only 2% of the world's MBAs reach the standards demanded by Amba, which confirmed Rhodes' success this week.
There had been some doubts as to whether Rhodes would be accredited. Besides course content quality, Amba has minimum requirements for student and staff numbers, and for facilities. Rhodes has seven full-time faculty, 32 students in its 2015 MBA intake, and works out of a building it shares with Rhodes University's drama department.
School director Owen Skae said on Wednesday the initial accreditation was for three years. In response to Amba recommendations to increase student and staff complements, Prof Skae said the school had started to enjoy "fantastic" student enrolments and planned to double full-time staff within five years.
It also hoped to find its own building. "We continue to engage with prospective donors who would like to invest in management education in the Eastern Cape." He added that Amba had asked the school for some adjustments to its MBA curriculum.
The school, part of Grahamstown-based Rhodes University, is only the second outside the traditional "big four" university schools — Wits, Stellenbosch, Cape Town's Graduate School of Business and Pretoria's Gordon Institute of Business Science (Gibs) — to be accredited by Amba. North West University's Potchefstroom Business School was approved last year.
By David Furlonger
Picture: Prof Owen Skae
Picture by Robert Tshabalala
Source: Business Day