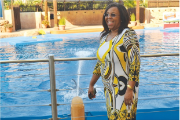 THE newly appointed chief executive officer of uShaka Marine World, Stella Khumalo, is taking the helm of one of Durban's most important tourism assets at a critical point in its history its 10-year anniversary which is a celebration of what it has achieved so far and a launching point for accomplishing even more.
"Being CEO of uShaka Marine World means ensuring that this ship remains buoyant, continues to sail smoothly and reaches new waters that it has not reached before. I want to ensure that uShaka Marine World grows in stature and further entrenches its position as one of the leading edu-tainment andtourist destinations in eThekwini, KwaZulu-Natal and South Africa," said Khumalo.
With a rich history of serving the public sector, after matriculating from St. Francis College in Mariannhill in 1980, Khumalo began her tertiary education, starting with a Bachelor of Science degree from the University of Zululand, followed by a Higher Education Diploma from the University of South Africa in 1989, and then a Bachelor of Education from the University of Zululand in 1994.
She added a Masters in Business Administration ( MBA) from the then University of Natal in 2004, specialising in Strategic Management, and is currently completing a doctorate in Business Administration (PhD) at the University of KwaZulu-Natal with a thesis entitled "Balancing Corporate Governance and Oversight over State-owned enterprises.
A firm believer that a sound education is the panacea for breaking the cycle of poverty, Khumalo started out as a high schoolteacher, specialising in science subjects.
She worked her way up to be deputy principal of Luthayi High School in Mpumalanga and then Head of Department ( Science) at Phezulu High School in Mpumalanga. She went on to become a subject advisor in biology and general science for the Zululand region.
After a ten-year stint there, she moved into skills development, ultimately working as director in KwaZuluNatal's Department of Education between 2002 and 2005. She was then appointed chief director for Tourism Development in the Department of Arts, Culture and Tourism (2005 —2007) and went on to become Head of Department (2007 — 2012) before being appointed chief executive officer of the ground-breaking KZN Liquor Authority in 2012.
Here, she was responsible for financial and administrative management while also providing strategic management and leadership to a staff of 98. eXplore gets to know her better.
WHAT DO YOU LOVE ABOUT YOUR TOWN AND PROVINCE?
Durban is one of the most beautiful towns because of its perfect weather. Where else in South Africa, can you wear a sleeveless t-shirt in the middle of June?
It is a melting pot of diverse cultures, scenic beauty, and shopping opportunities that are just to die for.
I also think it is perfectly located, allowing access to different tourism destinations in KZN. It is known for all the successes that it has achieved in terms of the big events, through which we have managed to wow the rest of the world. I also just love the vibe in Durban and miss it every time I am away. The province of KZN is the epitome of excellence: with world-class infrastructure; just drive through the country and compare our roads to those of other provinces; you are spoilt for choice when it comes to conference facilities; and our natural attractions, historical sites, beautiful beaches all blend together to give confirmation to the name 'Zulu Kingdom'.
WHAT IS YOUR FAVOURITE DESTINATION IN THE PROVINCE IF YOU WANT TO TAKE SOME TIME OUT AND WHY?
The KZN South Coast. I just love the mix of the sea and indigenous coastal vegetation there, and the South Coast's beaches offer this amazing scenic view that can calm the most seriously stressed mind.
I also love the Drakensberg as that is where I can breathe in fresh air, and I always come back truly revived whenever I get a chance to go there.
HOBBIES?
Reading and reading and reading whenever I can; all sorts of books, but especially inspirational books. I also love watching movies; I just don't find enough time anymore, and believe it or not I love action movies.
FAVOURITE FOOD AND DRINKS; ANY PLACE(S) YOU WANT TO RECOMMEND TO PEOPLE?
Cargo-Hold: if you want to enjoy true fine dining, there is nowhere else you should go. You get to enjoy the most sumptuous, carefully prepared dishes, surrounded by the most amazing mix of marine life. A restaurant called Orange in Nelspruit; I just wish I could steal it and bring them to KZN.
FAVOURITE VACATION PLACE OUTSIDE KZN? WHY?
Mpumalanga Province: That province has a lot of tourism offerings; and in my view, it is second only to KZN.
ANY GEMS YOU FOUND IN THE PROVINCE?
Outside of uShaka Marine World, which is a theme park with one of the biggest aquariums in the world, and has an entire day's worth of entertainment for the whole family, I also think that Durban has a lot of beautiful gems that enable visitors to get all forms of fascinating experiences.
These include the Moses Mabhida Stadium, the Golden Mile, which just stretches and stretches for me; the paved promenade just beckons you; so there are a lot of these hidden gems right here in Durban.
HOW DO YOU MANAGE WORK AND HOME LIFE?
I am a working mother to three grownup children, with myyoungest daughter doing her first year at Rhodes University; and her two elder brothers who are already working. I am lucky that they all understand that I have to put in a lot of time towards my job; which includes coming home mostly after 7 pm or 8 pm. I do, however, make time for them as much as possible. I am also studying towards my PhD, so even though I sometimes ask myself whether I was mad to enrol for this, I am a very driven person.
WHAT IS THE BEST PART OF YOUR JOB?
Leading and captaining one of the most amazing places in the world: this uShaka Marine World. I love the creativity and innovative thinking that the job requires from me.
Right now we are working on a strategy to continue to grow and diversify uShaka, and I love the adrenaline rush that I get when I have to think strategy, think differently, and delve into areas that are unfamiliar to come out with what can work best.
WHAT IS THE WORST PART OF YOUR JOB?
None, at the moment. I have been here for just two months and I am enjoying the challenge of learning new things. Maybe, just tongue-in-cheek, I do not like the fact that I can't wear some of my high heels anymore it's quite a challenge to walk in the park with those.
WHAT IS THE ONE THING ABOUT YOUR TOWN/PROVINCE THAT YOU THINK EVERYBODY SHOULD KNOW?
Durban/KZN is apremier tourism destination in Africa; a must-see and mustvisit. Anybody who has not been here before is missing out, and if you are given an opportunity to make one wish in life, your wish should be to visit Durban/ KZN.
"IF I HAD ALL THE MONEY IN THE WORLD I WOULD ..."
I would give people the kind of skills that would really enable them to live comfortably, and with the balance I would buy everybody peace, love and happiness.
Story by: Niyanta Maharaj
Source: Witness Explore.