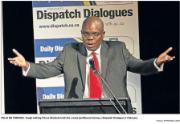 A respected South African political analyst has predicted President Jacob Zuma's second term of office would be mired by succession battles and widespread government corruption.
Tough-talking Prince Mashele told more than 100 people at a Rhodes University Business Forum meeting on Monday night he doubted Zuma would finish his presidential term.
This was because his political allies would be scrambling to curry favour with his yet-to-be identified successor.
He warned South Africans to expect more scandals and increased corruption.
"Remember this is Zuma's last term. People will try to get more before he leaves ... they will grab what they can."
The articulate old Rhodian, who has a master's degree in philosophy from the university, used to be a speech writer for former president Thabo Mbeki before becoming executive director at the Centre for Policy and Research.
Mashele's claims were, however, dismissed by ANC spokesperson Khuselwa Sangoni yesterday.
"He has an extremely unhealthy notion of the ANC. He has been proven wrong in these elections ... he is not a prophet."
Sangoni said Zuma would deliver on his election promises.
Mashele said: "In the bigger picture nothing has changed, the ANC is still the majority and the DA is still the second biggest party."
The only real change was that COPE would be replaced by the Economic Freedom Fighter "fellows in red berets rocking up to parliament".
"We will be entertained," he predicted. Mashele said the ANC was "very clever" when it came to using state resources to win votes, claiming the poor were "bribed" to support the ruling party through the monthly social grant system that was handed out to 16-million people.
Besides the poor, the ANC also got support from black middle class civil servants who voted overwhelmingly for the ruling party's state patronage.
The DA's biggest problem, according to Mashele, was a lack of meaningful black support.
"The core is white, the guys who run the country are white — there is a paucity of black leaders in the DA."
He said politics over the next five years would be driven by unemployment.
"The biggest destabliser of our politics is growing," he warned.
Mashele said he would be surprised if Zuma finished off his second term of office as it was a South African phenomenon for people to realign themselves halfway through a president's last term.
"They will turn against Zuma like they did against Mbeki — and he was (more) powerful."
Although fellow political analyst Zamikhaya Maseti agreed Mbeki's second term was characterised by succession battles, he said it all depended on how the ANC collective held the party together during Zuma's time in office.
He said there would be no "ugly" leadership battles if there was no contest for deputy president Cyril Ramaphosa to take over.
"It all depends on the successor Jacob Zuma prefers to take over.
"It may turn ugly if people do not know who the successor is."
By David Macgregor
Source: Daily Dispatch
Caption: PULLS NO PUNCHES: Tough-talking Prince Mashele held the crowd spellbound during a Dispatch Dialogue in February
Picture: Stephanie Lloyd