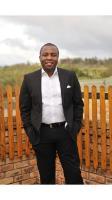 When Dr Chuka Onaga took over the Clinical services of Settlers Hospital in Grahamstown in August 2013 as Acting Chief Medical Officer, the hospital (a public-private institution) was seeking to fill several vacancies for doctors.

"We managed to fill those posts in a relatively short period and I attribute this to my MBA from Rhodes Business School. It empowered me to market the institution, attract additional good staff and to deeply understand what it means to lead," says Dr Onaga who was subsequently appointed as the Head Clinical Manager of Settler's Hospital on the 1st February this year, the same year that he completed his MBA with distinction.

Leadership for Sustainability is the motto of Rhodes Business School. Its MBA focuses on an integrated approach to business that increases competitiveness and profit at the same time as it focuses on a sustainable future for people and the planet.

"When I started my MBA at Rhodes Business School, I dismissed the whole concept of sustainability as hugging trees. I came to realise that sustainability determines not only the profitability but also the survival of your business," Dr Onaga explains.

After qualifying as a medical doctor at the University of Nigeria in 2003 he moved to South Africa on the recommendation of a fellow Nigerian doctor who was working here.

"He described South Africa as a beautiful country with wonderful people and good opportunities in the public health system. I came here in 2006, first working at a hospital in Mount Frere in the Eastern Cape and then transferring to Settler's Hospital in Grahamstown in order to enroll for my MBA at Rhodes Business School, which I started in 2012.

"I am interested in public health and wanted to do a formal degree in management after completing a Masters degree in Public Health, in order to advance my knowledge base and my financial and management skills," says Dr Onaga who chose Rhodes Business School because of its modular MBA.

"It accommodated my heavy work schedule and I could apply what I was learning in my workplace," he explains. Completing his MBA in the minimum period of 2.5 years, given his workload and the birth of his and his wife Juliet's twins, is exceptional. The Onaga's have three daughters, Akunna (5.5years), Jasmin (3.5 years), Kaira and her twin brother Kamsy (1.5 years). Juliet Onaga has a Masters degree in Public Health from Unisa and is currently in her second year of a Pharmacy Degree at Rhodes.

Dr Onaga says the Rhodes Business School MBA met all his expectations in many different ways: "The Bible talks about talents in a monetary sense, but through my MBA I have learnt that our employees are our talents. In line with staff sustainability, I have introduced staff recruitment, retention, motivation and talent management initiatives at the hospital."

He adds that the MBA enhanced his performance management, marketing and financial skills, it helped him to "become a better person" by developing his people skills, it enhanced his belief in his ability, and it opened his mind to sustainable, integrated management.
"For me the whole MBA was a wow factor," he states.

Rhodes Business School enjoys high diversity in its MBA student profile – in career, nationality, origin and culture. Students include medical doctors, lawyers, pharmacists, engineers, managers and administrators from the public sector, entrepreneurs…

"We are proud of the demographics and diversity of our students and graduates, the majority being black and women students, with women comprising 41% of the student population," says the Director of Rhodes Business School, Professor Owen Skae.

This is in line with Rhodes University's emphasis on growing the skills of all South Africans and on growing the next generation of black and women postgraduates and academics at Rhodes and for South Africa.

The South African students are from across the socio-economic spectrum, while the international students are from a growing number of countries in Africa and the rest of the world.