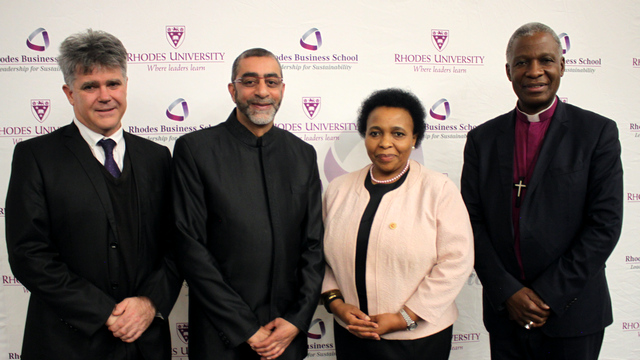 By Zindzi Nkunzi, Rhodes University contributor
The Rhodes Business School hosted its 5th Archbishop Thabo Makgoba Development Trust annual lecture on Values Based Leadership on 3 October 2019, with Gift of the Givers Foundation's Dr Imtiaz Sooliman as guest speaker.
The lecture follows a succession of speakers including Professor Thuli Madonsela, Former President Kgalema Motlanthe, Former First Lady Mrs Graca Machel and Former MP Dr Makhosi Khoza.
The School's Director, Professor Owen Skae, commenced the lecture by welcoming all the attendees and acknowledging distinguished guests, which included Rhodes University Deputy Vice-Chancellor of Student and Academic Affairs, Dr 'Mabokang Monnapula-Mapesela, Rector at the College of Transfiguration, Revd Canon Dr Vicentia Kgabe and Makana Municipality Mayor, Mr Mzukisi Mpahlwa. Archbishop Thabo Makgoba was also present with Mrs Lungi Makgoba.
Dr Sooliman is a medical doctor and the founder of the Gift of the Givers (GoG) Foundation, a non-governmental organisation (NGO) founded in August 1992. After Dr Sooliman obtained his MBChB, he began his medical practise in Pietermaritzburg. In June 1994, he began to focus solely on GoG. "Dr Sooliman has developed the Gift of the Givers into one of the world's most respected humanitarian organisations," said Prof Skae. In 2017, the organisation was accredited as the number one NGO in South Africa. Though the years, Dr Sooliman has been honoured with various awards, such as a National Order and nine honorary doctorates, including one from Rhodes University in 2016.
Archbishop Thabo Makgoba led attendees in prayer before Dr Sooliman took the floor. He explained how his idea for GoG came in the form of instruction from his spiritual teacher in Turkey. He was instructed to serve people from all cultures, races, religions, ethnic groups and genders from different parts of the world. His visit to Turkey changed his perspective about human society and humans in general. "I learnt that what God wants, happens," Dr Sooliman said.
The GoG Foundation concerns itself with delivering health care units, providing food, blankets, clothing, water wells and others relief items and services. It is a disaster response organisation that serves with compassion, kindness and mercy, stated Dr Sooliman.
GoG's first project was responding to the Civil War in Bosnia between 1992 and 1995. The South African team provided 28 hospital units to assist the injured.
It has also assisted in the aftermath of the Sri Lanka tsunami, the Pakistan earthquake in 2005 and the Haiti earthquake in 2010.
Dr Sooliman concluded, "Everything happens through you, not by you."
The latter part of the evening was dedicated to the awarding of the annual FNB prize to the best MBA Economics assignments on socio-economic justice issues. Prof Skae was joined by Mr Amandla Ndongeni from FNB, MBA Coordinator Mr Evert Knoesen, Archbishop Makgoba and Dr Sooliman, who assisted in handing out the prizes.
FNB has been the proud prize sponsor for the last three years.
The awardees were: Olivia Bischoff in 3rd place who received the award in absentia; Cuma Dube in 2nd place and Matthew Shaw in 1st place.