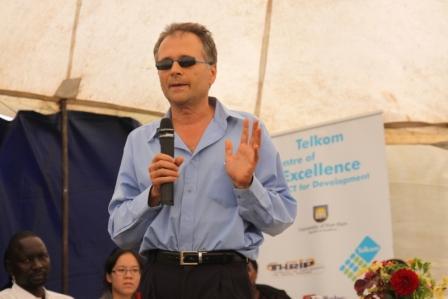 Rhodes University's Telkom Centre of Excellence in Distributed Multimedia, in partnership with Telkom and the South African government, is celebrating 15 years of growing local telecommunications and information technology skills, promoting a culture of excellence in research in information and communication technology, and providing facilities to encourage young scientists and engineers to pursue their interests in South Africa.
The programme is growing local telecommunications and information technology skills, yielding substantial benefits for the universities and technikons involved, and is assisting Telkom and its development partners in solving technical problems and reduce costs.
As part of the celebration of 15 years of research in partnership with government and the telecoms industry the Centre is hosting an afternoon of practical research demonstrations today (Wednesday 25 April), followed by a gala dinner.
Rhodes University's department of Computer Science has hosted the Telkom Centre of Excellence since its inception in 1997 and was the first Centre to be recognised out of the 15 others that are located at tertiary institutions around South Africa. The Centre focuses on distributed multimedia and brings together the research expertise within the department, contributions from other departments at Rhodes University and at other tertiary institutions, both nationally and internationally, and input from industry partners.
In addition to developing skills in science, engineering and technology, the centres are aimed at creating partnerships between historically disadvantaged and advantaged institutions. The institutions are paired, with a previously disadvantaged and an advantaged institution sharing a Centre in which to jointly focus on a specific aspect of telecommunications research. This provides for the transfer of skills and the upliftment of the previously disadvantaged institution.
The Centre is supported by Telkom, its anchor partner, Tellabs, Stortech, Easttel, Bright Ideas Project 39, and both the Department of Trade and Industry (DTI) through THRIP, and the National Research Foundation (NRF). The Centre operates under the management of a joint academic/industry steering committee, and has high level representation from the partner industries and from the DTI through the National Research Foundation.
According to Head of Rhodes University's Centre Professor Alfredo Terzoli, the Centre is a good example of a triple helix at work, where academia, industry and government come together to pool resources and improve the competiveness of the industry, via the preparation of highly skilled practitioners and the co-development of appropriate technology.
"I doubt there are many more examples of such externally funded programs, between industry and government that have lasted such a long time. This is a rare example of a successful synergy between the classical triple helix," he said.
With the recent addition of users, the programme embodies a quadruple helix approach which Prof Terzoli believes adds value. Significant increases in the number of academic publications and postgraduate numbers are some of the Centre's notable achievements to date, he said.
There are 16 Telkom Centres of Excellence, each hosted by a tertiary education institution. Together, which together constitute the biggest Research/Development/Innovation initiative in ICT in the country.
By Sarah-Jane Bradfield