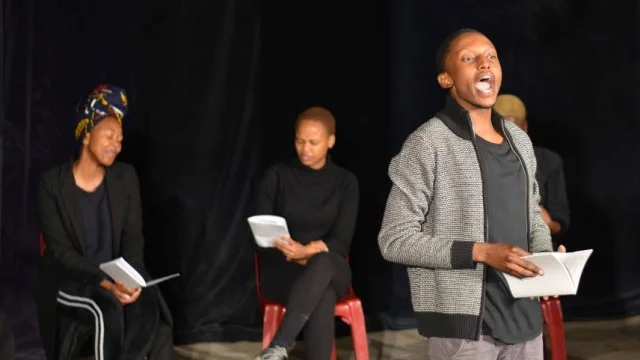 By Anelitha Ka Fandese, fourth-year BJourn student
Dipalo is a play co-written by Selloane 'Lalu' Mokuku, a lecturer in Applied Drama and Theatre at Rhodes University, and Ginni Manning, a playwright and theatre-maker from Liverpool, England.
Mokuku and Manning had met at the ASSITEJ International Cradle of Creativity in 2017 and explored co-writing a play together. The main inspiration behind the writing of Dipalo was the exploitation that Mokuku had noticed, through media, social media, and anecdotal evidence, that young girls were experiencing in churches. "At the time, the pastors were also doing things that I found problematic, such as making people eat grass. I then realised that faith is powerful, and as such, was keen to initiate a conversation around this exploitative phenomenon against the background of the charismatic churches," she said.
This piece's main intention was to initiate a dialogue around the social injustice issues that the youth of South Africa face in spaces where they seek solace and safety – namely, the church. Dipalo is a story of young people showing resilience in a world that constantly seeks to undermine them. Mokuku describes the play as "a story that explores the complexity of the world we live in. Dipalo is a Sesotho word for numbers or mathematics or complex or complexity."
The Standard Bank Ovation award is the second award that Mokuku and Manning have received for Dipalo. In 2019, the play won the ASSITEJ Africa Playwriting competition. Part of the prize consisted of the play being produced by ASSITEJ, but COVID-19 restrictions hindered this.
ASSITEJ SA then tried to do a staged reading over Zoom, but there were several technical and quality-related issues. Consequently, a staged reading was recorded in-studio, which is available on the National Arts Festival (NAF) website. It was this staged reading recorded version that bagged the Standard Bank Ovation bronze award.
The Standard Bank Ovation Awards recognise the best "fringe" productions of the NAF. They seek out gems through the Fringe programme, an independent platform of the NAF, where people can bring and submit their productions. The criteria to win ranges from the best audience-pleaser to technicalities. "The general criteria is always to find cutting-edge work, and in Dipalo, I think they saw cutting-edge conversation on a topical issue that impacts young people painfully," Mokuku said. Mokuku believes that a work of art needs to distinguish itself from a rally or a speech; it needs to employ important elements such as suspension of belief.
Apart from receiving awards, Mokuku has also received some praise from her students and other theatre-makers. Zanele Tlali, a Rhodes University English and Drama student said, "I will cherish this production forever because it got me through my toughest days navigating the loss of our loved ones. On the eve of their burial, nestled by the fireplace, my family and I tuned to Dipalo as tears, laughter, and solace covered the room; that moment led me to something sweet. Joy amid mourning."
Such comments validated Mokuku's and Manning's vision for the piece, which was to "initiate a conversation within families, and to create contexts through which audiences could relate".
Nwabisa Plaatjie, a theatre-maker who directed the play for the stage this year in AFDA Cape Town, said she found Dipalo to be 'democracy at play', because the characters are written so equally. "It could be an invaluable text for actor training," she said.
Mokuku emphasises that her Applied Theatre background always shows up. "In that the discipline of Applied Theatre, endeavours to initiate a dialogue is key, and the belief is that each one of us, given an opportunity, have some wisdom to share," she said.
Winning the Standard Bank Ovation Award was a surprise for the writers of Dipalo. "First of all, Dipalo was an audio version – and the festival is for theatre, and we did not manage to get even a Zoom reading right. I was busy watching other productions when I got the news… and I said what?! I mean, the nomination itself was great enough, but then we went on to win a bronze! This was huge for us, and we can't wait to see Dipalo on stage, produced by ASSITEJ SA," Mokuku concluded.
Source: Communications