,
Theatre in Motion 2016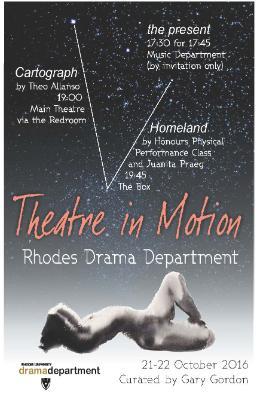 Young Directors' Season 2016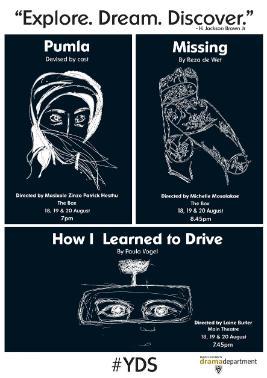 18, 19, 20 August 2016

Rhodes Box Theatre, ‌Rhodes Theatre

The Rhodes Drama Department proudly presents their annual Young Directors' Season (YDS). The 2016 productions promise three nights of mind blowing theatre. This year's line-up has an eclectic range of plays with thrilling, humorous and gripping content. Don't miss out on the following shows; Reza de Wet's Missing directed by Michelle Mosalakae, Paula Vogel's How I Learned to Drive directed by Laine Butler and Pumla devised by the cast and director Masixole Heshu.

Laine Butler's 'How I Learnt to Drive' tackles a challenging subject matter. This is a play full of nuances, subtleties and contradictions when it comes to the theme of sexual abuse. Although very American, it's a universal story and particularly relevant to South Africa today.

Michelle Mosalakae directs Missing by Reza de Wet, set in a shabby little house on a smallholding on the outskirts of a platteland town in central South Africa the lulling sound of a Sesotho broom swiftly sweeping away the remains of manure on the stone floors can be heard. In juxtaposition to that, the howling and ominous wind blows outside. The town is quiet. Still. Silent. A lustful danger lurks around salivating with desire to intertwine itself with the mundane and ordinariness of this quiet town. There is an undeniable brewing of magic and danger at the very center of this play.

Masixole Heshu directs Pumla. Outside the railway tracks Pumla traces a dreadful memory of herself. Pumla as a devised piece interrogates the challenges of a relationship that resulted in suicide at a train station, through the use of physical recollections, Pumla conjures up a path to attain rest.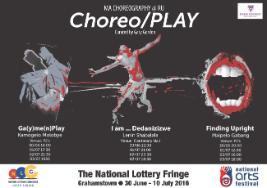 30 June – 03 July 2016

Age recommendation - 16 + l Duration - 45 minutes max each

Enquiries | Katlego 046 603 8542 (Room 107 mornings only) | k.gabashane@ru.ac.za

Rhodes University Drama department presents Choreo/PLAY, the MA Choreography as part of the National Arts Festival 2016 fringe programme. Curated by Gary Gordon, Choreo/PLAY will showcase Ga(y)me(n)Play by Kamogelo Molobye, I am ... Dedanizizwe by Lenin Shabalala and Finding Upright by Maipelo Gabang.

The current theatrical offerings propose to challenge audience perceptions and understandings of what dance and choreography might be in this shifting society. These new creative artists are embarking on a journey where representations of men, women, narrative and history move and disturb not only the bodies on stage but hopefully the bodies that come to view the performances:

Ga(y)me(n)Play, Choreographed by Kamogelo Molobye

In a time where manhood and masculinity lacks a language to fully realise and define itself, Ga(y)me(n)Play is a physical theatre performance that seeks to explore the nuanced images of a man through vulnerability and intimacy that challenges stereotypes of masculinities.
I am …. Dedanizizwe, choreographed by Lenin Shabalala explores the journey of one multifaceted, multifarious being immersed in life's exhilarating highs and depressing lows, an autobiographical choreographic portrait of self - discovery and expression through diverse movement, iconography, music and poetry. A contemporary – hip hop performance for the Rhodes Drama Department Masters Programme.

Finding Upright, choreographed by Maipelo Gabang
Looking in from the outside, curating spaces of alternative perspective, fashioning sense and self-importance through threads of self-recognition and retrospection. Delicate but resilient, intricate yet illusive. Slow nonetheless steady we go.


‌
Last Modified: Wed, 07 Oct 2020 15:55:44 SAST