Productions 2015
Rhodes University Drama Department Presents

Astronautus Afrikanus
A new devised work directed by Mwenya Kabwe

The Rhodes Drama Department proudly presents Astronautus Afrikanus, a work devised by the cast under the direction of guest director Mwenya B. Kabwe in collaboration with Lieketso wa Thaluki and Illka Louw.

This immersive work uses the source story of a rather colourful character in Zambian history named Edward Mukuka Nkoloso who in the mid 1960's was convinced that Zambia was going to beat the Russians and Americans to space. So much so that he started a Zambian space programme a year before Zambia's independence from Britain in 1964, and started to train a group of young people to be his Afronauts. Inspired by this story this production is an immersive work that invites the audience to discover the nooks and crannies of the Rhodes Main Theatre.

Astronautus Afrikanus celebrates imagination, invention, intellectual and creative freedom and indigenous African Knowledge systems. It is an ode to African thinkers, philosophers, pavement intellectuals and poets whose genius is undervalued, unrecognized and even ridiculed.

The audience is invited to celebrate exploration and discovery by creating their own journey through a working space station. They are encouraged to wear comfortable shoes and bring their spirit of adventure!

Astronautus Afrikanus features the work of a fabulous group of creatives intellectuals:

Jake Nathane

Nani Sihlali

Justine Pickering

Mmatumisang Motisi

Ciko Sidzumo

Danielle O'Niel

Georgina Makhubele

Phelokazi Mbude

Danielle Van Der Merve

Carla Franco

Molopo Lipali

Tiisetso Mashifane

Gregory Peatfield

About the director | Mwenya Kabwe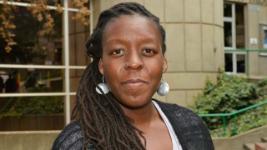 Mwenya B. Kabwe is a Zambian theatre maker, performer, educator and mother. She has a Masters in Theatre and Performance with a focus on theatre making, from the University of Cape Town where she was a lecturer in the Drama Department for four years. She currently teaches performance studies and theatre making in the Drama Division of the Wits School of Arts.

Kabwe is a recipient of a number of awards including a Fleur du Cap, Naledi and the Handspring Award for Best Visual Theatre Production. Kabwe's original work has been showcased at the Drill Hall in Johannesburg (Please Do Not Leave Your Baggage Unattended, (2007), Out the Box Festival of Puppetry and Visual Performance (for nomads who have considered settling when the travel is enuf, (2007), 27 Windows, 4 Doors, 2 Taps, (2010), Migritude' Echo (2011) and the UNESCO Chair International Festival of Theatre Schools in Barcelona Spain (Afrocartography: traces of places and all points in between, 2008). Kabwe is also one of the seven 2007 Spier Contemporary winners for a collaborative performance work titled Unyawo Alunampumlo (The Foot Has No Nose) with Chuma Sopotela and Kemang Wa Lehulere. In 2013 she directed a site-specific version of her autobiographical choreopoem, Afrocartography: Traces of Places and all points in between, in and around the Wits Theatre in Johannesburg. Later that year the production was reworked to feature at the Afrovibes 2013 Festival in Amsterdam. She has also been recently named one of 'Five female theatre makers in South Africa you should know', by AfriPop magazine:

http://afripopmag.com/2013/07/five-female-theatre-makers-in-south-africa-you-should-know/

Media contact | Katlego Gabashane


Award-winning theatre company, Ubom! & the Rhodes Drama Department

are delighted to again bring you a new dazzling family show

BLEEK ISLAND ADVENTURE

DIRECTOR | Kyla Davis (Director of the Well-Worn Theatre Company) & Noxolo Donyeli (Director of Wangai)

Time | 9am & 11am

Venue | Main Theatre



There once was a place, a terrible, terrible place, where everyone was nasty and sad and full of anger; where no good things happened and where hope was but a dim shadow. On this Island of Bleek, was a single rule: "what's mine is mine, what's yours is yours and don't DARE make yourself at home".
That is until, one day, a curious stranger arrived and everything on that awful Island changed forever...

BLEEK ISLAND ADVENTURE is a funny and moving family show about sharing, compassion and the spirit of Ubuntu. Join us and be thrilled and enchanted by magical storytelling and fun-filled song and dance.

This production features a sparkling company of talented performers.
BLEEK ISLAND ADVENTURE will be performed for Eastern Cape schools from Monday 23rd March to Friday 27th March. Please contact Zipho on 046 603 8771/ z.mqingwana@ru.ac.za as soon as possible to secure a booking.
Duration: 45 Minutes



Last Modified: Tue, 28 Mar 2017 14:54:07 SAST