RHODES UNIVERSITY DRAMA DEPARTMENT
PRESENTS
LOVE AND INFORMATION
VIRTUAL HONOURS ACTING PERFORMANCE
7 – 13 DECEMBER 2020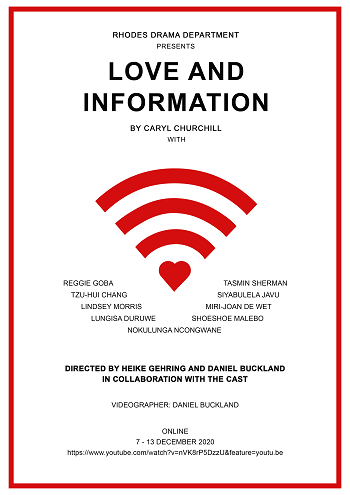 https://www.youtube.com/watch?v=nVK8rP5DzzU&feature=youtu.be
Dear Viewer,
Welcome to the Honours "end-of-year" Acting project which is an online performance based on Caryl Churchill's play Love and Information (2012). We warmly invite you to share in our final production: it is the result of intense experimentation and can be regarded as a work in progress.
In making this work our creative team has treated the Covid-19 restrictions as an opportunity to enter uncharted terrain and explore new forms of performance. Much of what has emerged was not part of the original curriculum, since the envisaged live final performance had to be reconceptualised. To create this online production, we filmed most of the students' works "face-to-face". Remote scenes were stitched together so that in the final group work the performers appear to be in the same room.
We have used the first two sections of Churchill's play. Our performance consists of a series of 14 short, episodic scenes in which "a series of interactions between mostly unnamed characters [explores] knowledge, meaning, and how we make sense of information in our lives. … Some of the scenes last for only five seconds, and none are longer than five minutes. In Churchill's script itself, each vignette has a title that sums up its major themes and content" (Nataraj, N. 2015: 1). The original play is divided into seven sections, with each section broken into a number of short scenes. The seven sections are simply numbered whereas the scenes have titles and are grouped together by theme.
According to theatre director James MacDonald, "broadly, the play starts out being about [people wanting] information, and then moves into how we retain information and what that means. It goes on into the meaning we ascribe to the information we have retained." (quoted in Nataraj, N. 2015: 1). What makes this play exciting is that Churchill does not include stage directions or character descriptions, as can be seen in the following example from the play text (Churchill, C. 2012: n.p.):
"Secret"
Opening lines:
Please please tell me
no
please because I'll never
This means that it is up to the creative team to interpret the work, filling in the gaps with their own imagination. This result is the emergence of radically different versions of the same play, depending on who is performing in it. Another notable feature is that none of the characters may appear more than once, thus demanding frequent character switches by the actors. In our version of Love and Information, the nine student actors play 28 roles in total. There is no overarching story, so that each scene serves as a self-standing impression – "a snapshot", based in the performers' unique interpretation.
The theme of the play, summarised here by Nirmala Nataraj (2015: 2), could not be more relevant to our current situation: "Churchill's scenes are snapshots of the ways in which we seek, filter, process, dismiss, and question information – and how this affects our ability to make meaningful connections with each other."
I hope you enjoy the show, in particular the experimental form that it has taken.
RHODES UNIVERSITY DRAMA DEPARTMENT
PRESENTS
VIRTUAL YOUNG DIRECTOR'S SEASON 2020
23 – 29 November 2020
Two Rhodes Drama Honours directors have each re-imagined their theatre events as a provocative and entertaining digital-theatrical work presented in three video segments.
HONOURS DIRECTING
In addition to developing the theatre director as an innovative interpreter of dramatic texts and arresting concepts, the Honours Directing paper affirms the director as a creative artist who stages a vision in a distinctive and original manner. This has been especially true of this year of Covid-19! Working within a new and unusually challenging context, the directors continued to creatively explore the elements of theatre making and directing – but all within a digital medium. Directors were required to research, analyse, craft and evaluate their choices as they brought them to creative fruition in the form of three sequential videos. No matter the challenges, directors were asked to create digital-theatre works that were both inventive and exciting. – Course Supervisor: Janet Buckland
Special thanks to Daniel Buckland, the staff of Rhodes University Drama Department and to Siya, Reggie and Tyron, three courageous Honours Directing Students.
MAFUNGWASHE
Written & Directed by Siyabulela Javu
https://www.youtube.com/watch?v=TlS9XTXS6P4&feature=youtu.be
https://www.youtube.com/watch?v=uay-h8P-5lc&feature=youtu.be
https://www.youtube.com/watch?v=bo0FZWz_ndQ&feature=youtu.be
SYNOPSIS
A spiritual black tax – the sins and gifts of those from the past shall be passed on to those in the present. Nosizwe, the protagonist, finds herself feeling indebted to her two grandmothers who present themselves as both living and spiritual beings. These grandmothers are at odds with one another, are yin and yang and play a tug of war, all the while using Nosizwe as a vessel to store their strength and to share their life stories. We see Nosizwe navigate the payment of her debts by the act of taking care of her wheelchair ridden father, confronting an oppressive education system and of course, connecting with the two matriarchs through vision, dreams and memory. However, this is only an attempt to pay off the tax – the full cost might be her very life.
DIRECTORS NOTES
Mafungwashe makes use of both a remote and theatre stage space. This is an attempt to marry a filmic and theatrical feel within the work. This primarily serves the fragmented structure; time jumps and memory/dream world which the work grapples with. Moreover, the work makes use of talking/walking objects such as the blazer and wheelchair to highlight both the absence, yet pungent presence of the past. The work Mafungwashe is choreographed in a language deeply rooted in AmaXhosa ritualised dancing – this invites an exploration of the performing Xhosa ghosts and the body archives.
CREDITS
Main actors: Nosizwe - Pamela Dyantyi
Mom'khulu - Silindile Msomi
Dadewethu - Hlumela Mpiti
Supporting actor: Mkhulu - Matshawandile Kopele
Stage manager: Kitty Chang
Assistant stage manager: Iviwe' Mzandisi
Design supervisor: Illka Louw
Head of wardrobe: Shiba Sopotela
Directing supervisor: Janet Buckland
Videography consultant: Daniel Buckland
TSHEPANG: THE THIRD TESTAMENT
Written by Lara Foot Newton
Directed by Reggie Goba
https://www.youtube.com/watch?v=_bunOtxUnWQ&feature=youtu.be
https://www.youtube.com/watch?v=nvH-tczyWB8&feature=youtu.be
https://www.youtube.com/watch?v=ca3KoP3oBis&feature=youtu.be
SYNOPSIS
Tshepang: The Third Testament, based on "twenty thousand stories", speaks the unspeakable. A baby is brutally violated and then left for dead. Entrenched within poverty, the traumatised mother falls into silence, her boyfriend becomes the mouthpiece of the family and together they wait for the return of baby Tshepang. As they wait, they revisit every moment that takes them closer to the horrifying deed, uncovering terrible truths about themselves and their community around them.
DIRECTORS NOTES
Tshepang: The Third Testament recalls a traumatic event that happened in a place where nothing really happens. Simon, the mouthpiece, tells the traumatic violation of Baby Tshepang, uncovering the deep-rooted pain in this small salt farm city.
Lesley Stones best expressed it in her Daily Maverick review of 22nd October 2018:
"This bold drama by Lara Foot hasn't gone away, because neither has the issue. At least 20,000 baby rapes are reported every year, plus those of toddlers, children and women. We're living in a social cesspit, yet Foot has waded in and managed to create a play that is compelling and compassionate as well as brutally honest."
#SAVETHECHILDREN
CREDITS
Cast:
Ruth: Christelle Katung Futshane
Simon: Thumamna Sibhozo
Lighting assistant: Simphiwe Magolego
Design supervisor: Illka Louw
Head of wardrobe: Shiba Sopotela
Directing supervisor: Janet Buckland
Videography consultant: Daniel Buckland
A great thank you to the Rhodes University Drama Department.
Thank you to Janet Buckland and Daniel Buckland.
Dedicated to the victims of the twenty thousand stories that must be told.
PERFORMING FLUX
Rhodes University Drama Department Virtual Festival
16 – 22 November 2020
Dear Viewers,
Welcome to the Rhodes Drama department's online version of Performing Flux. Historically known as Theatre in Motion, this programme has been one of the department's annual performance events for many years. It has served as a platform for performance, movement and site-specific experimentation – a laboratory with an active push towards exploration and boundary crossing.
Now, in the year of Covid-19, the search for new forms has reached a new level, forcing us to make radical shifts in form, genre and style as we had to move from a "face-to-face" context to an online one. Never has the term "Performing Flux" taken on so much significance – not only due to the fluid manner in which we had to make the works, never knowing what the next challenge was going to be, but also due to the fact that the works were made during a time of global upheaval – a time of flux.
Questions had to be asked about what it means to be a performer during a time of isolation, what it means to move people through performance during a time of social distancing, and what it means to move one's body during a time of stasis. The result has been a collection of performative explorations, interrogations, impressions and fixations, all related to the theme of Performing Flux. We share these offerings with you, trusting that you will see them for what they are – brave acts of exploration or defiance during a time of no answers. And it is in this spirit of finding new ways of being in performance that I welcome you once again. – Heike Gehring
HONOURS CHOREOGRAPHY
In this Choreography course, we have explored various "architectures" of site – Self as site, Camera as sight and the disruptions of Space through online choreographic encounters. These are the student's first attempts at creating screendance, filmed on their cell phones. Thank you to Smangaliso Ngwenya for the two introductions to basic cinematography and for the inspired input and support throughout the process. Thank you also to the students who stayed open to learning in ways that none of us had anticipated. – Juanita Finestone-Praeg
A MOMENT, I ...
Choreographed and performed by Nokulunga Ncongwane
For a moment I look into a space less violent than the home I call my body. I imagine myself indulging in the world outside which I see through a window. I fly out. Nature draped in tranquillity, juxtaposing the war happening on this side of the glass. For a moment, I … help-less in the rubble.
a numbness kicks in…
but blessed with the gift of bringing life into existence
yet placed inside the body of an ongoing
Meditation and Movement
nurturing explosions
for a moment,
take two capsules orally three times a day after a meal *may cause drowsiness*
An abstract film based on the personal life of the artist depicting her experience with an invisible illness. With diagnoses ranging from ovarian cysts, irritable bowel syndrome, endometriosis, weight gain, hormone imbalances, stress induced pain, abdominal adhesions etc… – finding herself feeling lost in the lack of answers to explain what she's going through. I, the choreographer and performer, had discovered the community of women with highly common yet under researched issues mirroring mine and realising the prominent barrier between us and the people who do not know the pain first-hand. This film provides the tiniest window into what it's like living with an invisible illness that involves physical pain inflicted by one's body – every, single, day.
Music and sound score: "8 Hours of Whale Sounds Deep Underwater for Sleep and Relaxation" by Jason Lewis – Mind Amend and "Talking people noise" by mdilligaf
BEFORE EXHALING
https://www.youtube.com/watch?v=2XfWC1Qb2so&feature=youtu.be
Choreographed and performed by Lindsey Morris
"This is the middle way of knowing that it has nothing to do with your decision to do this or not. Whether you decide that you can't make a mistake, or whether you don't decide it, it's true anyway. You are like cloud and water. And through that realization, without overcompensating in the other direction, you will come to the point where you begin to be on good terms with your own being, and to be able to trust your own brain." – Alan Watts
During the current coronavirus pandemic our curriculum had been altered to suit a remote learning environment, during which we were encouraged to broaden our skills to capture our craft on our phone screens. This allowed me to see myself more often than I enjoyed, but offered me a perspective that has ignited creativity and delight.
Before Exhaling is a digital visual experience, exploring sensation in the body as an essence of life. It reveals a personal interpretation of experiencing turmoil, conflict and frustration in the self. It also offers a perspective that complements our sense of curiosity and our perpetual desires to feel more than what is in the present.
Music and sound: "Orbit" by Alice Phoebe Lou, "No Divide" and "Kiss The Breeze" by Sticky Fingers, "ASMR 1 Hour Scuba Diving Sounds" by Darlene Michaud (YouTube), "There are no Mistake in this Universe" by Alan Watts and "Alien Sound Effects" by superfunnysheet
(FEMME) NOIR
https://www.youtube.com/watch?v=19SasIJWIJo&feature=youtu.be
Choreographed and performed by Miri-Joan de Wet
femme fa·tale
fem fəˈtal,ˌfem fəˈtäl/
noun
an attractive and seductive woman, especially one who will ultimately bring disaster to a man who becomes involved with her.
But what does she do when she is alone? When there is no one to impress, no one to manipulate, no one to love. When she is confronted with her own devious, sensual and vulnerable psyche. She takes a bath.
Music: A sonic montage created by Miri-Joan de Wet using samples of dialogue from Film Noir films as well as Sombre by Unloved (2018), "Gun" by Emilíana Torrini (2008) and "Gun" (remixed by MCKMN)
Videographer: Miri-Joan de Wet
Filming Assistant: Gustavo Amicis Mendes
DREAMING IN STEPS... IN BETWEEN MY TOE (JAM)
https://www.youtube.com/watch?v=ULY9y7zDOWM&feature=youtu.be
Choreographed and performed by Tzu-Hui Chang
TURN VOLUME ON
Foot /fʊt/
noun
plural noun: feet
1. the lower extremity of the leg below the ankle, on which a person stands or walks.
How much weight can the foot hold? How far will the bearer of one's weight go when it is overcome with the heaviness of anxiety, loneliness and curiosity? Through an episodic surreal lens, Dreaming in Steps… In Between My Toe (JAM) explores this weight through the fragmented quality of memory and dreams.
3 ACTs
https://www.youtube.com/watch?v=gDdtUJg1ITE&feature=youtu.be
Choreographed and performed by Otumile Molefe
This performance is divided into three acts. The first is titled "MONACHOPSIS" which means the subtle but persistent feeling of being out of place, as maladapted to your surroundings – as a seal on a beach – lumbering, clumsy, easily distracted, and unable to hear the ambient roar of your intended habitat. The second act is titled "WHELVE" which is to bury something deep, to hide, to roll or surge over something. The final act is "BALTER" which means to dance or tread clumsily.
Videographer: Orateng Molope
Music: "F Major" by Hania Rani, "Void" by Forest Bath, "Clothed in the dead skin of the dead" by Colin Stetson and "This life" by Tim Hecker.
HONOURS PHYSICAL PERFORMANCE
Honours Physical Performance is a body-based and ensemble-focused performance course that typically culminates in a full-length production, created collaboratively, between myself and the students. This year, in creating this work, we have faced many obstacles which, in turn, have surfaced some exciting challenges. As most of our rehearsals and interactions had to occur via Zoom and other virtual conferencing platforms, we decided to centre our performance around this strange 'new' social world… where space is always limited, connections are often unstable, and someone is always frozen. – Alan Parker
BOOM BOOM IN THE ZOOM ROOM
A Zoom performance for five characters in search of … anything
https://www.youtube.com/watch?v=qjNz0oRn3Bk&feature=youtu.be
Conceived and directed by Alan Parker, assisted by Julia de Rosenwerth
Performed by Tzu-Hui Chang, Miri-Joan de Wet, Otumile Molefe, Lindsey Morris and Nokulunga Ncongwane
Music: "Die Woud" by Bittereinder, "Fallen Leaves" by Billy Talent, "Boom Boom Pow" by Black Eyed Peas, "Around the World" by Daft Punk, "Eye of the Tiger" by Survivor, "Boom Boom Boom" by The Outhere Brothers, "Boom Boom Boom Boom" by Vengaboys and "Boom" by X Ambassadors
MASTERS INTERDISCIPLINARY PERFORMANCE PRAXIS
Interdisciplinary Performance Praxis is a new specialisation offered this year as part of the MA in Drama programme. The course is specifically designed for artists whose creative practices and research interests are not limited to a single artistic discipline or form, but rather the gaps, cracks and intersections occurring across multiple forms. In the course, students are encouraged to explore experimental, research-based performance approaches that are multimodal, cross-disciplinary and collaborative in nature. The projects being shared as part of this programme, are thus the result of various ongoing investigations. These explore, among other things, the possibilities within collaborative encounters, between artists in different disciplines or between the artist and their audience, as well as alternative opportunities for touch, participation and intimacy that technology and virtual performance platforms offer. – Alan Parker
IN THE OUTSIDE INSIDE SPACE
https://juliaderosenwerth.com/outsideinsidespace/
Created by Julia de Rosenwerth in collaboration with Thulani Chauke and Josman P#
In the outside inside space responds to the Covid-19 restrictions by finding ways to adapt live performative practices to online, digital spaces and sees fragments of multimedia materials come together in various constellations. As part of a larger research project around relationality, In the outside inside space seeks to explore how materials affect and are affected by their relationship to other materials. Viewers are invited to explore the possibilities that these materials present.
This is a long-distance digital collaboration between Thulani Chauke (Johannesburg), Josman P# (Blanca, Spain) and myself (Makhanda). It has been created over the past four months and builds on existing artistic relationships we have formed over the past few years.
Web design: Julia de Rosenwerth
A CONVERSATION WITH SELF AND OTHERS ABOUT HEALING
Choreographed and performed by Siphosethu Balakisi
An exploration of the notion of healing, with special attention to the unique ways in which we, as individuals, approach healing and cleansing rituals.
Here, we approach, explore, and utilise performance/performing as one of the many healing art forms.
What are your personal healing rituals/ practices?
https://www.youtube.com/watch?v=juknyhl7Deo&feature=youtu.be
Directed by Siphosethu Balakisi and Viwe Madinda (MaVii)
Videographer: Juanito Featherstone
Music: "Mémoires du futur 2" by René Aubry
Cleansing Ritual
Performance as Healer?
https://www.youtube.com/watch?v=YZv_TNN5scc&feature=youtu.be
Directed by Siphosethu Balakisi
Videographer: Viwe Madinda (MaVii)
Music: "Umphefumlo" by Mthwakazi
https://www.youtube.com/watch?v=Kkkqmt2shuc&feature=youtu.be
Directed by Siphosethu Balakisi and Nine
Videographer: Juanito Featherstone
Music: "Shamanic Drummings: Deep Trance Humming Meditation" by Meditative Mind
CASE #253
https://www.youtube.com/watch?v=H8Mp1FiBsjg
Created and performed by Axl Forder
The performance takes the form of a pick-your-own-adventure Youtube rabbit hole. The viewer is plunged into a series of abstract, surreal videos, images and voice recordings connected by recurring but elusive motifs. It is the role of the audience to piece together the clues and excavate the story from the shattered mess of nightmare dream fragments.
Music: Tom Waits, Dizzee Rascal and Throbbing Gristle
Theatre Director Selloane Mokuku
Production Manager Tersia du Plessis
Theatre Administrator Gary Kitching
Design Supervisor Illka Louw
Head of Wardrobe Shiba Sopotela
Theatre Technician Sonwabo Maqanda
Workshop Manager James Fourie
Purple Shall Govern 2020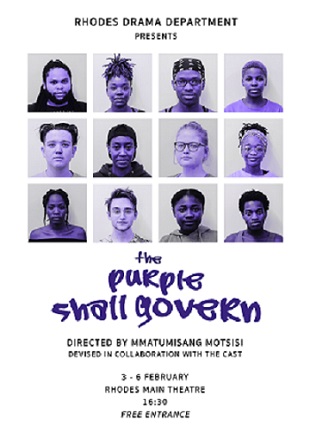 Last Modified: Wed, 09 Dec 2020 12:49:07 SAST