Ms Selloane Mokuku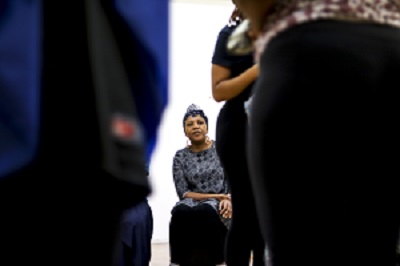 Lecturer in Applied Drama and Theatre
Selloane Mokuku, aka Lalu, is an experienced theatre maker, story teller, academic, writer and performer. She has worked with and for young people internationally, through organisations such as UNICEF and Save the Children UK.
Positions she holds are International Association of Theatre for Children and Young People ASSITEJ (South Africa) board member, Drama for Life Alumni, co-founder of the Winter Summer Institute, former Nobulali Productions (fondly known as ShakeXperience™) Programmes Manager from 2011 to 2017 and currently a Doctor Technologiae: Drama student at Tshwane University of Technology, South Africa.
Lalu currently facilitates teaching and learning at Rhodes University's Drama department, focusing on theatre for social transformation. Her research interests are in Applied Drama and Theatre, Translanguging; theory and performance. She co-produced an award winning African adaptation of George Orwell's Animal Farm written and directed by Neil Coppen. She directed a 100% Sesotho play: Mosali Eo U 'Neileng Ntšeliseng by 'Masechele Khaketla for the Market Theatre called Mosali Eo U 'Neileng Eena.
Last Modified: Wed, 24 Apr 2019 12:36:59 SAST