Prof Gary Gordon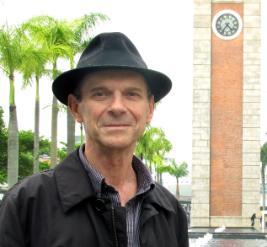 Professor Emeritus

Email address: g.gordon@ru.ac.za
Contact Phone: 046 603 8538
Professor Gary Gordon retired from the Drama Department in December 2017. He is currently teaching post graduate courses at RU Drama in creative practice, choreography and physical performance. He is still actively involved with the First Physical Theatre Company. He has extensive teaching experience including Voice and Movement at Lee Strasberg Studio in London (1991 to 1992) and Guest Artist in Residence, Department of Theatre and Dance, Tulane University, New Orleans (Spring Term 2009).
He specialises in choreography, physical performance and contemporary dance. He received a Masters Degree in choreography from the Trinity Laban Conservatoire of Music and Dance in London. From 1989 to 1992 he was a member of the teaching faculty at Laban where he participated in a number of inspirational workshops facilitated by Lloyd Newson and this led to his commitment to physical theatre. During his years at Laban, he taught choreography, contemporary dance technique, classical ballet and dance history.
In 1993, he founded the First Physical Theatre Company in South Africa - the first physical theatre company in the country, noted for theatrical collaboration and choreographic innovation. Some of these first theatre collaborations were with playwrights, actors, designers and composers and lead to the award-winning danceplays: The Unspeakable Story (1995), Bessie's Head (2000) and Ozymandias (2008) which was a collaborative partnership with artists from Tulane University in New Orleans. Gary has enjoyed a long performance career, also delving into the areas of Ballet, Butoh and digital installations. He was also performer in one of South Africa's first contemporary dance companies, JazzArt Dance Theatre in 1982.
From 2010-2014, he worked as the MFA Coordinator/Head of Academic Studies at the School of Dance at the Hong Kong Academy for Performing Arts. While coordinating, he worked with students from Hong Kong, Mainland China, Singapore, the Philippines, Taiwan, and Korea. He also served on the selection panel for the Hong Kong Dance Awards.
Professor Gordon has received a number of national awards including 1989 Standard Bank Young Artist Award for Choreography; Choreographer of the Year for Shattered Windows (1994); and Most Outstanding Presentation of an Original Contemporary Dance Work for The Unspeakable Story (1996). In 2000 he received Rhodes University Vice Chancellor's Award for Distinguished Teaching and in 2016 he received a Standard Bank Standing Ovation Award for his long-term significant contribution to the National Arts Festival.
Updated 07-03-18 SM
Last Modified: Wed, 07 Mar 2018 14:47:09 SAST