Mr Luvuyo Yanta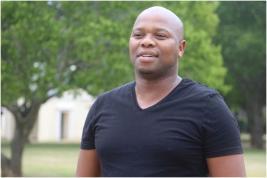 Part time teacher in Voice and Speech, and Theatre-Making.
Luvuyo Yanta is a Grahamstown-based performer. He has performed many times in shows at the National Arts Festival including Blood Stream and The Scorpion, Exhibit A, Hoss and Kapital.
Other highlights include working for Ubom! Eastern Cape Drama Company as a performer/facilitator. He has worked with award-winning directors such as Rob Murray, Brett Bailey, Janet Buckland and Andrew Buckland. He has also directed commissioned works for Ubom! and Rhodes University Drama Department and regularly collaborates with Professor Alex Sutherland on a range of community projects.
Last Modified: Wed, 29 Mar 2017 13:45:50 SAST