Masters
MA Programme Coordinator | Dr Heike Gehring


The Masters programme in the RU Drama Department has been in operation since 1988, offering possibilities of study via thesis only, or by coursework and half thesis. Right from the inception of the programme, the focus has been on interactive and integrated learning encouraging candidates to be inquisitive, creative, committed and especially passionate in their study of theatre. The programme is designed not only to consolidate and extend current professional practices and research interests but to uncover new knowledge bases - whether they be pedagogical, academic, social or artistic.

A number of successful artists, theatre makers, choreographers, performers and educators have emerged from the Masters programme working now within educational and tertiary institutions, or as professional and/or independent artists. Nurturing artistic talent and growth is something the department does very well. Since 2000, 5 of the Young Artist Award Winners for Dance have been graduates from RU Drama – 3 of these from the Masters programme.

In addition, the department still hosts two progressive theatre companies: First Physical Theatre Company and UBOM! Eastern Cape Drama Company, both renowned for their creative edginess, extension of normative theatre languages, and providing a platform for graduates in which to develop their professional aspirations. Not many institutions can boast of dynamic in-house companies with such extensive repertoires. The companies were designed to act as creative research LABORATORIES for student innovation and experimentation.

Lecturers in the department also work in international arenas as artists, teachers or researchers. Professor Gordon for example, from 2010 to 2014 was at the School of Dance, Hong Kong Academy for Performing Arts as MFA Coordinator and Head of Academic Studies. Professor Andrew Buckland was co-creator of See You Yesterday with the Pon Leu Selpak Circus School in Battambang Cambodia. The production then toured to Rwanda and performed in the refugee camps March 2016. In January/February 2016, Professor Buckland performed in Tobacco and the Harmful Effects Thereof at the Market Theatre for Fortune Cookie Theatre directed by Sylvaine Strike. He won Best Actor Award at the Stellenbosch Arts Festival in March 2016. In July 2016, he performed in Inconvenience of Wings directed by Lara Foot for main festival programme at the National Arts Festival with a season following at the Baxter Theatre.

Grahamstown might appear small as cities go, but each year it undergoes a major transformation when the city hosts Africa's largest festival: the National Arts Festival. This festival draws many acclaimed national and international artists that provide numerous avenues for student research and networking. The National Arts Festival then becomes a productive site for student activity: consultative, performative, collaborative and investigative.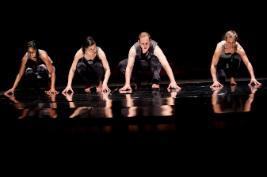 Pic: Bruising - Choreograph-directed by Nicola Elliott with the cast including Vishanthi Arumugam, Athena Mazarakis, Alan Parker and Jori Snell. Nicola Elliott was Young Artist Award Winner for Dance in 2014. She completed her Masters by coursework in 2009 specialising in choreography. Designed by Illka Louw. Pic by Val Adamson.

Masters in Drama at Rhodes University

There are 3 possible options for the Master's degree:

a) thesis only
b) combination of coursework, Thesis Project and half thesis
c) combination of coursework, practical Thesis Project and Research Report


Masters by Thesis

This option is particularly viable for candidates interested in pursuing theatre research and scholarship via a rigorous academic route. Candidates should enter this route with identifiable topics and goals for theatre research. The student is assigned an Advisor who works closely with the student on identifying and developing a suitable study programme for the intended research topic. Proposals are developed in consultation with the Advisor, departmental staff and visiting artists/teachers/researchers. Proposals are finally submitted to the Higher Degrees Committee before the student embarks on the writing of the thesis.

Masters by Thesis word length: 40 – 50 000 words

Masters by Coursework

There are two different pathways towards completing the MA by coursework. Both directions require completing the coursework but with different outcomes.
Either Option 1
two research papers (8 000 – 10 000 words) and the practical component of the course in the first year of study (two small projects and a final Thesis Project); and
to complete a half thesis (30 000 words) in the second year of study.

Assessment Weighting
Practical Thesis Project (40%)
Research Papers x 2 @ 5% each (10%)
Half Thesis (50%)

Or Option 2


two research papers (8 000 – 10 000 words) along with three practical projects in the first year of study and
to produce the final Thesis Project half way through the second year of study followed by a practice-led Research Report (12 000 -15 000 words) on the Thesis Project. This report is produced in the final 6 months of study.
Assessment Weighting
Research Papers 2 x 10% each (20%)
Thesis Project: Theatre Production or Project (50%)
Research Report (30%)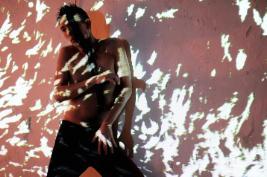 Pic: Acty Tang performing in a Butoh-inspired Improvisation "jam" (2012) in Hong Kong instigated by butoh artist, Katsura Kan. Acty Tang completed Masters by Thesis in 2006 and was Standard Bank Young Artist Award Winner for Dance in 2007.

Masters by Coursework: Course Structure

There are two aspects to this study programme including a core course and an elective specialisation.

1. Performance and Research (Core Course)

This course is a required core course for all first year Masters students and runs throughout the year. Topics include areas relevant to research practice in the performing arts such as practice as research, reflective writing, performative writing, appropriate research methodologies, applicable case studies, interdisciplinary theatre interventions, integrated and interactive collaborations, and research ethics. The course includes contributions by visiting artists in residence, combined with a series of seminars on aspects of Performance Research.

Students submit presentations in response to the diverse course content and input – and in preparation for the two research papers.
2. Creative Practice Specialisations

Specialist areas of study include:
Applied Theatre
Choreography
Contemporary Performance
Dramatic Writing
Directing
Any other option in consultation with HoD
Each candidate engages with practices and discourses of a selected specialisation in order to consolidate, extend and refine an individual theatre praxis. The approach is integrative, interactive and investigative. Sessions encourage the consolidation and development of an emerging creative practice through interactive engagement with related topics and issues including workshops, creative problem-solving, seminars and discussions, verbal presentations, constructive feedback and written assignments. Students also embark on self-initiated autonomous study in the devising, constructing and presentation of developed projects. The study culminates in a major Thesis Project.

Applied Theatre | Ms Lalu Mokuku

The Masters in Applied theatre aims to provide students with diverse experiences of using theatre as a means of social and personal change and cultural engagement, in relation to different audiences, participants, social and cultural contexts, and theatre processes. Students are encouraged to develop their own methodologies or approaches to harnessing the theatre art form as a means of development. The course aims to critically interrogate what change or development might mean, what the ethics and implications are of using the performing arts in this way, and how a cross disciplinary engagement with psychology, education, and political theory and practice might dialogue with how the arts relate to society. By the end of the course, students will have developed strong facilitation and theatre making skills and selected a particular methodology to develop and refine as their mastery of an area of applied theatre.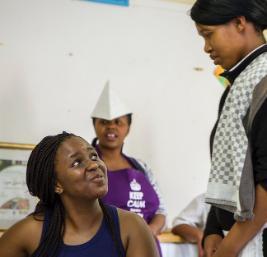 Phemelo Hellemann, MA in Applied Theatre 2016, in role with participants from Kuyasa Special School.
Photo: Paul Greenway (3pphotography)

Choreography | Prof Juanita Praeg

The course is located within the fields of contemporary dance, physical theatre and dance theatre. Choreographic play involves interrogating complex connections between dancing bodies and ideas, issues, histories, identities, politics and art. Within such an interrogative context, the course examines choreographic sites such as movement research and corporeality, theatricality and strands of the medium, non linearity in narrative, interdisciplinary collaboration, deconstruction and intertextuality, and current aesthetics in dance-making.

Candidates engage with a range of readings on choreographers, choreographic trends, issues impacting on practice, and practices impacting on choreographic praxis. The dance experience is highlighted through daily classes. These classes are a central component contributing to the development of the dance maker. Through attendance at daily classes, the aspiring choreographer builds up a nuanced understanding of physicality that should provide insights into an evolving movement research.

Furthermore, the course advocates a self-directed approach to choreography. A stimulating, supportive and provocative learning environment is established in which to gain expertise and skill in dance making, as well as develop confidence in the making and organising of independent work. Interactive sessions, including staff attendance at rehearsals and performances, tutorials and/or constructive feedback sessions, contribute to a personalised choreographic signature. The aspiring choreographer is encouraged to take responsibility for artistic growth and personal aspirations. The choreographer initiates and organises meetings, discussions and critical feedback in response to individual needs and requirements.


Contemporary Performance | Dr Heike Gehring

The course facilitators see contemporary performance practitioners as individuals who are committed to developing a self-motivated and self-sufficient approach to the creative and organisational demands of theatre performance. Each candidate is encouraged to develop an individual approach to theatre performance while being exposed to practical approaches and research possibilities that support their projects and challenge their preconceptions.

Course participants will investigate selected events, discourses and dialogues emerging from the range of conceptual and practical contexts in contemporary theatre praxis. They will engage critically with seminal texts in performance theory, critical writings, cultural studies, gender studies, artistic viewpoints and productions that are collaborative and cross-cultural. There will be a focus on the tensions and interplay between performance practice and theory. To inform their own theatre praxis candidates will engage with, observe and have the option of working with selected artists.

Candidates will explore research methods that are helpful in situations where resources and research materials are limited. These might include interviews with practitioners, watching live performance, doing video analysis and using theory as a tool for analysis.

The learning environment is intended to be stimulating, supportive and provocative so that participants gain confidence about creating theatre works and working independently (both creatively and in organizing skills). In the development of theatre work, interactive sessions form the main part of course instruction. Students are encouraged to take responsibility for personal feedback and development, and to initiate meetings in relation to their individual needs.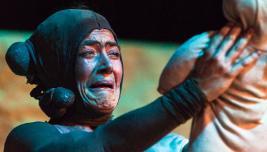 Piet se optelgoed was devised and performed by Liezel de Kock, Masters by Coursework 2014, speciliasing in Contemporary Performance.
The production featured at the NAF 2014.

Dramatic Writing | Prof Anton Krueger

Aims:
to promote an understanding of different kinds of dramatic texts
to develop artistic maturity in the development of a fully formed original work
to gain confidence in the development of an original voice.
to nurture creativity, originality and an enthusiasm for writing.
to understand the context of writing in South Africa, becoming familiar with local platforms, including competitions and festivals, as well as particular theatres and companies.
provide a framework for discussion and reflection on possibilities for innovative writing on the study of playtexts and screenplays in different genres.
stimulate and support creative practices by contextualizing textual experimentation within current discourses;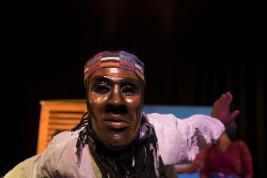 Falling Off The Horn directed by Sam Pennington - Masters by Coursework 2016 specialising in Directing.
The production featured at the NAF 2016 and received an Ovation Award.
Pic by Jeffrey Stretton-Bell


Directing | Theatre-Making | Ms Janet Buckland

This course is an investigation of selected styles, discourses and dialogues emerging within the range of diverse conceptual and practical contexts evident in contemporary directing/theatre making and pertinent to each candidate. Candidates are encouraged to develop a personal approach, style and vision for the creation of a theatre event and are required to engage critically with seminal texts in performance/directing theory, critical writings, cultural studies, multi and inter-cultural production approaches, gender studies, artistic viewpoints and collaborative methodologies.

A stimulating, supportive and provocative learning environment is established in which the student can develop confidence in organising and creating unique theatre works of substance and quality. The course aims to develop the student's ability to craft compelling theatre works that raise the bar of excellence and innovation. By the end of the course, students will have developed the ability to present conceptually robust theatre proposals and to create provocative theatre works that stretch the boundaries of artistic practice.

Interactive sessions, including staff attendance at rehearsals and performances, tutorials and/ or feedback sessions, contribute to personal directorial development. A student is encouraged to take responsibility for personal feedback and development, and to initiate meetings in relation to individual needs.


For more information, contact Dr‌ Heike Gehring - h.gehring@ru.ac.za


Updated 28-02-18 SM
Last Modified: Wed, 28 Feb 2018 14:28:40 SAST