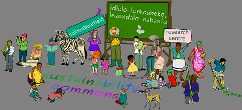 This idea of taking research out of the realm of the elite and making it widely available has been most recently popularised by the Internet. It is with a similarly democratic approach that the newly constructed ELRC has decided to go about its work. "The idea is that knowledge flows from research to the commons," says Prof Rob O'Donoghue, "We are trying to connect to the world, and work more synergistically with it." And the new space has been designed accordingly.
The ELRC houses classrooms and lecture halls for teaching Environmental Education and offices where EE Master's and PhD students will write their research, but it is also a place where those outside the academic community can come and experience Environmental Education. In the centre sits a courtyard known as 'the commons' – a general space where people can explore social innovations and interact with the academic research that is happening.
Water, energy, health, agriculture and bio-diversity are the five core areas of focus within the commons. Each theme will be represented by an interactive display that somehow illustrates a principle or expresses an alternative sustainable solution. "Our purpose is to enhance livelihoods and sustainability through new ways of doing things that makes practical common sense," insists O'Donoghue.
Therefore, the academic research occurring through the ELRC will not happen in a vacuum. Master's and PhD students will constantly be challenged to see their work within a larger context– in terms of actual needs of communities. They will also be challenged to creatively interpret their findings so that it reach extends beyond the walls of academia and even the grounds of the ELRC.