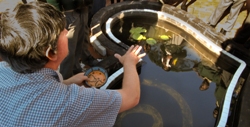 "Trying to produce solutions for 'The Other' has been a fatal flaw in development thought. Today if it's not for you, then it's not for others, especially for the poor in townships," said Prof Rob O'Donoghue prior to his SciFest demonstration on water and sanitation. This was just one of the ELRC's six sustainability commons projects to be unveiled though creative, interactive workshops at this year's science festival. Prof O'Donoghue went on to say, "Every innovation that has worked for me is equally relevant in the townships to improve quality of life and the quality of the environment we share."
It is with precisely this democratic, practical, try-it-yourself mindset that the ELRC approaches education and sustainable development. Best representing the approach are the six sustainability commons projects which will eventually feature in the courtyard of the ELRC.
"The key aspect of developing these projects is that they are not created in isolation. The projects themselves are about sharing stories of what has worked past and present in order to equip people with tools to help generate ideas on what will work for them now," said O'Donoghue. O'Donoghue emphasised that feedback and interaction with learners and educators was crucial to further refining the projects. Also attending the workshops were representatives from one of the ELRC's main partners, WESSA (Wildlife Society of South Africa). The representatives hoped to glean ideas on developing commons projects at their own centres and offered feedback of their own.
Water, energy, nutrition, agriculture and biodiversity were the core areas of sustainable development touched on at the SciFest workshops. Each demonstration used some kind of indigenous regional knowledge as a foundation for informing new knowledge. In the water workshop, O'Donoghue discussed the Zulu notion of "amanzi mnandi", or 'sweet water', explaining that indigenous locals had sensible and effective ways of finding the purest water available.
The commons projects seek to emphasise the importance of heritage and local knowledge in sustainability, getting away from the idea that the answers are always found in new innovations. "Science does not have all the answers," said O'Donoghue, "sometimes the answers have been there for centuries and we've moved away from this common sense and therefore need to re-access it."
Participants from local, Amasango Career School, enacted the ritual of fetching water, learning how their ancestors stirred it to release the surface sediments. The learners were then shown water tanks and ceramics filters as modern systems for collecting and filtering water. The purpose was to bridge old and new knowledge, allowing the two to work symbiotically. "These are things we can actually do in our own homes," said O'Donoghue of the commons projects, "We can draw on this wisdom and use the latest in science."