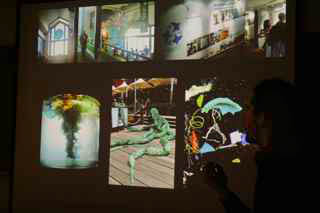 While the National Arts Festival sweeps through Grahamstown, bringing with it all manner of artist and festival-enthusiast, the ELRC is taking part in its own creative festival. For eight days during the Festival, it will host the Reimaging "mini festival", which brings together artists, activists and educators for the purpose of "reimaging" the future of the environmental sustainability.
Through workshops, panels and exhibitions, environmental leaders and passionate citizens will uncover what it means live in an era of climate change, where over-consumption and ignorance perpetuate our unhealthy habits.
Simon Max Banister, an artist who works in the medium of "land art" is exhibiting his sculptures through a multi-media production. Banister recently sailed from Cape Town to Montevideo, Uruguay with an international crew of research tourists. The team hoped to investigate the issue of plastics in the deep seas and create a baseline study for further research. Their findings were sobering. Trolling with fishing nets every 50 nautical miles, they gathered more than enough evidence that plastics were wreaking havoc even in the most distant places from human civilisation. They found floating balls of plastics which were acting as protection for sea life and specimens of fish that had ingested plastics.
This trip allowed Banister to look beneath the surface of the issue of human consumption and how they're being managed. Banister discussed his own experience of dealing with waste and plastics, but implored his audience to take a journey of their own. "Go visit a landfill," he said, "go through the mental process yourself of thinking and feeling. Watch the birds and machines and how we deal with rubbish."
Using art as a his vehicle, Banister hopes to convey the numbers and statistics of environmental degredation in a fresh way. By tapping into a more emotional experience of these issues, he aims to evoke a greater respect for all the parties. Rather than vilifying plastics, Banister acknowledged it as a very useful material. "I hope you all can look at plastic with a different slant, to see ourselves in a different way -- see us as one living natural organism."