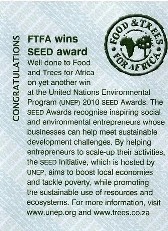 Creative collaborations are happening at the Re-imagining festival in the Sustainability Commons of the ELRC. Various environmental groups and activists have been invited to discuss and deliberate ideas for more sustainable living. Food and Trees for Africa is taking part in the conversation and hosted an informational talk on their approach to teaching gardening and planting using a culturally sensitive approach. This South African NGO is spreading the seeds of permaculture in schools and communities and changing how we think about development.
FTFA works with schools and community contexts to promote sustainable indigenous gardening. They do this by hosting one day workshops for volunteers who are interesting in driving their own gardens. "We hand over the information and people can do with it what they want -- we are working with people that want to work," said Robyn Hills, coordinator for the Eastern Cape branch of FTFA. Hills believes that the least input that the programme has, the better thus allowing people to utilise their own skills and resources and to learn to confront their challenges instead of depending on outsiders.
Their educational programmes include Eduplant and Trees for Homes. Both programmes have rooted themselves strongly in South Africa because of their solid financial backing. "We're the link between corporate sponsors and schools", said Hills. This support allows the NGO to hold important incentive opportunities for the programmes. For the Eduplant programme, gardening competitions run over two years. The winners are given between R20 000 and R150 000 for gardening to cover infrastructure.
People from a variety of professional and cultural backgrounds attended this open dialogue session. Artists, activists, PhD students, civil engineers and community educators, environmental enthusiasts alike, hoped to draw from the concepts of permaculture and discover what it means to live sustainably.